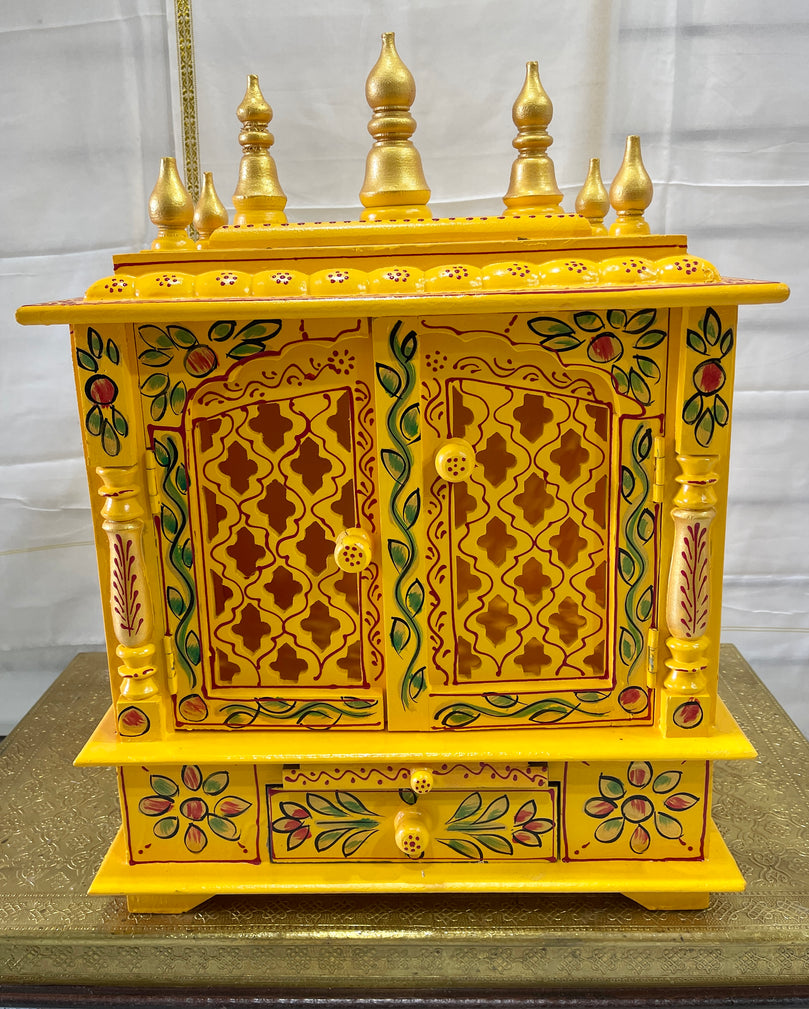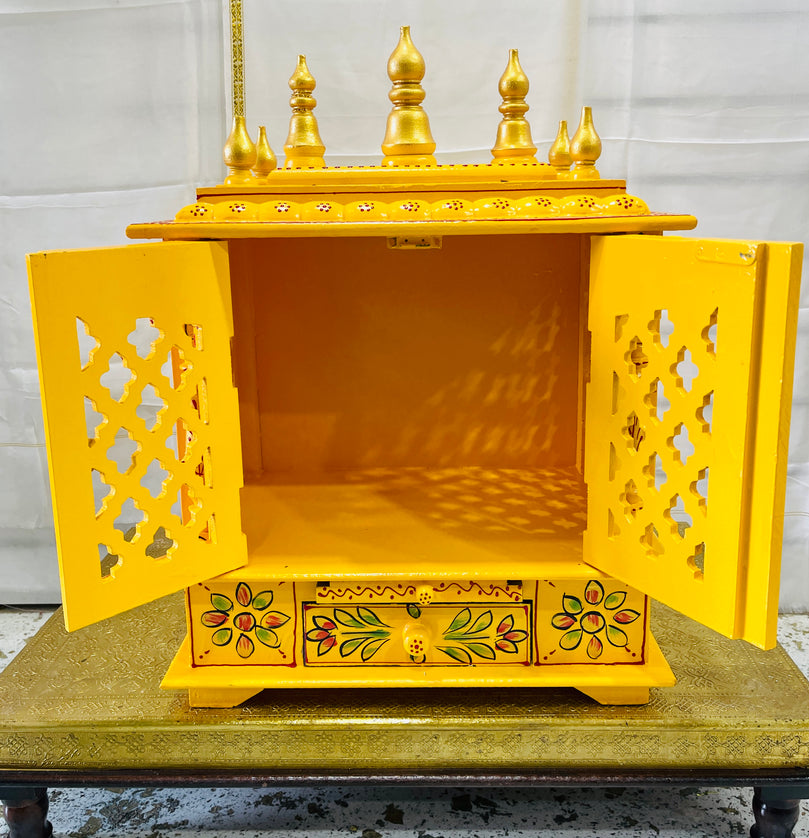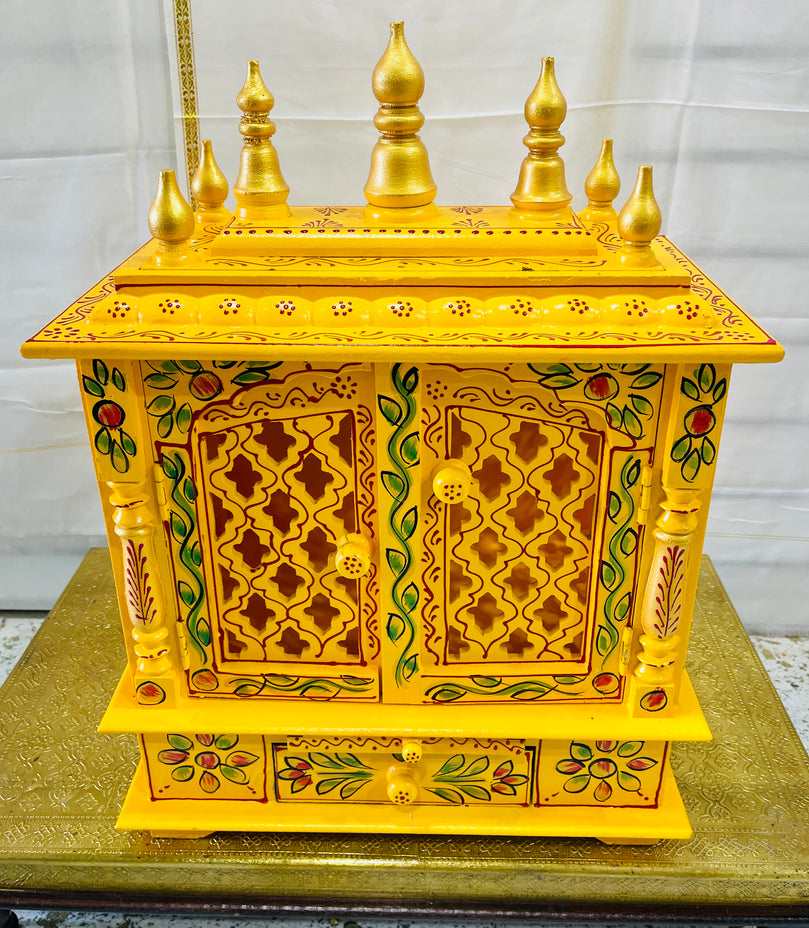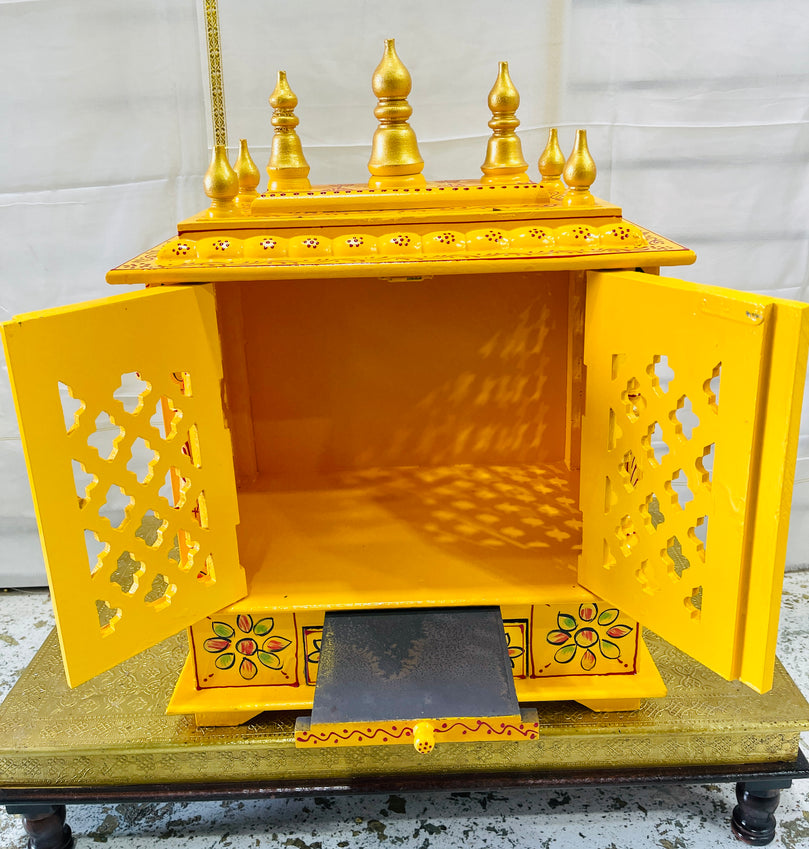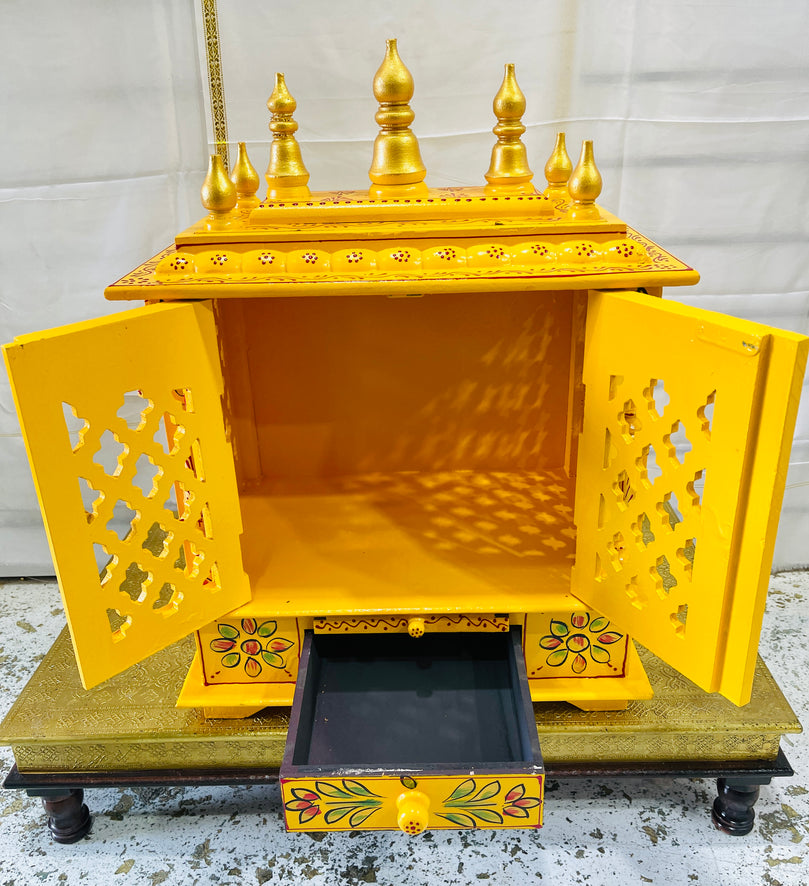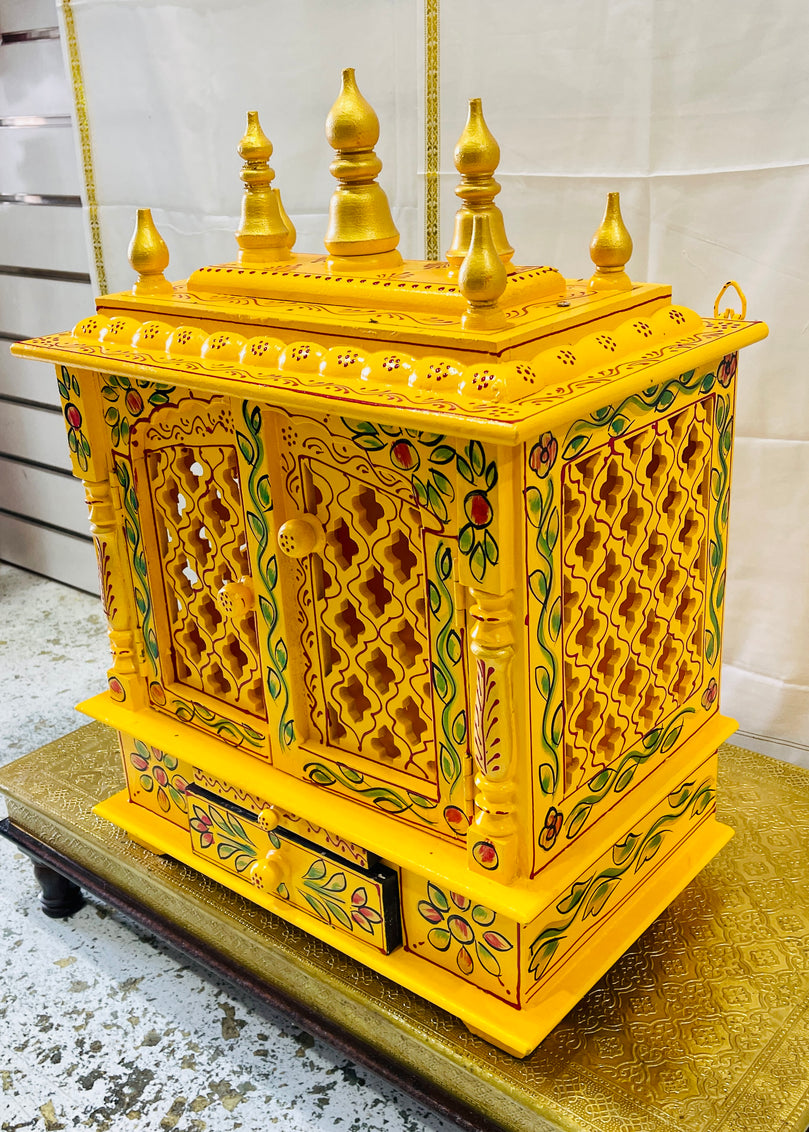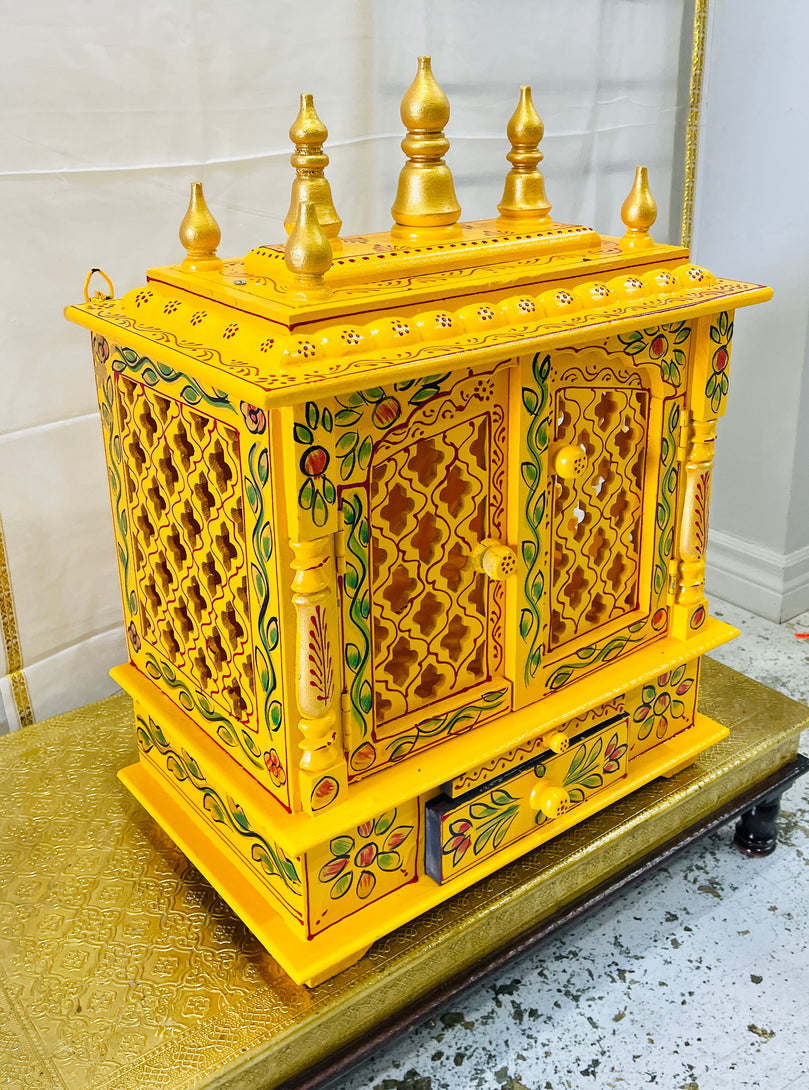 FREE 
 

Shipping Across

 

North America and Worldwide Shipping Available!

 

BRING A BEAUTIFUL HOME FOR YOUR BELOVED DEITY AND GET NUMEROUS BLESSINGS

THOROUGHLY CRAFTED BY THE EXPERTS

Optimal for your Puja Room, this Golden and Green Mandir (Temple) is a piece of Art thoughtfully crafted with skilled engineering in India. Adding this to your Puja room will surely bring positive vibes into your home. A gift as beautiful and winning as Sri Krishna's or Ganesh Ji's can never be a match for their blessings. Take this Mandir home and enjoy how your Puja room looks now!

EASY TO CARE AND MAINTAIN

With a soft cloth, you can easily clean this beautiful masterpiece Wooden Pooja Mandir, crafted from high-quality wood that is dust-resistant. In addition to having an inbuilt drawer that is easily opened and closed, this new modern mandir concept also features a convenient detachable tray for storing essential items for Puja rituals. The colors are enough to catch anyone's vision.

PERFECT PLACE TO WORSHIP THE IDOLS

This beautiful temple is the perfect place to worship any of your small, medium, or large idols. When performing Bhog (offering food) or putting the Lord to sleep, the Wood-finished altar door (with handles) is a great choice. Due to the extra length of this altar base, all items can be layered easily and comfortably. Easy to clean, its two convenient pull-out platforms, one with a large drawer for storage and the other with a sliding back for maximum space make it easy to service Diya, Joyce, etc. 

Beneficial Impact: The Mandir should be located in the northeast corner of the house. It can also be done in the north and east corners if that is not possible. Mandir or altar is considered the king of all Vastu rules. With its ornamental Gavashkas (windows), the mandir is believed to embody divinity. 

Key Features:
Authentic solid wood frame Handcrafted In India

Best place to keep your small, medium, and large Murtis (Idols) to be worshipped

One-of-a-kind beautifully designed Temples

One large pull-out drawer for convenient storage 

Wall-hanging hooks. 

Pull-out Diya Tray
At Radhe Radhe, our commitment to our community and culture is paramount. We stand behind our community with the best quality products and services. Our ultimate goal is to make sure our customers are satisfied with our product from the moment they bring it into their lives.
So what are you waiting for? Simply click on the Add To Cart Button to get this Luxurious Wooden Altar Mandir (Temple) and make a sweet home for your deity. Place your order now while supplies last!
DIMENSIONS:

Length: 18"
Width: 12"
Height: 24"
*PLEASE NOTE - Item dimensions are approximate. This item is handcrafted so the finishing, wood, and condition may vary from the pictures provided.*
If you have any additional questions, please feel free to call +1 647-479-8837 or email info@RadheRadhe.ca
VISIT OUR STORE:

#6, 2710 North Park Drive,
Brampton, Ontario,
Canada, L4L 9R7