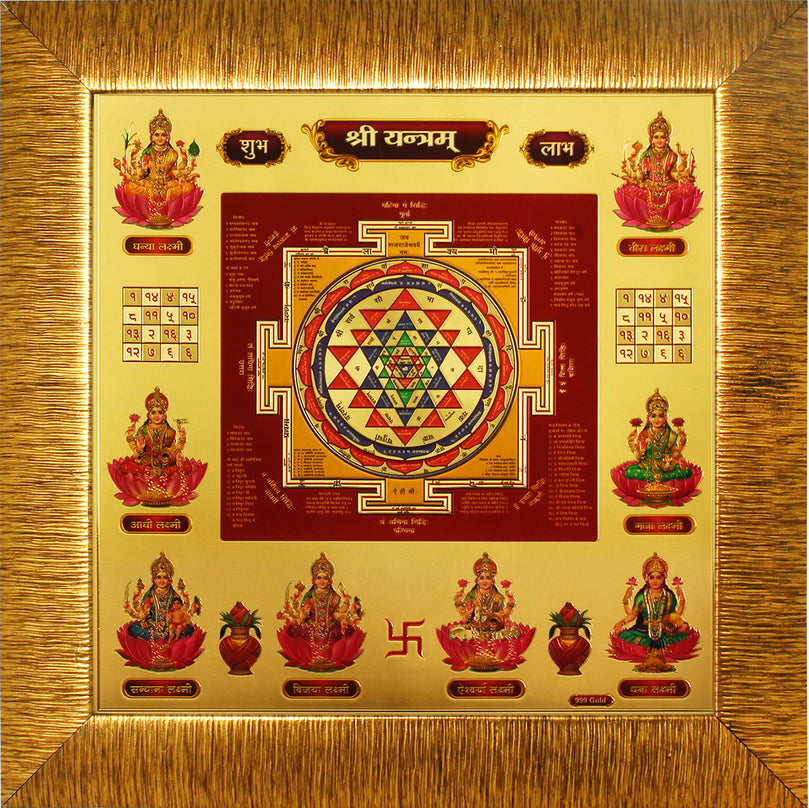 By hanging this golden metal framed Aastha Laxmi Shree Yantra, you will attract all the glories that Shri Laxmi Maa has to offer. 
This Aastha Laxmi Shree Yantra is the remover of all sorrows of life and gives one purpose by blessing them with all the most extraordinary flavors of life.
The Aastha Laxmi means eight forms of goddess Laxmi. These 8 goddesses bless with eight forms of wealth. 
This includes the wealth of: 
Money, 

Vehicles, 

Endless properties, 

Victory & courage, 

Patience & strategy, 

Food & nourishment, 

Education & knowledge, 

Family & friends.
Aastha Laxmi Shree Yantra will bring true meaning and sense of life for you and loved ones
 

Place this wall hanging framed

Aastha Laxmi Shree Yantra

facing north direction in your house for best results

 

Useful to gain purpose and direction in life and career

 

Perfect to gift your loved ones

 

It will bring wholesome changes in social life

Wall Hanging Frame dimensions are  11L x 11W