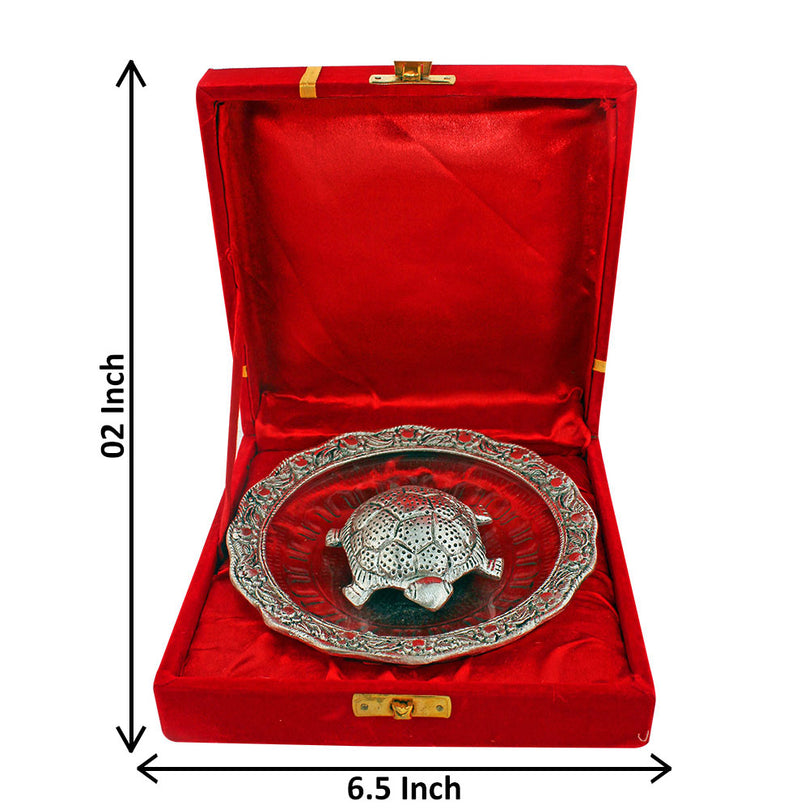 GIFT THIS FENG-SHUI TORTOISE TO SYMBOLIZE RESPECT, HAPPINESS & WELL-BEING
SIGNIFICANCE IN BOTH VASTU & FENG SHUI
Both in Vastu and in Feng Shui, tortoises are believed to be spiritual creatures that have great significance. This Tortoise Sculpture produces wonderful results to enhance career luck, longevity and health, wealth, family togetherness, and education gains. 
BEAUTIFUL HOME DECOR SHOWPIECE
This Feng Shui Tortoise Sculpture is a beautiful and simple home décor showpiece that can be used to decorate home office shops etc. An exquisitely detailed sculpture featuring a tortoise with red gems on a silver glass plate. Beautiful handiwork and an excellent gift designed by Indian Handicrafts. Someone receiving this gift can enhance their home décor with an auspicious and elegant look. 
GOOD LUCK, AND PROTECTION 
You can position this stunning Sculpture Of the Vastu Tortoise near a waterfall or a fish tank to maximize its benefits. As a sign of good fortune, protection, a manifestation of life and seasons, the tortoise symbol has been used for thousands of years already by the majority of civilizations.
Beneficial Impact: By placing the tortoise near the head of your bed will enhance the flow of positive energy which is known to relieve anxiety and combat insomnia. A tortoise should not be kept in the kitchen or bathroom because it will decrease the flow of energy and is considered bad Vastu/feng shui. 
Key Features:
The spiritual turquoise is known to represent longevity, and peace in many cultures. 

Luck is present wherever this sculpture is surrounding 

Keeping a tortoise at the east sector of the home improves promote a healthy environment

Handcrafted authentically in India

The craftsmanship of the highest level

Never-diminishing premium paint

Dimensions 2 x 6.5 inches
At Radhe Radhe, our commitment to our community and culture is paramount. We stand behind our community with the best quality products and services. Our ultimate goal is to make sure our customers are satisfied with our product from the moment they bring it into their lives.
So what are you waiting for? Simply click on the Add To Cart Button to get this amazing Auspicious Vastu & Feng Shui Tortoise Plate Gift Set and enjoy divine satisfaction.
We received this product yesterday and we are absolutely delighted with the craftsmanship and how sturdy the product is.