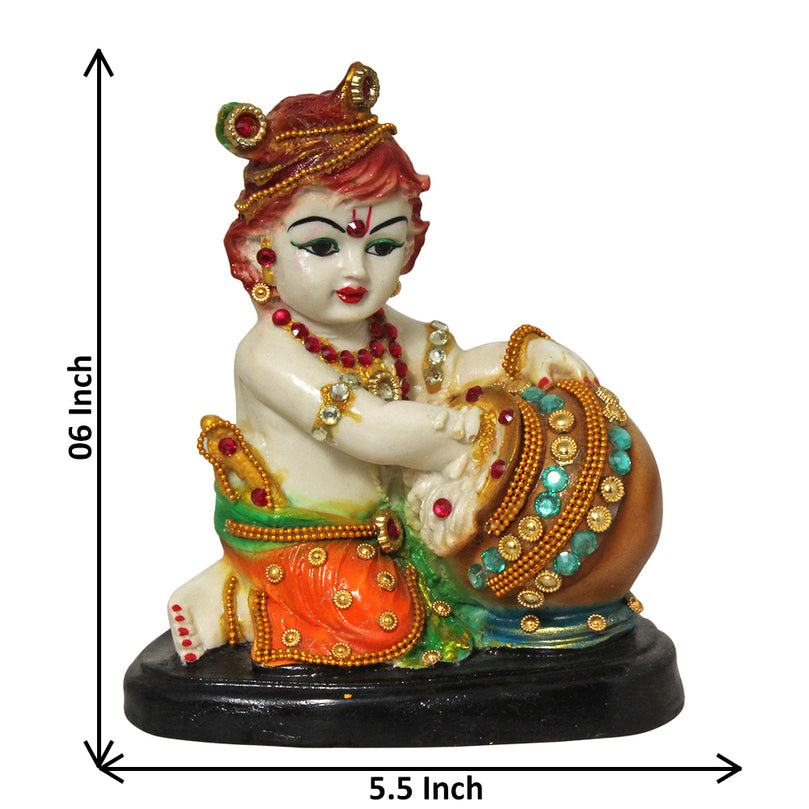 BAL-LEELA OF BABY KRISHNA (LADDU GOPAL) STEALING BUTTER IS THE PERFECT DEPICTION OF LORD KRISHNA CUTE & NAUGHTY CHILDHOOD
VERY DETAILED AND BEAUTIFUL BAL-LEELA IDOL
This Baby Sri Krishna Idol depicts the famous "Bal-Leela" of Lord Krishna. Lord Krishna is very mischievous and loves butter, as shown in many of his stories. In this sculpture, Lord Krishna has mischievously stolen butter from a pot with his own hand with his flute in his waist. Baby Sri Krishna pretends to be a naughty boy and steals butter from the gopis; he offers the butter to his friends. An amazing sculpture like this can be worshipped and used as a decorative item in the home. 
TOP CRAFTSMANSHIP AND MATERIAL
Sculpted from very high-quality material, this Idol of Baby Krishna Stealing Butter From A Pot is hand-painted and polished. This Idol is classically carved by an experienced Indian artist and created to appear like a vintage statue, made of the best quality material in the market and hand-painted in lustrous metallic gold finish with accents of red and green colors.
MASTERPIECE FOR HOME DECOR
The wonderful decorative design of this Baby Krishna Stealing Butter Idol makes it perfect for any room in the house. Also, a perfect gift for Indian decor to celebrate any special occasion such as Indian Krishna Janmashtami, Holi, Gopastami, Diwali (Govardhan Puja), Dussehra, Rama Navami gift.
Beneficial Impact: Astrologers consider putting Lord Krishna's picture in a house very auspicious and beneficial to remove all the house's troubles. Place the idol in the northeast corner of your home to achieve the best results. This placement shows the most respect for the Krishna idol and allows the energy to remain healthy and joyful.
Key Features: 
Made from high-quality materials 

Small & Cute Gift for a variety of holiday occasions

Made with skill and detailed attention to ensure a smooth and shiny finish

Enhances the effect and appearance of an altar or puja room

Measures 5.5" W x 6" H

Designed and made by skilled craftsmen in India
At Radhe Radhe, our commitment to our community and culture is paramount. We stand behind our community with the best quality products and services. Our ultimate goal is to make sure our customers are satisfied with our product from the moment they bring it into their lives.
So what are you waiting for? Simply click on the Add To Cart Button to get this amazing Baal Krishna Idol, and enjoy the spiritual satisfaction.
Attractive image. It is decorating my living room. I will recommend it.
The statue is perfect and gorgeous. The seller is also awesome and is very fast to respond to any issue. I am very happy with my purchase.