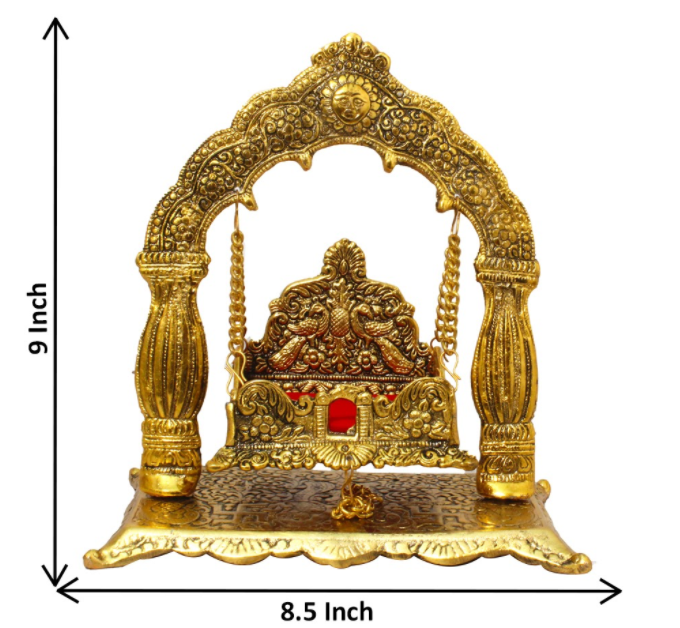 BEAUTIFULLY CRAFTED SWING TO ENJOY DIVINE SATISFACTION
SHOW PASSION AND LOVE TO THE LORD
Your deity deserves the best swing that is designed specifically to reflect the passion, respect, and love you have for them. With two peacocks perched on either side of the top of the swing, this swing is carved to perfection with an intricate and beautiful design. The sides of the swing are designed to look imperial and have a wide base for the perfect proportions. In the center, a strong golden-colored chain is attached, so that you can get the privilege of swinging merrily with them.
BEAUTIFULLY HANDMADE WITH LOVE
Jhula's are professionally handmade with high-quality materials by some of India's greatest artisan craftsmen and perfect for loving Laddu Gopal or any other God or Goddess. In addition to Ladoo Gopal Ji, this Jhula can be used for Bal Gopal Ji, Ganesh Ji, Mahavir Bhagwan Ji, and other deities.
BEST AS A HOME DECOR AND GIFT
Ideal for enhancing the appearance of a traditional home and is a great collectible to pass along to future generations. Perfect gift for all Festivals like Radha Ashtami, Sharad Poornima, Raksha Bandhan, Janmashtami & Diwali. It is used both for worship purposes and for decoration in the home. Traditional, stylish, and inspired by the days of royal touch, its design looks good. Cast from white metal with an antique finish, this piece offers elegant appeal.
Key Features:
Elegant Swing with base used to seat your loved God/Goddess

Ideal gift it to your dear once to pass on your best wishes

A wide base for a royal look and perfect stature

Luxurious Gold swing chain  

Excellent finish, intricate design, and maximum longevity

Handcrafted authentically in India

The craftsmanship of the highest level

Never-diminishing premium paint

Dimensions 9 x 8.5 inches
At Radhe Radhe, our commitment to our community and culture is paramount. We stand behind our community with the best quality products and services. Our ultimate goal is to make sure our customers are satisfied with our product from the moment they bring it into their lives.
So what are you waiting for? Simply click on the Add To Cart Button to get this amazing Beautiful Gold Plated Swing (Jhula) For Laddu Gopal Or Other God/Goddess and enjoy the divine satisfaction. 
Piece is well crafted and sturdy. Dimensions are original as per specifications and customer support is super responsive. Very good quality.