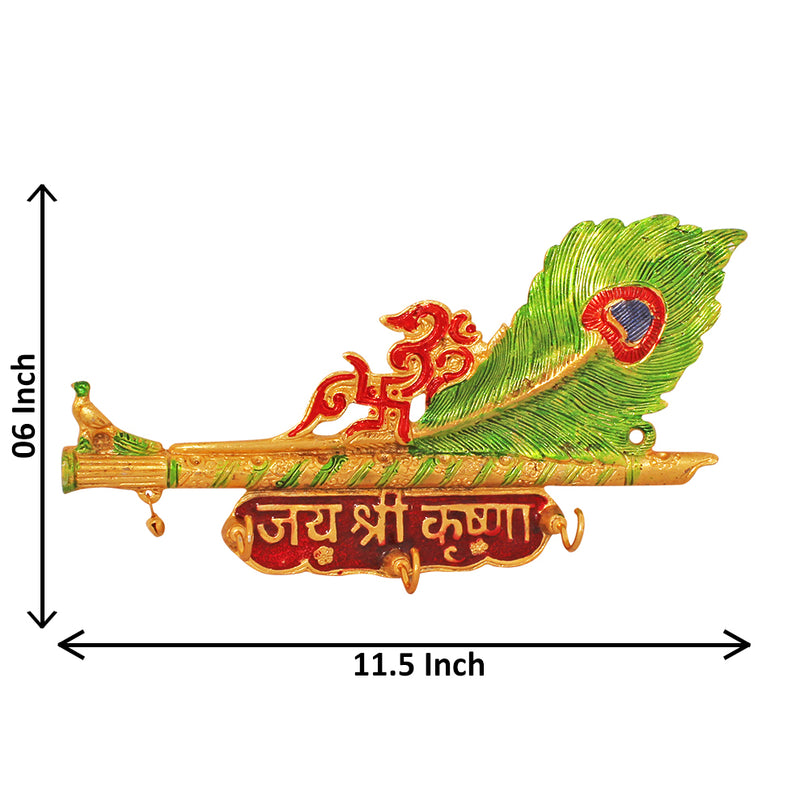 FILL YOUR ENVIRONMENT WITH THE CALMING NATURE OF LORD SRI KRISHNA'S FLUTE
CLASSY AND BEAUTIFUL LOOK
This Sri Krishna's Flute made with a Peacock feather design that adds a classy and beautiful look to your decor. It is authentically handcrafted by Hindu craftsmen in India using long-lasting, lightweight and durable materials. The attention to detail of the flute has a well designed Peacock at the edge which gives the flute (bansuri) an extraordinary elegance. It also says "Jai Shi Krishna (Hail Krishna)" written in Hindi on it.
BEST ADDITION TO YOUR PUJA ROOM
Surely the masterwork of art praising Lord Krishna's name is the perfect addition to any puja (prayer) room. The golden design and artificial stonework enhance the elegant work on the flute. Put a beautiful touch on your Puja room with this Krishna's Flute. A metallic beautiful flute for idols of Sri Krishna.
GENERATES POSITIVE ENERGIES
The calming sounds of the flute are believed to generate positive energy and make the surrounding environment more spiritually charged. Besides being a wall hanging decoration piece, it can also be used as a way to keep the good luck & fortune in your home. Particularly around religious celebrations and festivities, especially Janmashtami (Lord Krishna's appearance day) it serves as an excellent gift to devotees. 
Beneficial Impact: The Sri Krishna Bansuri Flute is said to eliminate various Vastu defects when kept in the house. The flow of money in the house is increased when a pair of flutes are hung outside the temple or on the walls of the temple.
Key Features: 
E

nsure that all defects in Vastu are removed

Skillful and meticulously crafted

Makes your puja room or altar more appealing

Made with lightweight & high-quality material 

An excellent gift for Janmashtami and numerous festive occasions

Measures 11.5" W x 6" H

Made in India by skilled craftsmen
At Radhe Radhe, our commitment to our community and culture is paramount. We stand behind our community with the best quality products and services. Our ultimate goal is to make sure our customers are satisfied with our product from the moment they bring it into their lives.
So what are you waiting for? Simply click on the Add To Cart Button to get this amazing Sri Krishna Bansuri Flute, and enjoy the spiritual satisfaction.
Love this and this is really add to find!
So glad I found this with the whole family and at a good price too.
Amazing workmanship. Perfect finishing and details. Beautiful colors. I brought it to use for Sankranti bommala koluvu. Super happy. Great purchase.