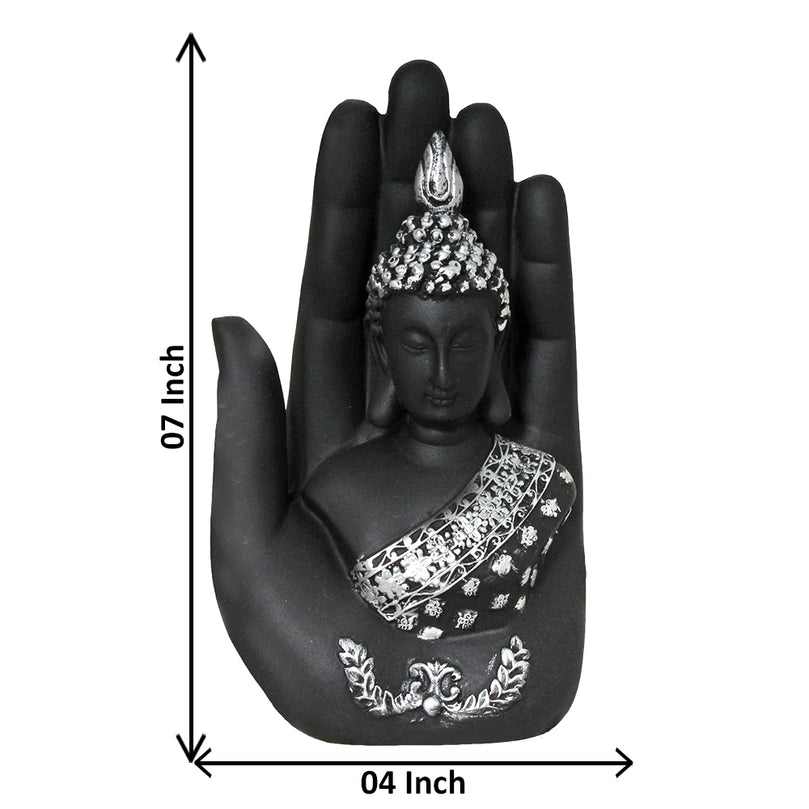 AN ELEGANT BUDDHA IDOL THAT IS ENOUGH FOR YOUR SPIRITUAL SERENITY
METICULOUSLY CRAFTED STATUE
Add distinctive Buddhist decor to your home with this Buddha In Hand Idol. Featuring meticulously crafted and detailed construction, this Idol is made as an excellent decorative piece to be displayed on your mantle, table, shelf, desk, or study tabletop. Buddha Idol inside a big blessing hand features an elegant decoration in your home, spa, or yoga studio.
PEACEFUL NATURE THAT CALMS YOUR MIND
The peaceful Buddhist nature of this Oriental Sculpture Lends its quiet countenance to a religious home altar or garden sanctuary. This impressive Black Buddha in the hand design is a symbol of harmony and serenity. Buddha, known as the enlightened one or the awakened one, is the sage who founded Buddhism and its teachings.
EXQUISITELY MADE WITH DURABLE MATERIAL
Premium sculpted and hand-painted in a smooth finish to give a high-quality antique look without sacrificing the details. The Indian Experts made this with their creativity and love. Beautiful decor to proudly display in your home, office, library, or meditation room. A great addition to any Buddha collection. 
Beneficial Impact: This buddha can provide an auspicious vibe, imparting a warm, contemplative atmosphere, and create a serene environment inside or outside the home with the use of this Protection Buddha statue.
Key Features:
Buddha in the hand design, a symbol of harmony and serenity

The hand-painted Black color with an antique finish

Adds a natural and calming element to your decor

The perfect home or meditation garden decoration

The craftsmanship of the highest level

Never-diminishing premium paint

Dimensions 7 x 4 inches
At Radhe Radhe, our commitment to our community and culture is paramount. We stand behind our community with the best quality products and services. Our ultimate goal is to make sure our customers are satisfied with our product from the moment they bring it into their lives.
So what are you waiting for? Simply click on the Add To Cart Button to get this amazing Buddha In Hand Black Elegant Idol and enjoy the divine satisfaction.
I put this on a window sill with some tea candles and it gives serenity to the room
It's very beautiful, and I know my mom is going to love it for Christmas. It is nicely detailed and pretty sturdy. It's currently wrapped, so I can't take pictures.