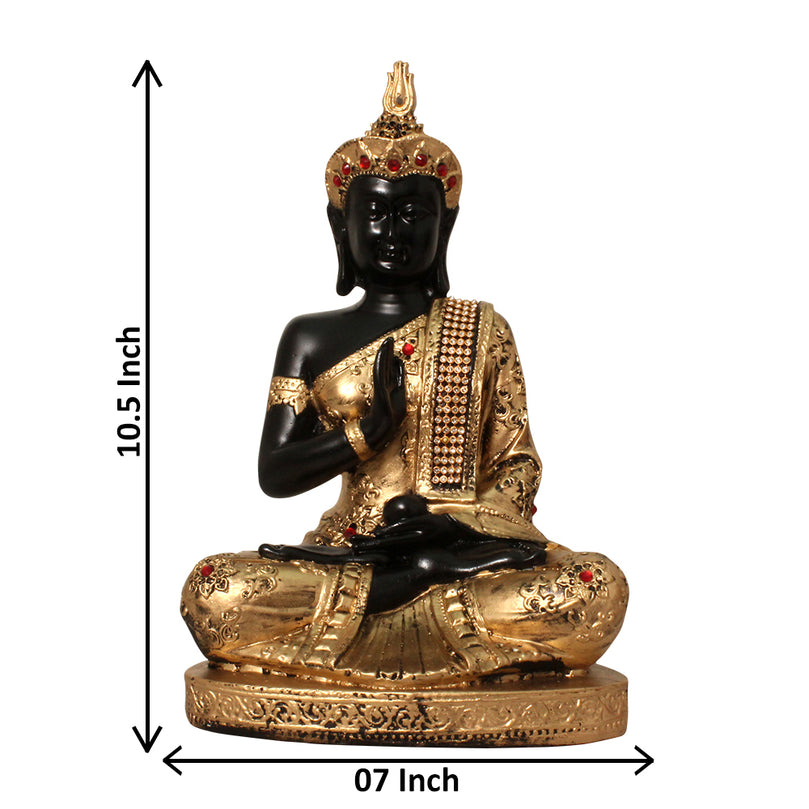 WHEN BUDDHA IS IN THE PROTECTION POSE HE SIGNIFIES COURAGE, SAFETY FROM ALL DANGER & REMOVES FEAR 
SHOWS GESTURE OF FEARLESSNESS
With a gesture of fearlessness and granting protection, this Buddha Protection Pose statue stands with its right hand elevated above its right thigh, palm facing out, fingers pointing up. This is said to be the gesture of Shaka Nyorai (Historical Buddha) immediately after attaining enlightenment. Place it in your living room or office near the main entrance, where you can see him every day to attract positive energy manyfold into the environment. 
BOTH DECORATION AND BENEFITS
This Buddha Idol will impart a warm and peaceful atmosphere to home, office, and outdoor. Perfect for displaying in your garden, home, meditation space, or yoga studio. Placing this Buddha Protection Idol on the office or study desk can help for concentration. Any feelings of stress or negativity are quickly dissolved and replaced by a calm, mindful, and peaceful mind.
MADE OF PREMIUM-QUALITY MATERIAL
This statue features quality construction with textured finishes, giving the appearance of the stone. This stylish Buddha Statue was carved by special technique in India to look like a vintage piece. The rich idol has a shiny crystal studded with ornate robes and has an antiqued golden finish. Add peace and tranquility to your home, office, garden, yoga studio, or meditation space.
Beneficial Impact: This buddha can provide an auspicious vibe, imparting a warm, contemplative atmosphere, and create a serene environment inside or outside the home with the use of this Protection Buddha statue.
Key Features:
Decorate your home with this auspicious Buddha Idol

A great gift to bring comfort and protection

Wipe the sculpture's dust off with a dry cloth

Peaceful and harmonious symbol

Auspicious ornament in Vastu and Feng Shui 

Materials are durable and sturdy. 

Excellent gift for anyone on any occasion 

A 7" wide x a 10.5" high solid idol
At Radhe Radhe, our commitment to our community and culture is paramount. We stand behind our community with the best quality products and services. Our ultimate goal is to make sure our customers are satisfied with our product from the moment they bring it into their lives.
So what are you waiting for? Simply click on the Add To Cart Button to get this amazing Buddha Protection Pose Idol, and enjoy the spiritual satisfaction.
Honestly wr have been searching to setup our small little temple for our new home.
We have searching frantically different shops, online, but couldnt find one that was beautiful, reliable, appropriate size and equally heavy to be stable and not tumble
I always love to collect statues and idols. This was one of the best in my collection. Very detailed work and luxurious.