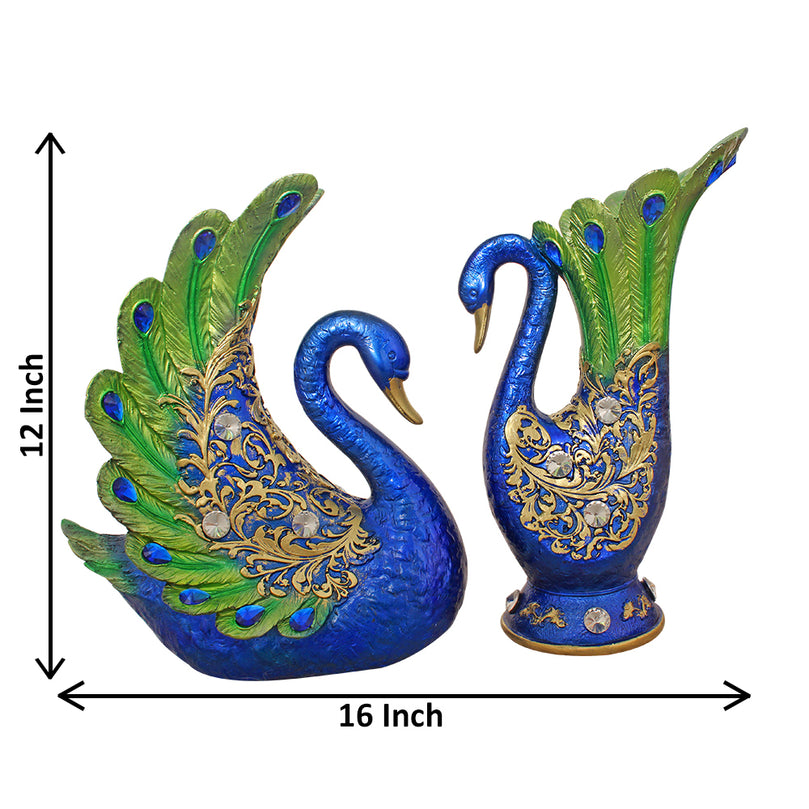 LOVE, BEAUTY & ELEGANCE, HAVE IT ALL WITH THIS PEACOCK STATUE PAIR 
ELEGANCE OF THE MOST BEAUTIFUL BIRD PEACOCK
This beautiful Peacock Statue is hand-painted and displays the elegance of the peacock, while the detailed eyespots add to the intricate design. Its adaptability and beauty have allowed this creature to be transplanted all over the world from its native India. They are favorites in European gardens and are considered a symbol of wealth and beauty.
PREMIUM QUALITY MATERIAL AND CRAFTSMANSHIP
Hand-cast from premium quality material and hand-painted using layers of rich colors, our peacock sculpture is created using premium quality material and world-class craftsmanship. It also makes a wonderful gift for anybody who enjoys this auspicious pair. This Peacock Statue is an exclusive design that is an amazing representation of this luxurious bird. Beautify your decor with this touch of elegance.
SMOOTH SURFACE AND A PERFECT GIFT
With its shining look and intricate details, this decor piece is sure to bring tranquility to your home! If you have an empty garden, porch, mantel or table in need of a beautiful accent, this is for you. Our products are of the highest quality, so you can buy with confidence. You can place it in any small space to update the decor appeal. Also makes a great gift for housewarmings, real estate closings or birthdays. 
Religious View: Lord Kartikeya always had a peacock feather in his flute, since he rode the auspicious peacock and sat on a peacock. The peacock represents life, beauty, love, romance, re-growth, rebirth, royalty, respect, honor, and integrity. During Krishna's childhood. 
Key Features:
Inspired by the elegant line and explosive color of a peacock

Decorative items add value to the decor of a home, office, hotel, garden etc. 

Great ideas for wedding gifts, anniversary gifts housewarming ceremonies

High-quality peacock model is the lovely and fresh, very vivid and appealing appearance

Handcrafted authentically in India

The craftsmanship of the highest level

Never-diminishing premium paint

Dimensions 16 x 12 inches
At Radhe Radhe, our commitment to our community and culture is paramount. We stand behind our community with the best quality products and services. Our ultimate goal is to make sure our customers are satisfied with our product from the moment they bring it into their lives.
So what are you waiting for? Simply click on the Add To Cart Button to get this amazing Colorful & Elegant Peacock Statue Pair and enjoy the divine satisfaction.
This is a sample product to show other Coustmer foe wholesale and retail no regrets on time service I even buy wholesale at great price
Fantastic!...received with good condition😊