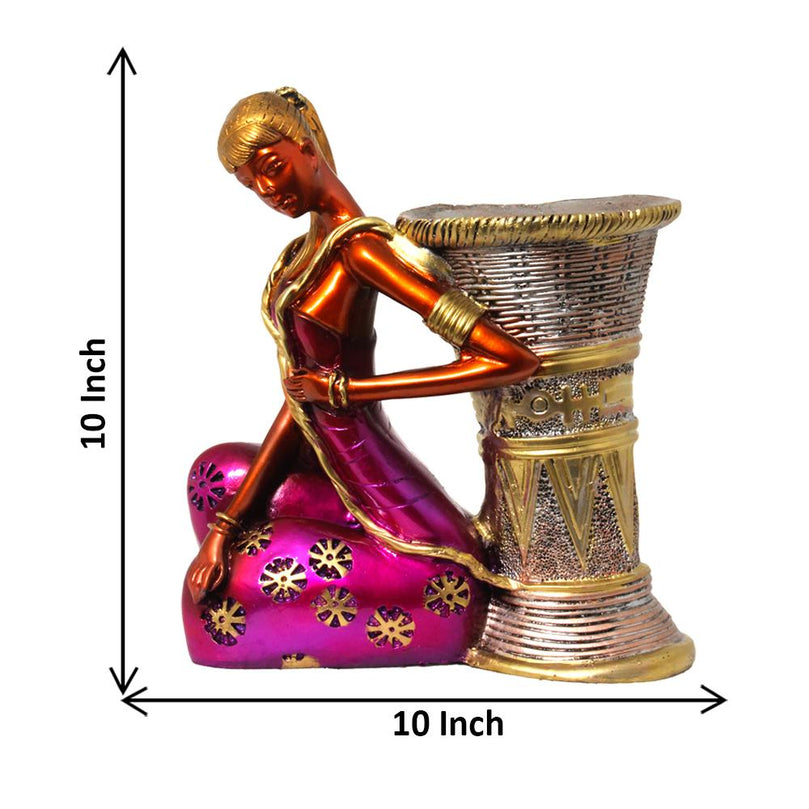 CULTURED WOMAN SCULPTURE, REMINDS YOUR ROOTS
A GREAT INDIAN CRAFTSMANSHIP
This Cultured Woman Sculpture connects one to his cultural roots while giving a kingly vibe to any room. This beautiful Woman sculpture is hand-made and hand-painted by experienced Indian craftsmen with vibrant contrasting colors to beautify any room it is placed in. It's painted with premium paint that will never fade away and last with a luxury look and feel. Vibrant colors make the environment cheerful and lively.
BEAUTIFUL DECOR FOR YOUR HOME/OFFICE
The home reflects one's personality so why not decorate it in our own way? Decorate your drawing room, living room, or bedroom with this designer showpiece to bring happiness and peace as well as colors add liveliness to the home. It's a great item to give to parents, friends, relatives, or art lovers. Easy to put on your desk, car dashboard, perfect for display on the shelf of the store. It can enhance the house, office, etc. style, and the taste of home well.
Key Features:
Unique lady statues are a great addition to any decoration

Use it to change the old style of your home.

Make the interior space more refreshing Creative and artistic design

Perfect as a decorative piece or tasteful gift

Measures 10" W x 10" H

Made in India by skilled craftsmen

A

n impressive piece of art
At Radhe Radhe, our commitment to our community and culture is paramount. We stand behind our community with the best quality products and services. Our ultimate goal is to make sure our customers are satisfied with our product from the moment they bring it into their lives.
So what are you waiting for? Simply click on the Add To Cart Button to get this amazing Cultured Women Sitting Sculpture, and decorate your room with tradition.
Beautiful statue with striking colours! It was large than expected which is a very welcome surprise indeed! It arrived earlier than expected & was well packaged with a nice card inside, I'd like to buy some more statues from this company
Looks very beautiful and quality is amazing