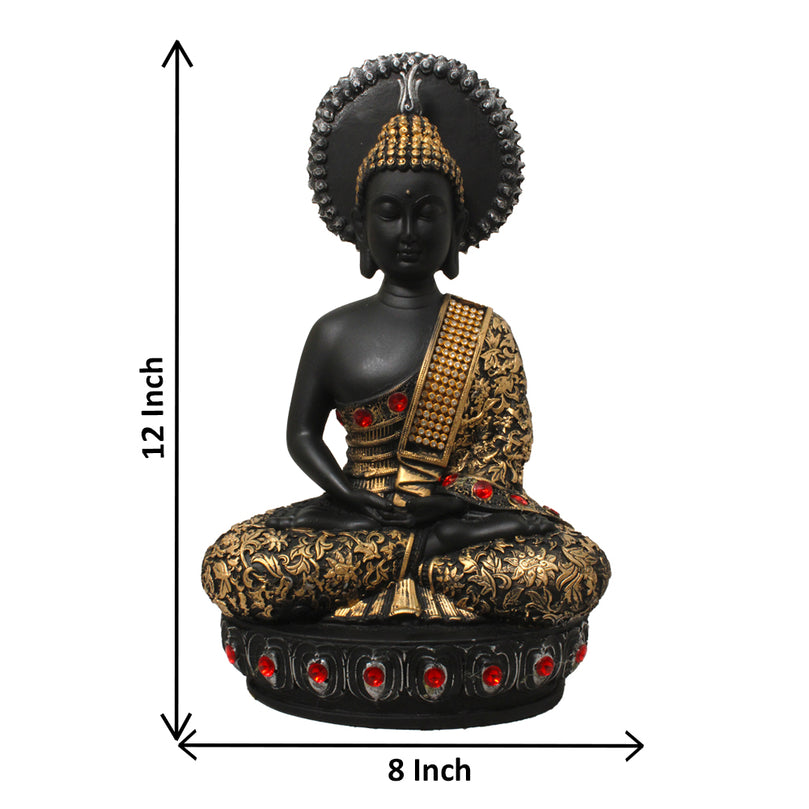 ENRICH YOUR LIVES WITH THIS LUXURY MEDITATION BUDDHA IDOL FOR A PEACEFUL MIND & PROSPERITY
WONDERFULLY DETAILED CRAFT
This meditating Buddha Idol will enhance your home decor with its beautifully detailed and unique finish. In addition to adding a Zen (calm) look to your outdoor space, the meditating design will also add a relaxing energy! The intricately detailed Buddha figurine is cast in solid and high-quality materials and will enhance your home, office, or garden as well as bring peace and harmony to your surroundings!
PEACEFUL BUDDHIST NATURE
You can use this Meditating Buddha statue inside or outside your home to create a soothing environment. Buddha is a miracle. Bringing tranquility to a religious home altar or outside the garden sanctuary, this oriental sculpture reflects the peaceful nature of Buddhism. With his beautiful carving, this Buddha sits in deep thought, eyes closed, radiating warmth and helping you to concentrate.
SPIRITUAL DECORATION & PERFECT GIFT
This Meditating Buddha will add a lot of religious flair to your home and be a wonderful centerpiece. It can bring peace and love to your family and it's also a wonderful gift! A Buddha figurine makes a great addition to your outdoor decor and you can also use it inside to give your home, office, meditation room, or yoga studio to add a spiritual flair. 
Beneficial Impacts: In their prayer rooms, Buddhists often keep the Idol of the Meditating Buddha. So, it aids concentration by emitting positive, relaxing energy. A corner facing East would be a fitting place for this image of eternal knowledge and enlightenment. The result will be a calm mind and a clear aura.
Key Features:
Decorate your home with positive spiritual energy

A great gift to bring comfort and protection to anyone

Authentically crafted for the greatest results

Wipe the sculpture's dust off with a dry cloth

Peaceful and harmonious symbol

Materials that are durable and last a long time 

Excellent gift for anyone on any occasion 

An 8" wide x a 12" high piece of art.
At Radhe Radhe, our commitment to our community and culture is paramount. We stand behind our community with the best quality products and services. Our ultimate goal is to make sure our customers are satisfied with our product from the moment they bring it into their lives.
So what are you waiting for? Simply click on the Add To Cart Button to get this amazing Elegant Meditating Buddha Idol, Black, Gold & Red Diamond Studded Finish, and enjoy the spiritual satisfaction.
Super gift for the person who has absolutely everything, bet they don't have one of these....Yet!
Awesome and luxurious idol! I am amazed looking at the details work!