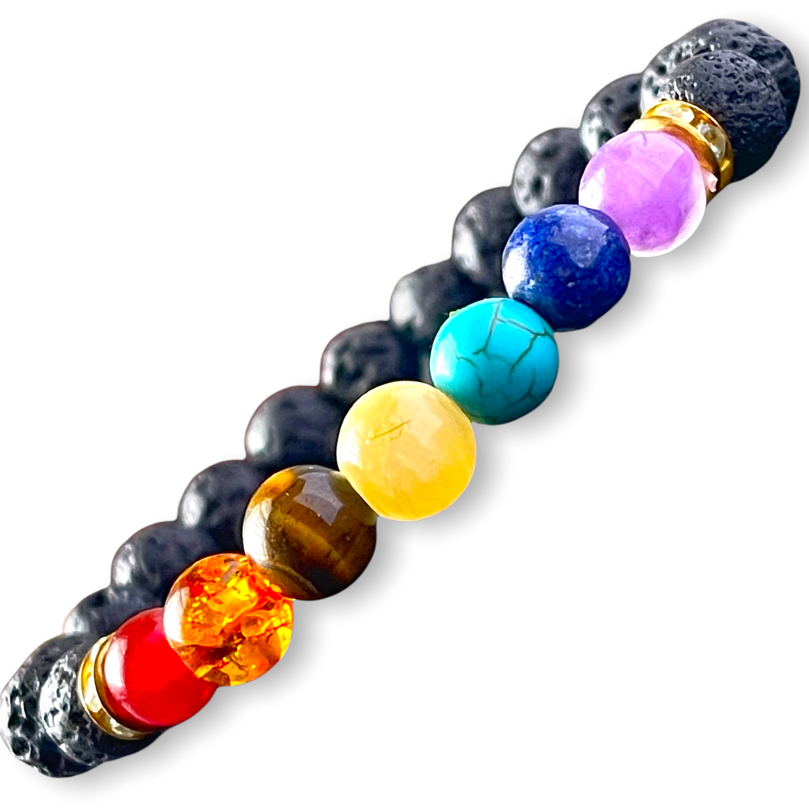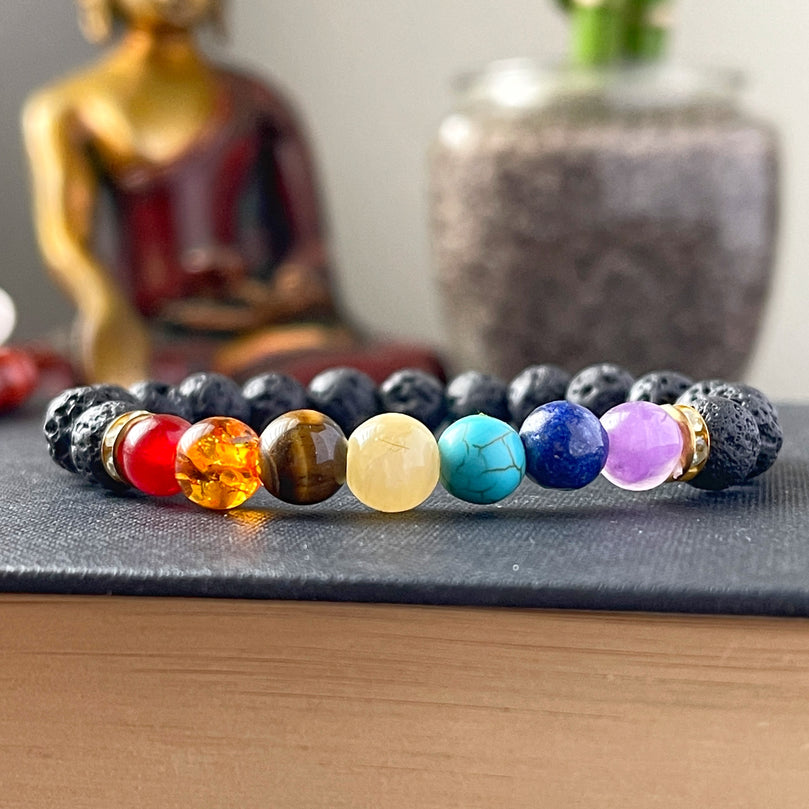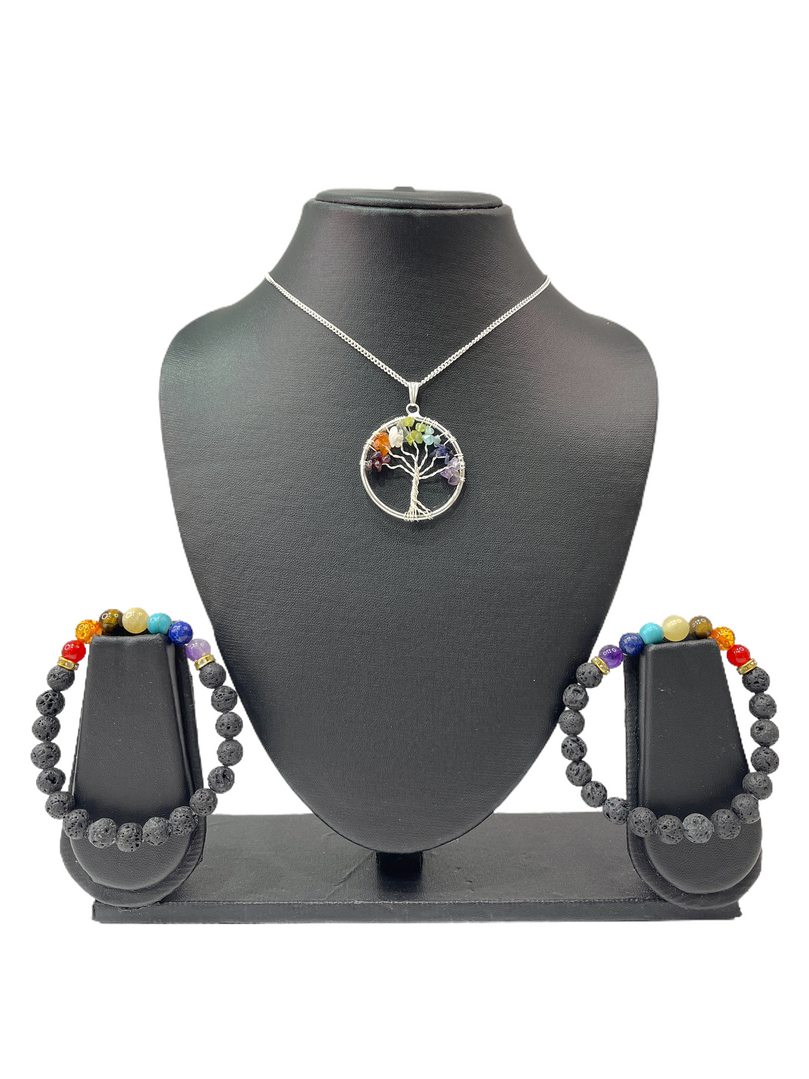 Material

NATURAL STONE - 100% Genuine Natural Semi-Precious Gemstones, beautifully cut to retain its natural healing properties while enhancing its unique beauty. These stones are solid, odorless, durable, and are designed for long-term use. 

HEALTH & SPIRITUAL BENEFITS - Natural Semi-Precious Gemstones are used in many cultures to harness its unique direct and in-direct natural health and spiritual benefits to those who are surrounded by them. 

Incorporating natural stones in your daily life is believed to help in bringing positivity, balance, and focus especially on challenging situations. Bead stone jewelry serves as a reminder of the qualities you value and your personal goals. It can also be used as a good meditation tool.

7 Chakra Gemstone USES - 

Red Jasper is reported to increase emotional focus and balance. Red Jasper is reported to remove negative energy, worry, emotional stress, anxiety and confusion. Red Jasper is great for anxious mood, emotional frustrations, thought clarity, general mood balancing energies and channeling. Red Jasper is said to increase emotional stamina, self confidence, self-trust, emotional protection, courage, balance, calm and relaxation. Red Jasper can also be used for increasing memory of dreams and also increasing sexual vibrancy.
Orange Carnelian - A stabilising stone, Carnelian restores vitality and motivation

, and stimulates creativity. It gives courage, promotes positive life choices, dispels apathy and motivates for success. Carnelian is useful for overcoming abuse of any kind. ... Carnelian boosts fertility and stimulates sexuality.

Tiger Eye - A stone of protection, Tiger's Eye may also bring good luck to the wearer. It has the power to focus the mind, promoting mental clarity, assisting us to resolve problems objectively and unclouded by emotions. Particularly useful for healing psychosomatic illnesses, dispelling fear and anxiety.

White Moonstone -

 

calms and encourages

 as it teaches us the natural rhythms of life, opens the heart to empathy, and assists in the acceptance of love. Moonstone is said to increase our sensitivity to the Feminine Divine, to heighten intuition, and to open us up to our psychic gifts.

Turquoise, the captivating sea-green stone of the ancients, represents wisdom, tranquility, protection, good fortune, and hope

. Ancient peoples believed in its profound power to protect, as well as its tranquil energy and its association with enduring love.

Sodalite brings order and calmness to the mind.  It encourages rational thought, objectivity, truth and intuition, along with verbalisation of feelings.  Sodalite brings emotional balance and calms panic attacks.  It enhances self-esteem, self-acceptance and self-trust. Sodalite balances the metabolism, boosts the immune system and overcomes calcium deficiencies.  It combats radiation damage by soaking up electromagnetic smog.  Sodalite treats the throat, vocal cords, larynx and helps with hoarseness and digestive disorders.  It cools fevers, lowers blood pressure and stimulates the absorption of body fluids.  Sodalite can also help to prevent insomnia.

Amethyst can attract prosperity, happiness, and peace while opening up the mind to accept beauty and intuition. As for physical health, this stone is claimed to also help heal eye issues, cellular levels, and blood disorders while also easing depression, anxiety, and insomnia.

PRODUCT INFORMATION - Bracelet (

~

 

7-inch or 17-19cm), stretchy triple elastic for extra security, fits all sizes,

 

(~

 

8mm or 0.31" rounded beads) real natural semi-precious gemstone beaded bracelet (24 beads in each bracelet) 

MAINTENANCE TIPS - If you take off your bracelet when you bathe and swim, the bracelet will last longer. Best effects when the stone is touching the skin and has regular exposure to direct sunlight. 

PREMIUM DURABLE CONSTRUCTION - Made with the finest quality stretch bracelet string for any size, tripled for extra security with a hidden knot for a clean appearance. Featuring high-quality, hand-selected stones to ensure no bumps, dents, or cracks in the stone that can snag your skin or clothing for comfortable wear. 

WONDERFUL GIFT FOR COUPLE OR HIM/HER -- This jewelry is suitable to be worn by a single person (unisex)

 

for daily wear, dates, office, parties, or family reunions

 

but can also be a the PERFECT gift for couples who want to share the benefits of the gemstones with stylish matching outfits. Also a good gift for your family or friends on their special day to show you care for them.
Comes with bracelet and velvet pouch only.
100% SATISFACTION GUARANTEED - We stand behind the quality of all our products and take pride in providing excellent service for all our customers.

 
This product comes with a 30 days limited warranty against material and workmanship to ensure your complete satisfaction
. If for any reason, you are not completely satisfied with your bracelet or necklace, simply contact our friendly customer support within 30 days of the purchase and enjoy 100% REFUND or a BRAND NEW REPLACEMENT. Please note, all natural gemstones are all one-of-a-kind, therefore the color and pattern may vary from the picture shown but we know you will be pleased with the uniqueness of your bracelet/necklace.