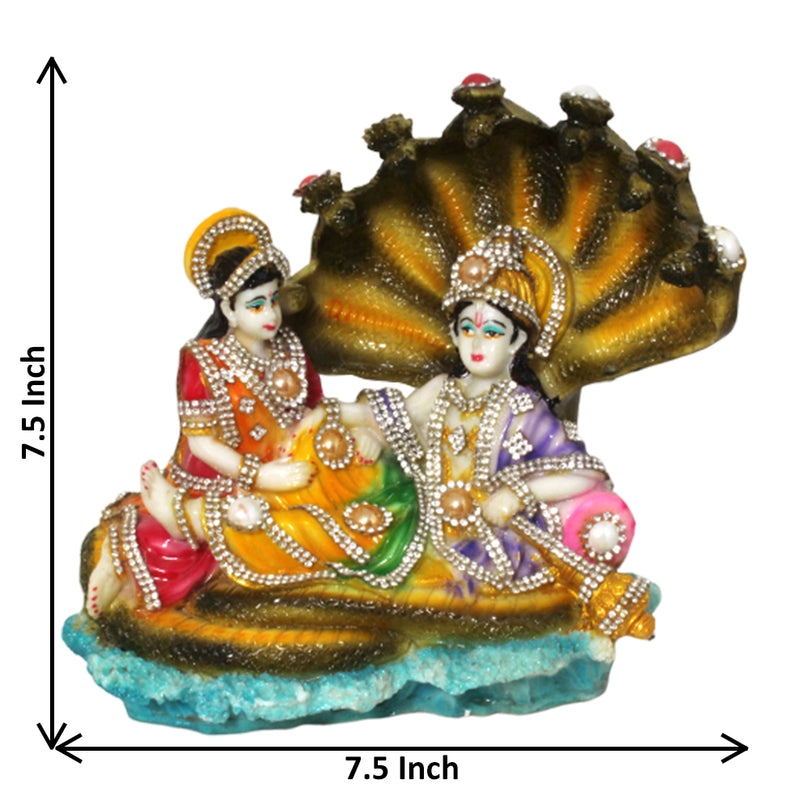 LORD VISHNU IS THE PRESERVER, CLEANSING THE MIND OF ALL WEAKNESS, CONFUSION & DOUBT TO CLEAR THE PATH OF SUCCESS IN EVERY ASPECT OF LIFE
LORD VISHNU, THE SUPREME
Among the major deities of Hinduism is Lord Vishnu, the Supreme. In the Hindu trinity (Trimurti), he is the Preserver. This idol is the traditional depiction of Vishnu. He is laying on the coils of the serpent Shesha, in the cosmic ocean of Ananthasayanam. In this rare statue, he is accompanied by his consort Lakshmi and Mahesh, as he dreams the universe into reality. In Hindu history, Goddess Lakshmi Maa tells Narada Muni that she presses Lord Vishnu's feet as from humans to Gods, all the planets affect him and the evil of those planets ends by pressing the feet of Sri Hari Lord Vishnu. 
ATTRACTS THE HEART OF THE DEVOTEE
Sculptors did not create this masterpiece Idol of Goddess Shri Lakshmi Maa Pressing Lord Sri Vishnu's Feet out of idle fancies or fancy, but to attract the devotee toward and connect with God through shining channels. It is worshipped, but the devotee perceives the presence of God in it and pours out his devotion to it. 
SMOOTH AND POLISHED SURFACE
This Idol of Goddess Shri Lakshmi Maa Pressing Lord Sri Vishnu's Feet has been surface polished, so it's smooth with gems that look majestic. There will never be any harm done to you. Adding this piece to your decor will help to refresh the look of short space. The great work of craftsmanship left nothing to detail in this beautiful idol. A valuable personal collectible collection. Decorations like this enhance the decor of a home, office, hotel, temple, and so on. Great ideas for wedding gifts, anniversary gifts, and housewarming gifts.
PREMIUM LUXURIOUS MATERIALS 
The finest materials are used to produce this beautifully crafted statue, which is made in India by expert craftsmen. You can simply use a dry or wet cotton cloth to remove any dust or dirt. Bring a touch of traditional Hindu culture to your home decor with this Idol of Indian culture.
Beneficial Impacts: Vastu states that keeping this idol at home can improve the health and wealth of the household. An Idol of this nature is a highly powerful cleanser, one that clears the mind of all its weaknesses, confusions, and wavering nature in addition to adding self-confidence and showing the path to success in every aspect of life.
Special Features:
Be blessed with health, happiness, prosperity, and peace

An amazing gift for anyone on any occasion

Skill and attention are required to achieve a smooth, shiny surface

Looks more attractive when used in altars or puja rooms

Measures 7.5" W x 7.5" H

A masterpiece of Indian craftsmanship
At Radhe Radhe, our commitment to our community and culture is paramount. We stand behind our community with the best quality products and services. Our ultimate goal is to make sure our customers are satisfied with our product from the moment they bring it into their lives.
So what are you waiting for? Simply click on the Add To Cart Button to get this amazing Lord Sri Vishnu Idol, and enjoy the spiritual satisfaction.
Perfect size and nice coloring. The golden color make it look like it is metal but it has also nice details of colors.
This is a gorgeous statue, with great coloring and a decent size. Especially as our deities often teach us to honor those! I'm also very sensitive to energy and sometimes products have shitty energy - not this one, it was clear-ish and I just did a little additional clearing on it myself with intention, some sage, and other sprays before I placed in her new home on my altar.