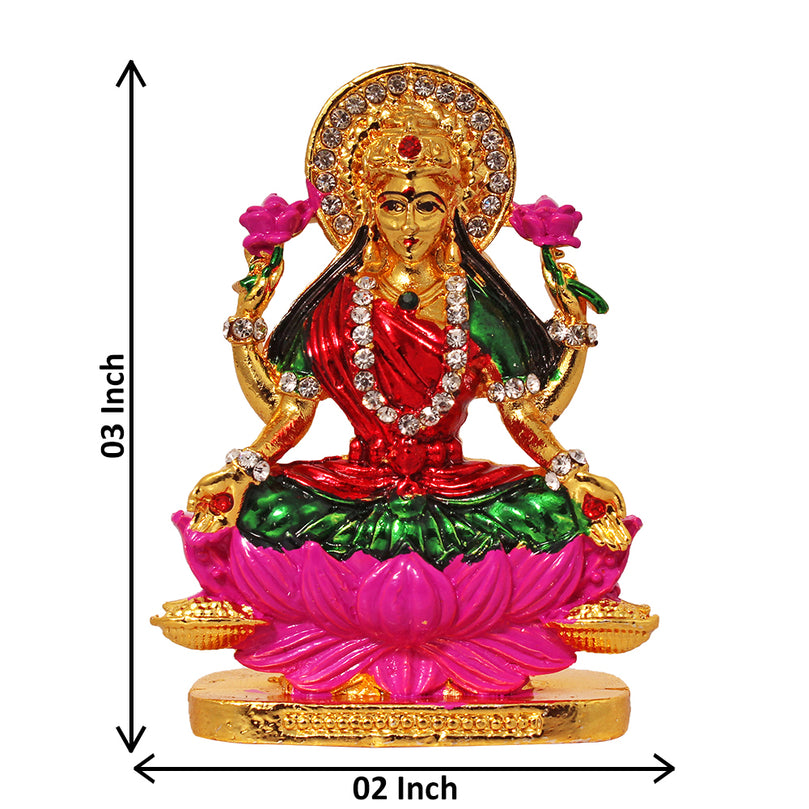 PRAISE SRI LAKSHMI MAA FOR INFINITE  WEALTH, RICHES & GOOD FORTUNE 
PROTECTS FROM ALL MISERIES
Sri Lakshmi Maa is the supreme goddess of wealth, fortune, and beauty. As well as being the Hindu goddess of spiritual and material fortune, this goddess is also the embodiment of enlightenment. She is the consort of the God Lord Vishnu. Also called Mahalakshmi. In addition to bringing good luck, her Idol is believed to protect her devotees from all kinds of misfortune and financial problems.
BEAUTIFULLY DETAILED CRAFTSMANSHIP
Sri Lakshmi Maa is the household goddess of most Hindu families and a favorite among women. This Sri Lakshmi Maa Seated on Lotus Idol is of the highest quality and made of lightweight materials to make it the perfect addition to any small space. An amazing art sculpture of Goddess Lakshmi Maa On Lotus.
PERFECT CAR DASHBOARD ACCESSORY 
The compact size and lightweight material of this Sri Lakshmi Maa Seated on Lotus Idol is designed to be kept in small areas or on the car dashboard. Placing Sri Lakshmi Maa on the car dashboard will protect its surroundings and bring wealth wherever you're going. This shiny Idol is a beautiful addition to any environment to bring protection, peace, and good fortune.
MAKES A PERFECT GIFT FOR WEALTH
Sri Lakshmi Maa is called Shri or Thirumagal because she possesses six auspicious and divine qualities, or Gunas, and also because she is the source of strength even for Lord Vishnu. An antique finish gives this idol a high-quality antique look without sacrificing the details, making it an excellent gift for any occasion to loved ones or those who you want to prosper. This is the perfect gift for Diwali to show someone you care for their financial success!
Beneficial Impact: According to Vastu experts, Goddess Laxmi Maa idols should be placed in the west, north-east, or north direction for best results. This promotes a peaceful environment at home and enhances positivity and a steady flow of wealth.
Key Features:
The perfect decor for your home, office, library, meditation room 

High quality and lightweight materials work great as a car dashboard accessory 

A great gift to express how much you care for someone

Good luck, wealth, light, and beauty goddess

Handcrafted authentically in India

The craftsmanship of the highest level

Best Diwali gift to give to loved ones, students or workers for good fortune

Dimensions 3 x 2 inches
At Radhe Radhe, our commitment to our community and culture is paramount. We stand behind our community with the best quality products and services. Our ultimate goal is to make sure our customers are satisfied with our product from the moment they bring it into their lives.
So what are you waiting for? Simply click on the Add To Cart Button to get this amazing Sri Lakshmi Maa Seated on Lotus Idol and enjoy the divine satisfaction.
This came packaged securely in a box you could use for gifting. I love the size and the color.
It's really looking beautiful.every one who ever comes are appreciated.it is really giving positive vibes to home.I would highly recommend this product.
The craftsmanship is amazing. You can definitely tell the manufacturers strive for quality.... item very detailed and meticulously made... Love it.!