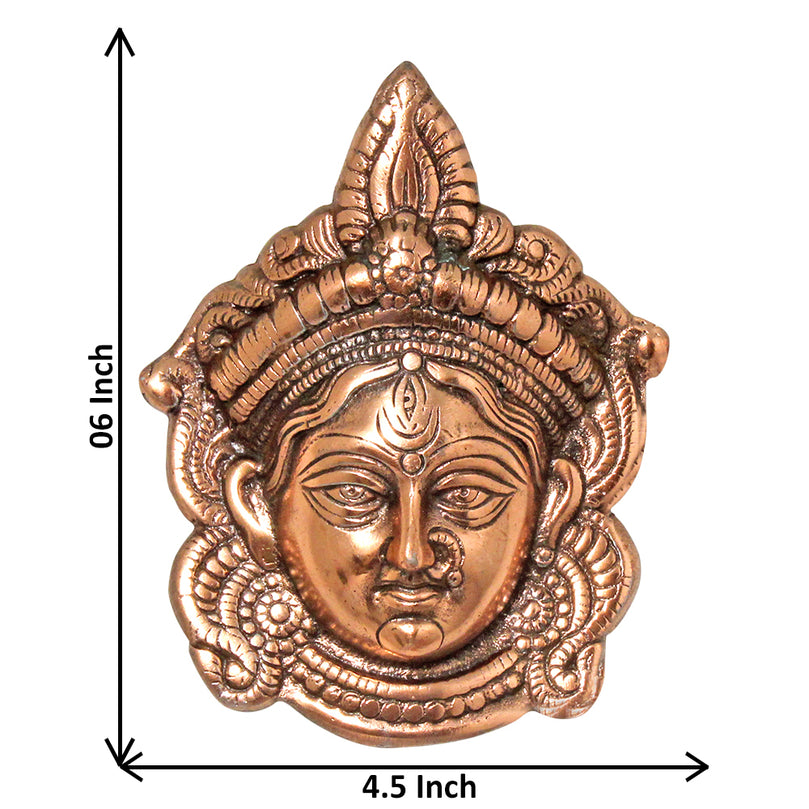 TRYAMBAKE DURGA MAA, THE PROTECTOR, BANISHES ALL EVIL ENERGIES WITH THE POWER OF DESTRUCTION 
THE POWER OF THE THREE EYES 
This beautiful Wall-hanging of Sri Maa Durga Face is crafted with details by the best craftsmen in India. There are three eyes in this Sculpture. It is said that when Sri Maa Durga is found with three eyes, it is of very auspicious and of special significance. "Tryambake," the three-eyed goddess, is also known as Sri Maa Durga and is often compared to Mahadev Lord Shiva. The left eye represents desire (Chandra - the moon), the right eye represents action (Surya - the sun), and the central eye represents knowledge (Agni - the fire). With all three eyes, Durga Maa will use the forces of the universe to protect those in its surroundings.
SUPREME RADIANT GODDESS OF STRENGTH
Durga Maa, the supremely radiant goddess, stands for feminine creative energy (Shakti) and is an embodiment of Svatantrya (dependence on the universe), as well as fierce compassion. It is recommended that you have her Idol or Sculpture in your home in order to repel all evil energies. She is believed to be the force that creates, preserves, and destroys the world. All the forces of divinity are represented by her unified manifestation as the symbol of power, determination, and will.
ENHANCE THE BEAUTY OF YOUR HOME
This beautifully handcrafted Sri Tryambake Durga Maa Face Wall Hanging is designed to enhance the walls of your home or office or the door of the altar. It is made from lightweight, best-quality materials to maximize benefits in any room, including a temple, house, office, or hotel. The design has a very traditional look and is very eye-catching. Sculpted by Indian artists in a metallic finish and hand-painted.
BEAUTIFUL DECOR AND SURPRISING GIFT
You can gift this amazing Sculpture for Durga Puja, Durga Ashtami, Navratri, Vijayadashami or place it on the walls of your office desk, library, meditation room, altar, or as decor for your home office desk. Sculptures like this add a unique and appealing touch to a home and can be displayed in many different ways to enhance the decor. 
Beneficial Impact: It represents the divine feminine powers (positive energies) of female energies (shakti) facing the forces of evil. She protects those who possess her Murti from evil powers and keeps them safe.
Key Features: 
Three eyes represent desire, action, and knowledge

Believed to be the Holy powers behind the creation of the universe 

Durable and corrosion-resistant material 

A wonderful gift for Navratri, Durga Ashtami, housewarming parties, and numerous other festive occasions 

Handcrafted authentically in India

The craftsmanship of the highest level

Never-diminishing premium paint

Dimensions 6 x 4.5 inches
At Radhe Radhe, our commitment to our community and culture is paramount. We stand behind our community with the best quality products and services. Our ultimate goal is to make sure our customers are satisfied with our product from the moment they bring it into their lives.
So what are you waiting for? Simply click on the Add To Cart Button to get this amazing Goddess Sri Tryambake Durga Maa Face Wall Hanging Sculpture and enjoy the divine satisfaction.
This Durga piece is very lovely. It is a soft gold gold color. Durga's expressions are detailed. I recommend this item.
I highly recommend getting this statue of Durga! It is so gorgeous and totally worth every cent. It's a perfect size and the shipping is very fast!