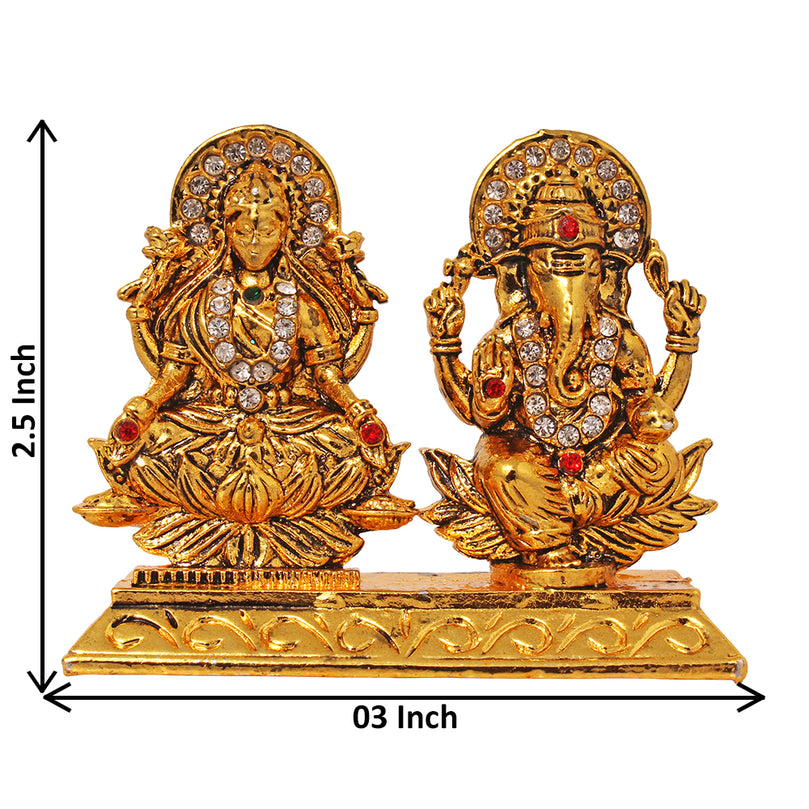 BRING THE COMBINATION OF WEALTH, PROSPERITY, KNOWLEDGE, & WISDOM
ENSURE YOUR SUCCESS AND WEALTH
Lord Ganesha Ji is the god of wisdom, success, good luck, and he can help you overcome obstacles. Meanwhile, Sri Lakshmi Maa is the Goddess of good fortune, wealth, beauty, and fertility. Many families revere her as the goddess of the household. Place this golden Idol in your puja room to elevate the results of your prayers. 
ELEGANT, STYLISH, AND DECORATIVE IDOL
You can transform the future of your life with this Gold Coated Idol of Sri Laxmi Maa and Sri Ganesh Ji. Bring a rich modern design to your office, home, and house with this glossy, gold-plated collectible. Goddess Sri Lakshmi Maa and Lord Sri Ganesha are shown here sitting on a sturdy base and are suitable for worship, placed on the car dashboard or as simply an auspicious home decoration. 
BEAUTIFUL WORK OF CRAFTSMANSHIP
This Gold Sri Laxmi Maa and Sri Ganesh Ji Pair is made of high-quality materials by skilled Hindu craftsmen and then hand-painted in a rich metallic gold finish with colored accents. This designer gift for Indian decor will show you care about the well-being of the receiver while celebrating special occasions like Krishna Janmashtami, Holi, Gopastami, Diwali (Govardhan Puja), Dussehra, Rama Navami, and many others.
Beneficial Impact: According to Vastu experts, Lord Ganesha and Laxmi Maa idols should be placed to the west, north-east, or north direction for best results. This promotes a peaceful environment at home and enhances positivity in the environment and ourselves.
Key Features:
A stunning piece of handcrafted Indian art 

Rich shiny gold and crystal embezzled piece 

An elegant choice for any small spaces 

Compact size and very lightweight

Perfect to keep on car dashboard

The craftsmanship of the highest level

Never-diminishing premium paint

Dimensions 2.5 x 3 inches
At Radhe Radhe, our commitment to our community and culture is paramount. We stand behind our community with the best quality products and services. Our ultimate goal is to make sure our customers are satisfied with our product from the moment they bring it into their lives.
So what are you waiting for? Simply click on the Add To Cart Button to get this amazing Gold Sri Maa Lakshmi Ji and Ganesh Ji Pair and enjoy the divine satisfaction.
Awesoem product was shipped safely and packaged well.