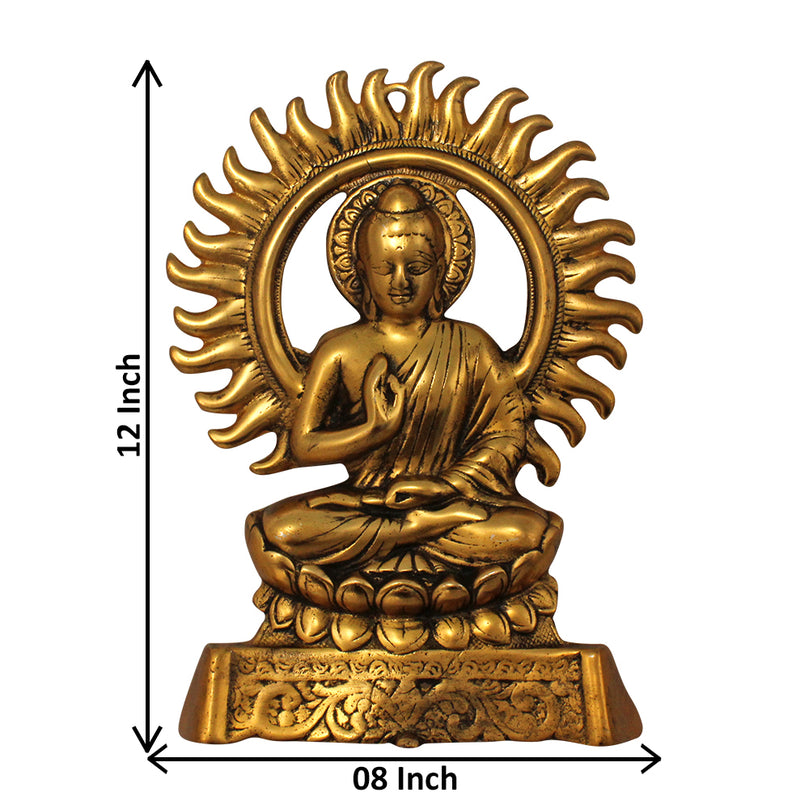 BUDDHA ON LOTUS IN HIS PROTECTION POSE GIVES COURAGE, SAFETY & REMOVES BOTH ANGER & FEAR
HELPS TO BRING PEACE AND CALMNESS TO MIND
This Buddha On Lotus In His Protection Posture Wall Hanging Idol attracts positive (Prana/Qi/Chi) life force energy while removing the fear and anger. Hence, it should be hung on walls near the main entrance or living room, where you can see him every day. Just before getting out or coming home. This Statue can make it easier to focus if you have it at your desk or in your office. The Buddha Protection Pose Statue bears its right hand lifted over the right thigh, palm facing out with fingers pointing up in a gesture of fearlessness and protection. The gesture is associated with Shaka Nyorai (Historical Buddha) right after he achieved enlightenment.  
BOTH DECORATION AND BENEFITS
The Buddha on Lotus in His Protection Pose Wall Hanging Idol offers a calm and peaceful ambiance to home, office, or outdoor spaces. Display this decoration in your garden, home, meditation/yoga space, or office. Feelings of stress or negativity quickly dissolve and are replaced with a sense of calm, mindfulness, and peace. This Figurine will be a great accent for any room's wall. Your interior design will be more classy with this piece of home decor. Enhance your home decor with our gorgeous and stunning lines of this decorative Wall-hanging piece. 
PREMIUM-QUALITY MATERIAL YOU CAN RELY ON
This beautiful work of art features quality construction with quality material. This stylish Buddha Wall Hanging Sculpture was carved by special technique in India to look like a vintage statue. Made with excellent workmanship, so it is durable and exquisite. Its solid, stable base allows it to hang firmly on the wall or door, preventing it from falling over. The perfect choice for bookshelves, mantles, table-tops, and meditation areas. Add peace and tranquility to your home, office, garden, yoga studio, or meditation space.
Beneficial Impact: This auspicious buddha can cure Vastu Dosh by imparting a warm, contemplative atmosphere, and create a serene environment inside or outside the home with the use of this Protection Buddha statue. 
Key Features:
Decorate your home with this auspicious Buddha Sculpture

A great gift to bring comfort and protection

Wipe the sculpture's dust off with a dry cloth

Peaceful and harmonious symbol

Materials are durable and solid 

Excellent gift for anyone on any occasion 

Handcrafted authentically in India

The craftsmanship of the highest level

Never-diminishing premium paint

Dimensions 12 x 8 inches
At Radhe Radhe, our commitment to our community and culture is paramount. We stand behind our community with the best quality products and services. Our ultimate goal is to make sure our customers are satisfied with our product from the moment they bring it into their lives.
So what are you waiting for? Simply click on the Add To Cart Button to get this amazing Buddha On A Lotus In His Protection Pose Wall Hanging Idol and enjoy divine satisfaction.
Exactly as shown in the picture, reached safe, well packed. Value for money.
Bigger then expected, medium weight, love the colors and details, money well spent