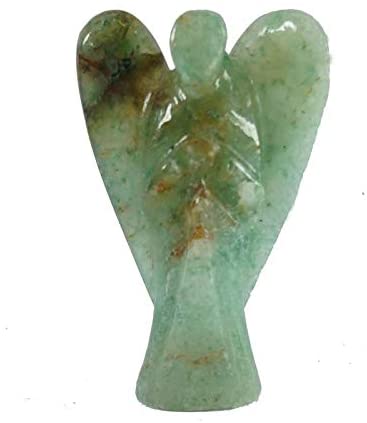 KEEP THIS GREEN AVENTURINE STONE ANGEL, AND FEEL SAFE AND SECURED
EXCELLENT FOR EXAMINEES OR CANDIDATES
This Guardian Angel is made of Green Aventurine Stone. The Green Aventurine is known as the stone of opportunities. It is one of the premier stones when one must really take on life's challenges with a strong positive attitude. This crystal is excellent for examinees, leaders, managers, and therapists. It is helpful to absorb electromagnetic pollution and can be taped to a cell phone, computer, or other devices that emit the pollution.
ALLOWS YOU TO MOVE FORWARD WITH CONFIDENCE 
Don't think these are the only benefits of the stone! You will be surprised to know that moreover, Green Aventurine releases old patterns, habits, and disappointments so new growth can take place. Also can bring optimism and a zest for life, allowing one to move forward with confidence and to embrace change. Enhances your creativity and motivation and encourages perseverance in maneuvering life's obstacles.
HANDCRAFTED FROM NATURAL STONES
This Spiritual Angel is individually hand-carved from natural green aventurine stone so this is completely unique and real and the hand carving process is traditional. Angels give us magical gifts and inspiration to achieve God's intention for us. Gift your favorite person to lead him/her on a healthy, loving path through life. Use this natural crystal angel to remind you of God each day.
Key Features:
Creates that calm energy in you and infuses your room with positive energy

Symbolize Guardian god with healing benefits

The stone has its own unique color and texture

Bless yourselves and your loved ones with the spiritual gift

Gorgeous Hand Carved Green Aventurine Pocket Angel
At Radhe Radhe, our commitment to our community and culture is paramount. We stand behind our community with the best quality products and services. Our ultimate goal is to make sure our customers are satisfied with our product from the moment they bring it into their lives.
So what are you waiting for? Simply click on the Add To Cart Button to get this amazing Crystal Stone Guardian Angel and enjoy the divine satisfaction.