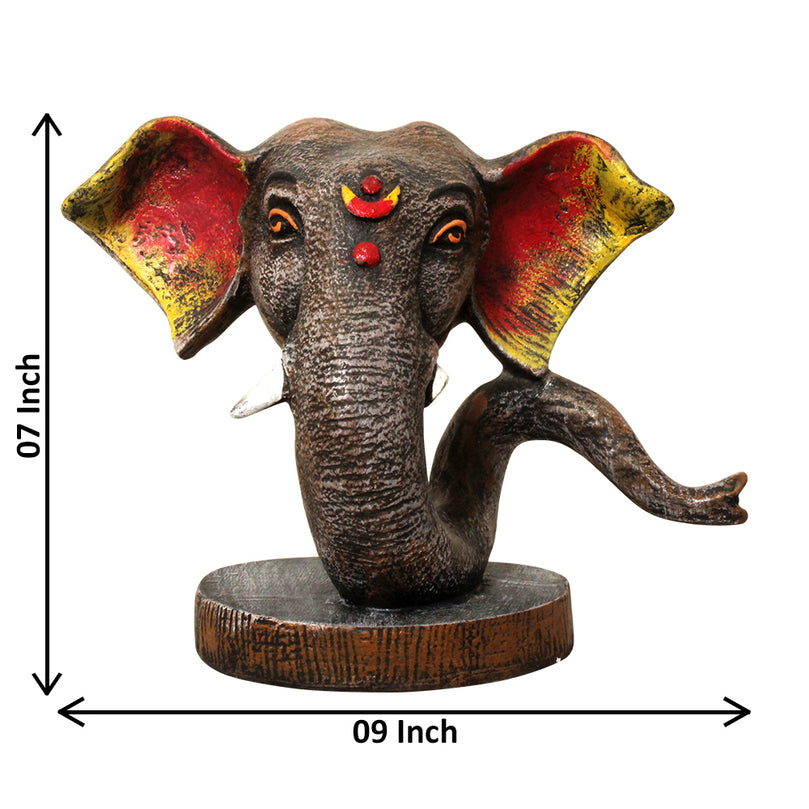 STANDING HEAD OF THE ELEPHANT, WISE & GRACEFUL TOUCH TO YOUR ENVIRONMENT
SYMBOL OF LONGEVITY AND FORTUNE
Throughout history, the elephant has been revered as a symbol of longevity and good fortune, as well as the ability to overcome challenges. Handcrafted with the best quality materials, this elephant head centerpiece is crafted by artisans from India. As the elephant head is a representation of Lord Ganesh Ji, this piece is a great accent for a Puja room, dining room, or office. Gracefully adding Indian culture to any part of the house couldn't be easier than this!
ENOUGH FOR TRANSFORMING DECOR
This Elephant Head Sculpture is beautifully hand-carved and painted with a gray, red, and yellow wash finish, bringing an exotic yet rustic, hand-hewn element to your décor. Your home or office will look fantastic with the addition of this unique piece of art. This extraordinarily beautiful animal head bust captures the detailed animal features. The hand-carved wood gives an exquisite feel to your surroundings. 
UNIQUE HANDWORK THAT AMAZES
With its soulful eyes and curled trunk around the torch, the Elephant Head Sculpture is brimming with realistic details. This Sculpture has exclusive features that designers cast in hand-painted natural-toned finishes. 
Beneficial Impact: The Elephant Head Sculpture is believed to represent strength, protection, wisdom, and good luck. Positive energies are drawn to elephant symbols. As a symbol of prosperity and royalty, elephants are particularly powerful as they represent Lord Ganesh Ji. It is also believed that elephants bring abundant harvests with grey rain clouds.
Key Features:
Decorate your home with unique Indian culture. 

A great gift to bring wisdom, loyalty, and family togetherness

Handmade by the best crafters in India

Wipe the sculpture's dust off with a dry cloth

Materials that are durable and last a long time 

Excellent gift for anyone on any occasion 

A 9" wide x a 7" high piece of art
At Radhe Radhe, our commitment to our community and culture is paramount. We stand behind our community with the best quality products and services. Our ultimate goal is to make sure our customers are satisfied with our product from the moment they bring it into their lives.
So what are you waiting for? Simply click on the Add To Cart Button to get this amazing Elephant head Sculpture, and enjoy the spiritual satisfaction.
Beautiful. Exactly what I was looking for. Detailing is perefect. A little on the smaller size, but works perfectly for me.