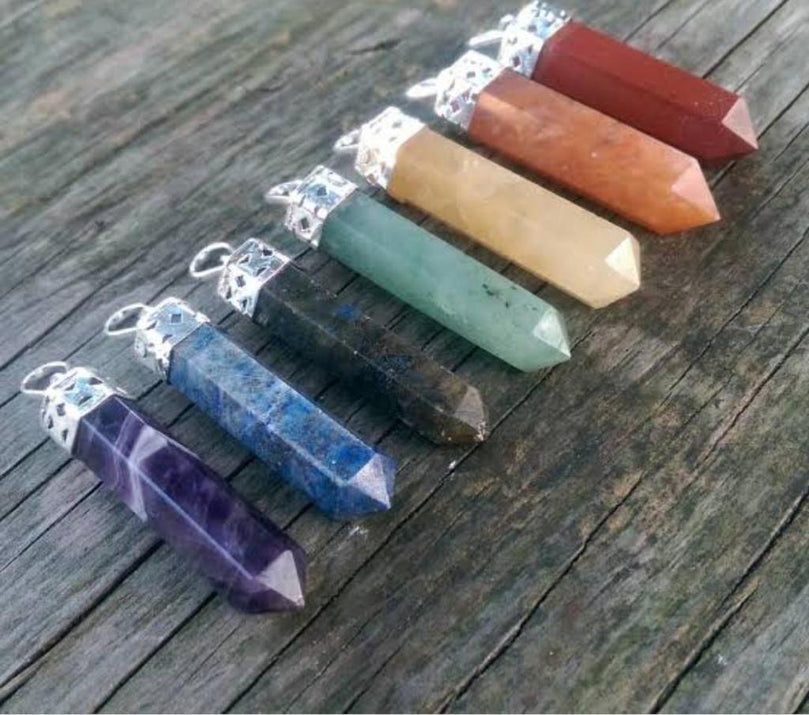 HEXAGONAL SEVEN CHAKRA STONE NECKLACE TO GET A COMPLETE CONTROL ON CHAKRAS
BEAUTIFUL SEVEN CHAKRA NECKLACE 
Beautifully crafted and fully charged, these hexagonal Chakra Necklace are ready to use, this excellent set is your best choice for Chakra balancing, emotional healing, and even spiritual development. The crystals and stones make an exceptional partner to Reiki and Meditation sessions. They can make gorgeous home decor, and serve the purpose of cleansing negative energies, giving you a beautiful and safe space to enjoy all of this positivity.
SUPPORTIVE OF THE EMOTIONAL BODY AND MIND
The seven-chakra necklaces are of hexagonal prism shape. All spiritual stones are of unique and high quality. Amethyst is especially supportive of the emotional body, bringing those who are overworked, overstressed or overwhelmed back to the center. It can ease anxieties that lead to physical tension and headaches and is a great crystal to calm those who tend to be hot-headed and easily angered.
THE SEVEN SPIRITUAL CRYSTAL STONES
This Pendant can give you a deep sense of positive energy, peace of mind, balance, healing, meditation, protection from the evil eye or black magic, removes negative energy, success in business or studies. Also helpful for united family and friends. The seven chakra Pencil Pendants are Amethyst, Blue Aventurine, Lapis, Green Aventurine, Yellow Aventurine, Red Aventurine, and Red Jasper. 
Key Features:

Very unique and amazing piece of art

Chakra Pendant in the order of Rainbow

Chakra is also known as the wheel is a healing method for a wide variety of diseases

Gives unbelievable results proved worldwide
At Radhe Radhe, our commitment to our community and culture is paramount. We stand behind our community with the best quality products and services. Our ultimate goal is to make sure our customers are satisfied with our product from the moment they bring it into their lives.
Each Crystal is sold separately.
So what are you waiting for? Simply click on the Add To Cart Button to get this amazing Hexagonal Seven Chakra Stone Necklace and enjoy the divine satisfaction.