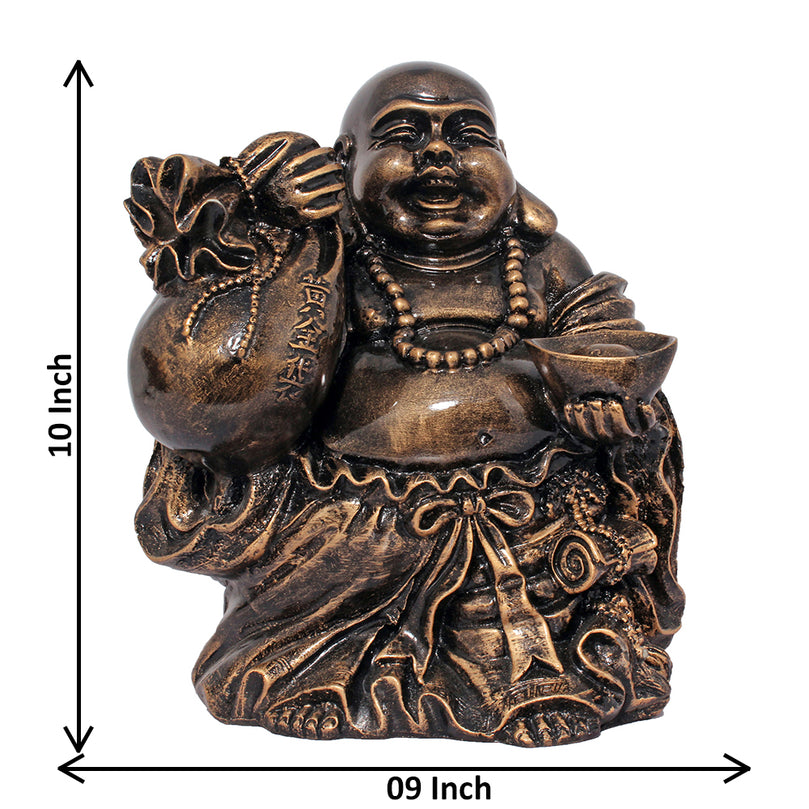 OBTAIN ALL THE RICHES, PROSPERITY & GOOD FORTUNE WITH THIS LAUGHING BUDDHA WEALTH BLESSING IDOL WITH PILE OF COIN & INGOT
A MOOD LIFTER IDOL 
Laughing Buddha is the Buddha of abundance and happiness. He is also known as the Buddha of Wealth. It is believed that keeping his Idol at home will bring wealth and prosperity to a home or business. Laughing Buddha with Pile Of Money Idol himself is a vision of happiness; his face is always in a happy, laughing expression and his position is jolly. The Laughing Buddha is a sure mood lifter when looked at, no matter how down one can be. 
CRAFTED BY MASTER CRAFTSMEN
Skilfully handcrafted and carefully painted, this happy fellow will shine his essence of joy on your mantel, desk, or bookshelf. The high-quality material gives you confidence in durability. A statement piece and wonderful gold accent addition to your spiritual home decor. His smiling face of happiness, the soft fabric folds of his robe, and the pearls of wisdom beads are beautifully carved. No detail was missed.
A BEAUTIFUL GIFT FOR YOUR FRIENDS
The best part is the keeper of Laughing Buddha With Pile Of Coin Idol does not have to be Buddhist or religious in nature to be a good omen so it can be a thoughtful gift for your friends or relatives on any occasion. It will surely stay in your memory whenever they have a look at it. This would be a nice statue for home living room table decoration, office desk display decor. Gently whisk the surface with a soft cloth to clean.
Beneficial Impacts: This Idol of Laughing Buddha creates a zen environment by placing an entranceway for peace and contentment. This lovely laughing Buddha statue will be a talking point with visitors. It is told that if you rub his stomach daily he will see to it that your wishes are granted. 
Key Features:
S

ure to inspire happiness around it in your home

Signifies happiness, wealth, good luck, and abundance of riches

Wipe the sculpture's dust off with a dry cloth

Peaceful and harmonious symbol

Materials that are durable and last a long time 

Excellent gift for anyone on any occasion 

A 9" wide x a 10" high piece of art
At Radhe Radhe, our commitment to our community and culture is paramount. We stand behind our community with the best quality products and services. Our ultimate goal is to make sure our customers are satisfied with our product from the moment they bring it into their lives.
So what are you waiting for? Simply click on the Add To Cart Button to get this amazing Laughing Buddha Idol, and enjoy the spiritual satisfaction.
Very nice product. The service was satisfactory! Always recommended...
It's really looking beautiful. everyone whoever comes is appreciated.it is really giving positive vibes to home.I would highly recommend this product.