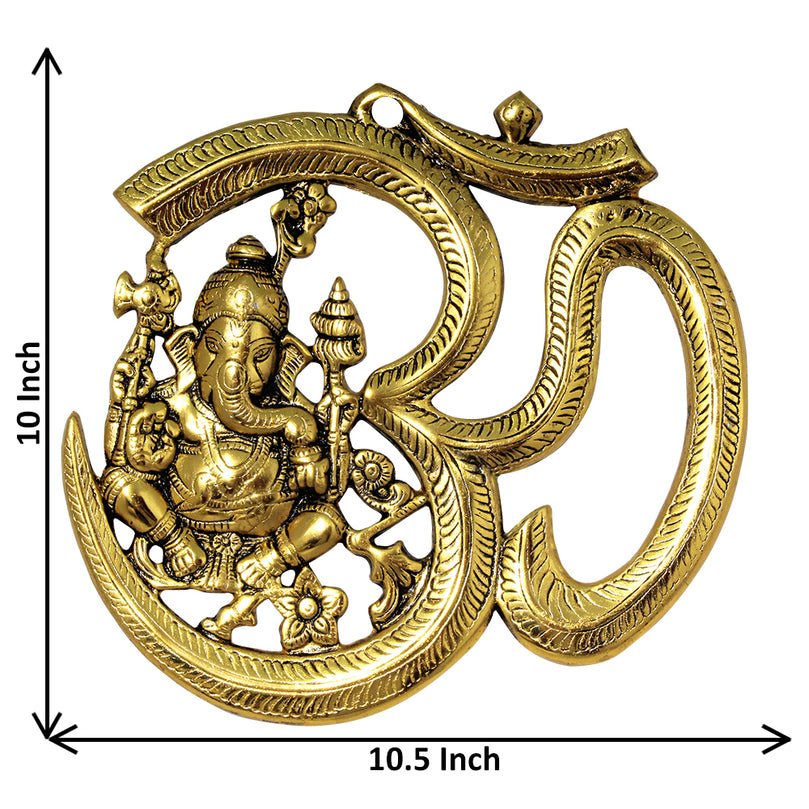 SRI GANESH JI, IN OM SYMBOL, PURIFIES ENERGY WITH THE GRACE OF SHRI GANESH JI!
REFLECTION OF YOUR RELIGIOUS BELIEF
Enchanting to look at and having a calming effect, this showpiece is a decorative wall hanging that looks elegant yet reflects your religious belief. Handmade in India by the finest artisans, the Sri Ganesha Om Wall-hanging Brass Sculpture is a beautiful piece of art. Symbol of auspiciousness in Hinduism, Buddhism, and Jainism, Swastika is called Swastika in Sanskrit. In Hinduism, Om is of paramount importance. 
OM, THE SYMBOL OF BRAHMAN
It represents Brahman, the impersonal Absolute of Hinduism, omnipotent, omnipresent, and the source of all manifest existence. Brahman, in itself, is incomprehensible; so a symbol becomes mandatory to help us realize the Unknowable. The original idol is made in the traditional way and is a representation of prosperity, luck, and success.
PREMIUM LUXURIOUS MATERIALS 
Handmade handcrafted wall-hanging produced using the finest and fine detailing by expert craftsmen in international export quality solid brass for placing in home, temple, office, table, or shop shelf. Best For Congratulatory Blessing, Vastu, and Feng Shui. Eye-catching, ethnic, antique style fine figure that can make an amazing gift.
Beneficial impact: Hinduism's highest symbolic concept is OM. OM is a powerful word that produces powerful vibrations that allow you to feel the whole universe with just a single word. Additionally, OM stands for the connection to all positive source's energy. Keeping this Symbol will do numerous benefits in the home.
Key Features:
Exquisitely designed wall hanging 

Unique for Gifts and decorate like never before

Made with antique finish by Indian experts 

Welcome good luck your way by hanging 

Handcrafted authentically in India

The craftsmanship of the highest level

Best Diwali gift to give to loved ones, students, or workers

Never-diminishing premium paint

Dimensions 10.5 x 10 inches
At Radhe Radhe, our commitment to our community and culture is paramount. We stand behind our community with the best quality products and services. Our ultimate goal is to make sure our customers are satisfied with our product from the moment they bring it into their lives.
So what are you waiting for? Simply click on the Add To Cart Button to get this amazing Lord Sri Ganesh Ji on Swastik Sign Om Wall-hanging Sculpture and enjoy the divine satisfaction.
I love it it's perfect and good quality
I put this on a window sill with some tea candles and it gives serenity to the room