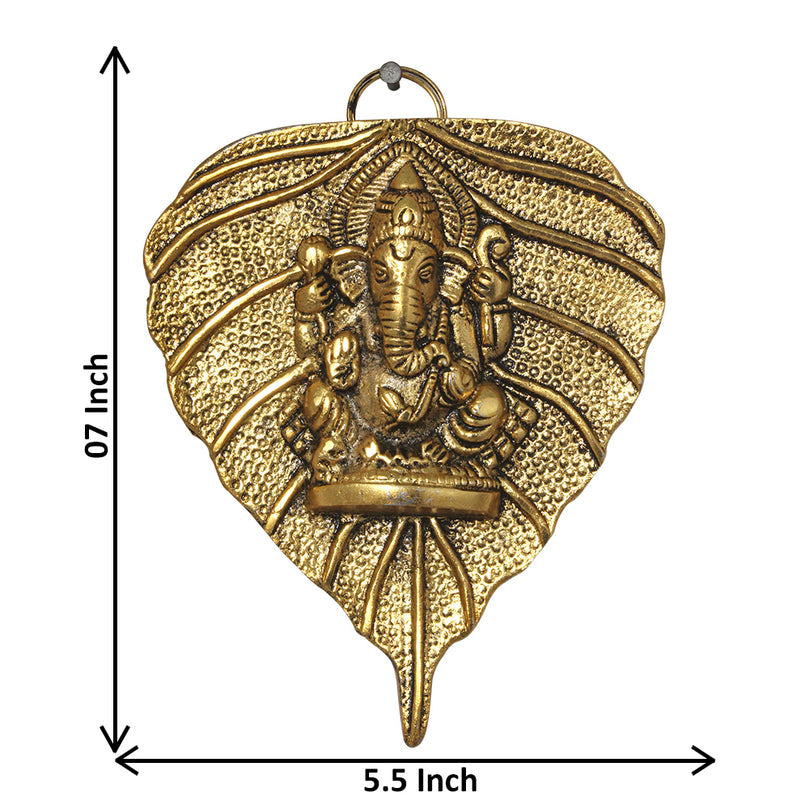 PLACE THIS SRI GANESH JI WALL-MOUNT SCULPTURE FOR SPIRITUAL WISDOM, JOY, HAPPINESS & PROSPERITY TO THE ENTIRE ENVIRONMENT
BRING JOY, HAPPINESS, AND PROSPERITY
This Sri Ganesha Ji On Leaf Wall Hanging Sculpture is made with premium quality materials and done by our brilliant artists in India. Sri Ganesh Ji, also known as the Elephant God, is known for his ability to remove obstacles. As the formless Divine - encased in an alluring form to benefit the devotee - He is the Ultimate. Keeping this Ganpati symbol hanging in your home, office or workplace walls is believed to bring joy, prosperity, and happiness.
BEAUTIFULLY CRAFTED WITH RESPECT
Handcrafted by skilled Indian artists, this wall hanging features Lord Ganesha with golden brass color and perfect attention to detail. Decorate your home with this graceful exclusive Ganesha Idol symbolizing prosperity, fortune, and success. This wall hanging lightweight yet durable materials allow for it to be easily placed on any wall for maximum beauty. 
PERFECT CHOICE FOR ANY DECOR
If you are out looking for the perfect Lord Sri Ganesh Ji wall hanging that is elegant yet reflects your religious belief, then this is the perfect pick and an Ideal Gift for friends or relatives who can use Lord Ganesha in their lives. Can be gifted on Ganesh Chaturthi, Diwali, or other religious festivals. Great to place on your front door - or any room of the house.
Beneficial Impact: The best location for Lord Ganesha's idol is in the north, east, or west direction, according to Vastu experts. By doing so, you promote a peaceful environment at home and boost positive energy.
Key Features:
A leaf-shaped statue of Lord Ganesha Ji blesses any wall it is placed on

Suitable for hanging on the wall, door, or table.

Uniquely sculpted & cast in white metal.

Painstakingly and ingenuousness created by craftsmen in India

An Auspicious gift for yourself and others. Ideal Diwali gift

Made from 100% premium and lightweight materials

The craftsmanship of the highest level

Never-diminishing premium paint

Dimensions are 07 x 5.5 inches
At Radhe Radhe, our commitment to our community and culture is paramount. We stand behind our community with the best quality products and services. Our ultimate goal is to make sure our customers are satisfied with our product from the moment they bring it into their lives.
So what are you waiting for? Simply click on the Add To Cart Button to get this amazing Lord Sri Ganesh Ji On A Leaf Wall-hanging Sculpture and enjoy divine satisfaction.
Very Beautiful and lovely, intricate craftsmanship. Delivery was smooth and carefully done.
Awesome sculpture, really impressed. Highly recommend the store.