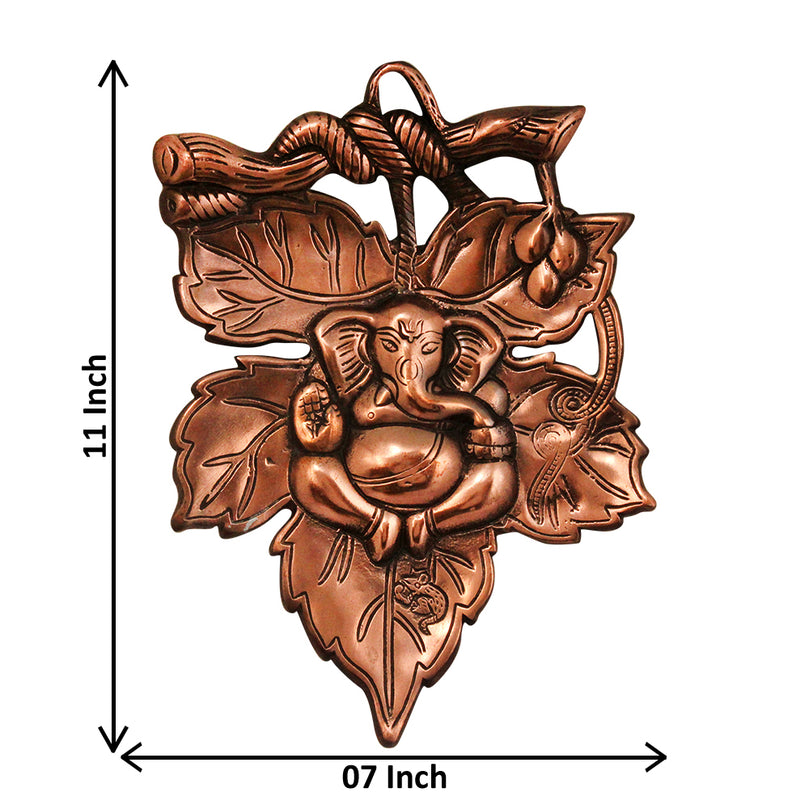 SRI GANESH JI WALL HANGING - FOR GAINS IN WISDOM, KNOWLEDGE, PROSPERITY
LORD OF LETTERS AND LEARNING
Lord Sri Ganesh Ji is considered to be the Lord of letters and learning. Among the Sanskrit words for intelligence, wisdom, or intellect is "Buddhi", a feminine noun and "Vidhya" which means intellect or understanding. In this beautiful Wall-hanging Lord Sri Ganesh Ji is sitting in his usual pose; Padmasana and giving us blessings, it seems as if Sri Ganesh Ji is looking down from his home into ours. Our Sri Ganesh Ji Wall Hangings reflect artistic brilliance and add elegance to the decor of any wall of your home.
BRING THIS SYMBOL OF WISDOM AND PROSPERITY 
Lord Ganesha is a symbol of wisdom and prosperity. It is he who looks over and blesses his disciples with success and good beginnings in their life's endeavors. Bring good luck to your home with this beautiful wall-hanging of Lord Ganesh Ji On Leaf. A beautiful gift for loved ones made from premium materials. 
PERFECT WALL HANGING SCULPTURE
Using this religious wall hanging to decorate your home will not only add Lord Ganesh Ji's blessing to the room but also add spirituality. This wall hanging is a perfect size to be displayed proudly and is an ideal wall hanging for your house, office, hotel, etc. It's handmade with fine detail and will add a special touch to your house or Puja/Prayer room. This wall hanging sculpture is made of high-quality, lightweight materials which can easily be hung in any room for beauty and auspicious benefits. 
Beneficial Impact: Vastu experts prescribe placing Sri Lord Ganesha's Idol or Sculpture either in the west, north-east, or north direction. Positivity and prosperity are brought to the home, and the surrounding area is benefited.
Key Features:
Decorate the walls of your room with this sculpture

The perfect gift for Diwali, Griha Pravesh, and business gifts

Brings peace, harmony, good luck, and bringing positivity to your life

Handcrafted authentically in India

The craftsmanship of the highest level

Never-diminishing premium paint

Dimensions 11 x 7 inches
At Radhe Radhe, our commitment to our community and culture is paramount. We stand behind our community with the best quality products and services. Our ultimate goal is to make sure our customers are satisfied with our product from the moment they bring it into their lives.
So what are you waiting for? Simply click on the Add To Cart Button to get this amazing  Lord Sri Ganesh Ji On Leaf Wall-hanging Sculpture and enjoy the divine satisfaction.
The seller is very prompt in responding to queries. Very satisfied with the purchase.
It looks pretty and it fits perfectly for our puja room.