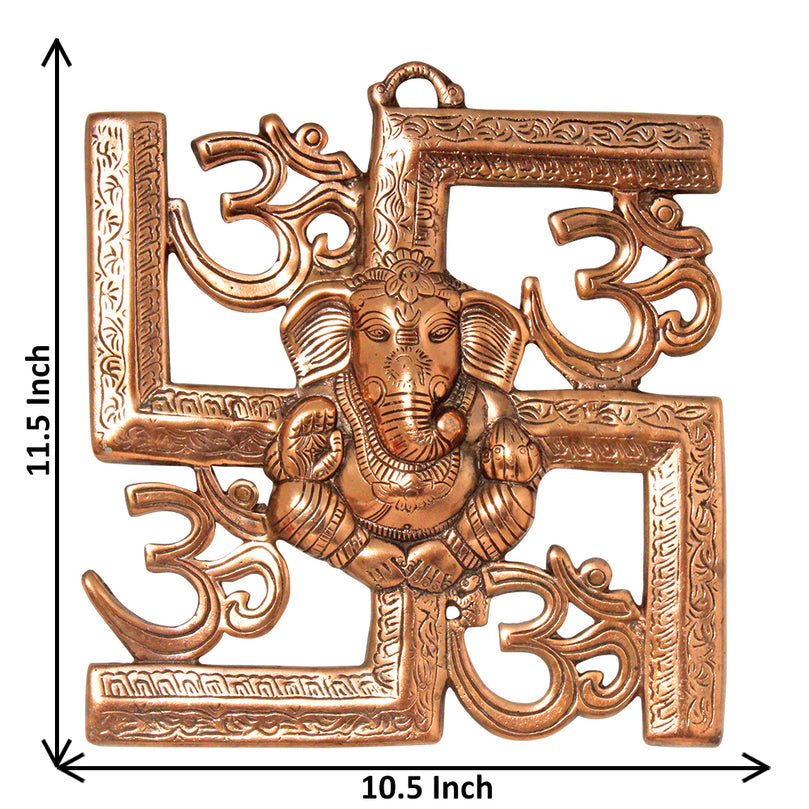 SRI GANESH JI ON OM SYMBOL BRINGS UNLIMITED WISDOM
THE HOLY TRINITY OF POWERFUL ENERGY CONDUCTION 
OM, Swastik, and Ganesha are the highest symbolic concepts in Hinduism. The single vibrational frequency of OM has the power to create powerful positive energy sources that change the reality of the universe around you. No Hindu ritual is complete without the presence of the Swastik. It is said that when the universe first began with the big bang, the energy dispersed in the shape of the Swastik. The four arms of Swastik represent the four main directions: North, South, East, West. The Swastik and Ganesha bring good luck, prosperity, and wealth, whereas Om saves one from the evil eye, magic, and negativity. 
REPRESENTS PROSPERITY, AND SUCCESS
The traditional Om with Sri Ganesha Hanging is a representation of prosperity, good luck, and success, Made in the authentic Hindu way, This idol is best for giving a blessing, correcting Vastu, and Feng Shui. It's a masterpiece, ethnic, antique style fine figure. Its subtle elements are just enough to improve your room's beauty and grace.
BEAUTIFUL POSITIVE OMEN
A beautiful religious wall hanging sculpture with Swastik, Om, and Sri Ganesh Ji Murti is the ideal to purify the home. Sri Ganesha wall hangings for home entrances and doors are thought to bring good fortune and wisdom. To bring luck and success into your home, hang this Sri Ganesha wall sculpture outside the front door. This wall hanging piece with Sri Ganesh Ji Swastik, Om is the most auspicious item you can get to purify home and cure Vastu Dosh. 
MADE BY THE EXPERT WITH QUALITY MATERIAL
Sri Ganesh Wall Hanging Sculpture is exquisitely crafted, featuring a beautiful antique look. As a wall hanging, this gorgeous and handcrafted figure will look lovely in your home. This fine detail handcrafted wall hanging piece is made from solid brass, of excellent lightweight quality, for hanging on walls at home, in temples, offices, or on tables and shelves. With this Swastika Ganesha om symbol, you can give it as a puja gift to your mom or dad, or as a hang it for good luck for children when they take an exam for greatest success. 
Beneficial Impact: There are many benefits to keeping this Symbol in the home. Sri Ganesh Ji Swastik, Om is the most auspicious item you can get to purify home and cure Vastu Dosh. It is suggested to hang the symbol of Swastik at the entrance of the house or at shop, office, place of financial transactions. 
Key Features:
Gives a Fantastic and Elegant look

Embellish home and office space

The perfect gift on all occasions especially the exam

Have a calming effect in your prayer room  

Handcrafted authentically in India

The craftsmanship of the highest level

Best Diwali gift to give to loved ones, students, or workers

Never-diminishing premium paint

Dimensions 11.5 x 10 inches
At Radhe Radhe, our commitment to our community and culture is paramount. We stand behind our community with the best quality products and services. Our ultimate goal is to make sure our customers are satisfied with our product from the moment they bring it into their lives.
So what are you waiting for? Simply click on the Add To Cart Button to get this amazing
Lord Sri Ganesh Ji Swastik & Om Wall-hanging Sculpture
and enjoy the divine satisfaction.
Very pretty and nice workmanship. Looks so good on my wall. I just wish, a larger size was available.