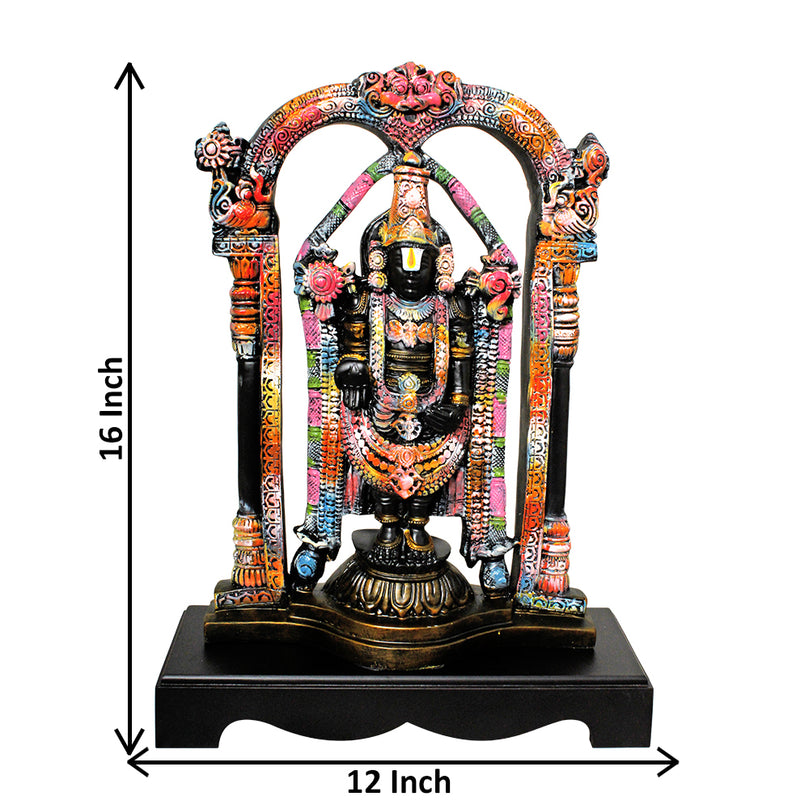 PRAISE LORD SRI TIRUPATI BALAJI FOR MAXIMUM PROSPERITY, SUCCESS, & WEALTH
BRINGS FINANCIAL GAINS IN YOUR LIFE 
This Handcrafted Idol of Lord Sri Tirupati Balaji is regarded as one of the most auspicious Gods of wealth. Lord Venkateswara is also known as a form of the Hindu God Maha Vishnu. A house that keeps his Idol in it is believed to prosper, succeed, and gain financial benefits. Sri Balaji Idols, which reflect both your religious beliefs and are elegant, are the perfect choice for anyone who is searching for the greatest wealth and prosperity life can offer. 
PROTECTS FROM ALL TYPES OF NEGATIVE ENERGY
Sri Tirupati Balaji is revered as a deity who exudes power and protects from all negative energies. The living God is worshipped today as well, believing he exists. To make the figure look real, it is made of metal and beautiful work. Exam time is the perfect time to put it on display. Additionally, it may also be used during Indian festive occasions like Diwali and Navratri. Enhance the decor value of temples, homes, offices, hotels, etc.
GREAT CHOICE FOR PRAYER OR GIFT 
Around Sri Balaji you can see colored accents everywhere you look. Idols like this one make wonderful gifts for weddings, anniversaries, housewarming events, new businesses, awards ceremonies, etc. Your festival celebration can be decorated in the most stylish manner with auspicious benefits. On Diwali, give this charismatic decor to your family and friends as a token of love and peace.
Beneficial Impact: It is believed that this religious-spiritual idol of Lord Tirupati Sri Balaji when placed in the north-east direction of the puja room brings Health, Wealth, Peace, and Happiness across surrounds and among the family members. 
Key Features:
Lord Venkateswara is also known as a form of the Hindu God Maha Vishnu

God of wealth, prosperity and success in any endeavor

Presiding Deity of Tirumala Venkateswara Temple

Beautiful and Ideal for Prayer (Puja) or as a gift for decor 

Handcrafted authentically in India

The craftsmanship of the highest level

Never-diminishing premium paint

Dimensions 16 x 12 inches
At Radhe Radhe, our commitment to our community and culture is paramount. We stand behind our community with the best quality products and service. Our ultimate goal is to make sure our customers are satisfied with our product from the moment they bring it into their lives.
So what are you waiting for? Simply click on the Add To Cart Button to get this amazing Lord Sri Tirupati Balaji Black Idol and enjoy the divine satisfaction.
Very pretty and nice workmanship. Looks so good on table top. I just wish, a larger size was available.
The statue is very well made and looks beautiful. Recommend it.