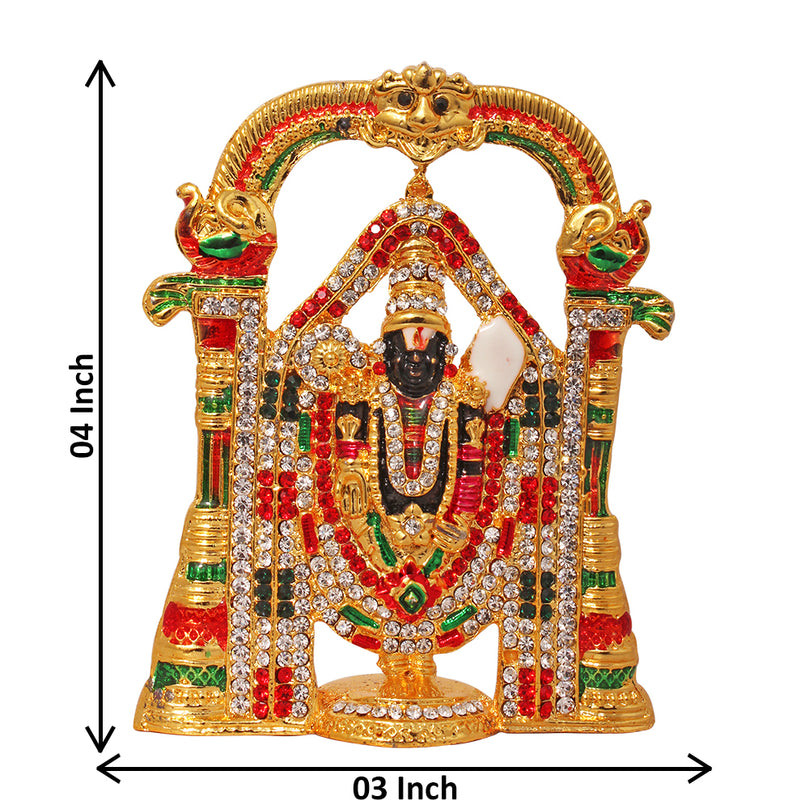 FORMALLY AS LORD VISHNU, PLACE THIS BEAUTIFUL LORD SRI BALAJI IDOL TO KEEP AWAY PROBLEMS & RECEIVE PROTECTION FROM THE SUPREME LORD HIMSELF
ATTRACTIVE AND EYE-CATCHY DESIGN
Designed and crafted exclusively for this handcrafted Lord Sri Tirupati Balaji Idol (Murti) with stonework made in India, this Statue has a great look and will definitely stand out. Bring home this beautiful South Indian Handicraft Idol/Murti for spirituality, harmony, good luck, and wellness. They are beautifully crafted and make an excellent display piece. The perfect gift for any occasion. 
PERFECT CAR DASHBOARD ACCESSORY 
The compact size and lightweight material of this Lord Sri Venkateswara (Tirupati Balaji) Idol (Murti) With Shiny Stones is designed to be kept in small areas or on the car dashboard. Placing Lord Sri Balaji Idol on the car dashboard will protect its surroundings and provide mental clarity while driving. This shiny Idol is a beautiful addition to any environment to bring protection and peace. 
HIGHLY-DECORATIVE DESIGN
The Vastu positive Idol of Lord Sri Balaji will continue to shine for a long time with its premium finish. The material is easily cleaned with a cotton cloth, either wet or dry. You can use this Decorative Murti as interior decoration for your Puja Temple (Mandir), as a table centerpiece, as a showcase decoration, or as a car dashboard ornament. 
PERFECT GIFT ON ANY OCCASIONS
This beautifully handcrafted Lord Sri Balaji idol is also a beautiful gift for your parents, mother, students, housewarming, office opening, festive occasions, such as Diwali, Gruh-Pravesh, and corporate world events.
Beneficial Impact: It is believed that this religious-spiritual idol of Lord Sri Balaji when placed in the north-east direction of the puja room brings Health, Wealth, Peace, and takes away all sorrows of family members. 
Key Features: 
Brings Health, Wealth, Peace & Happiness

and takes away all sorrows of family members. 

An Auspicious gift for yourself and others. Ideal Diwali gift

Perfect car dashboard accessory for protection 

Made from 100% premium materials

The craftsmanship of the highest level

Never-diminishing premium paint

Dimensions 4 x 3 inches
At Radhe Radhe, our commitment to our community and culture is paramount. We stand behind our community with the best quality products and services. Our ultimate goal is to make sure our customers are satisfied with our product from the moment they bring it into their lives.
So what are you waiting for? Simply click on the Add To Cart Button to get this amazing Lord Sri Venkateswara (Tirupati Balaji) Idol (Murti) With Shiny Stones and enjoy divine satisfaction.
It came beautifully packed. And the idol is simply gorgeous!! The features of the idol are so serene and peaceful. I couldn't have been happier. I would've probably paid more for this in India. Amazing piece. Looks like metal and is heavy but it's not.
This was one of my best purchases online. Highly recommended