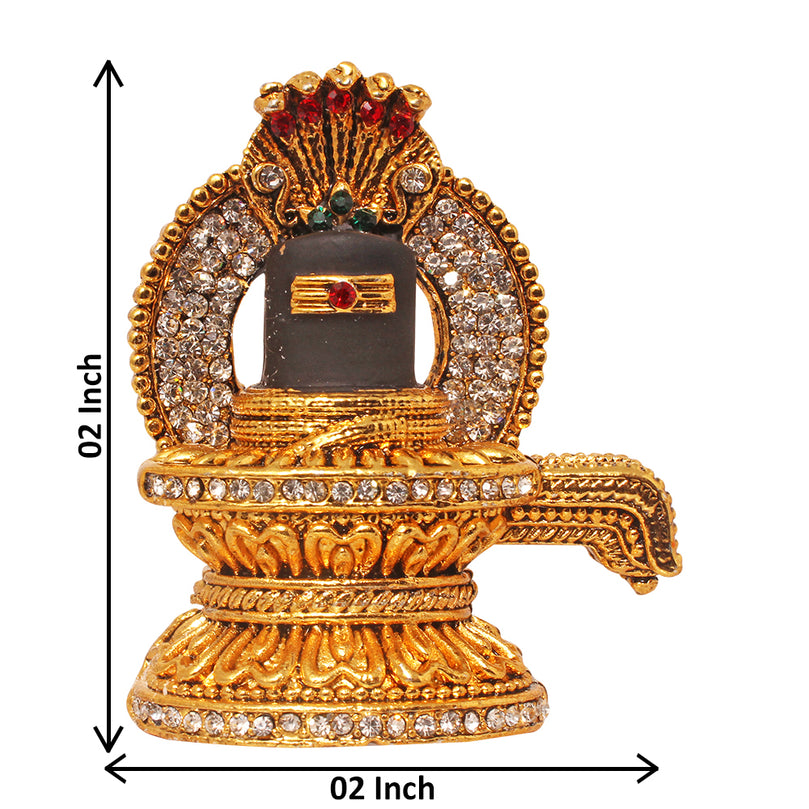 PRAISE LORD SHIVA WITH THIS LUXURY SHIVLING TO CURE VASTU DOSH & RECEIVE ULTIMATE BLESSINGS
CURE VASTU DOSH, GET POSITIVE ENERGY
Shivling symbolizes Lord Shiva who is the destroyer of evil spirits. This Luxury Shivling Idol cures Vastu Dosh and keeps negative energy away from the home/life. Shivling is found in the Upanishads and it represents Lord Shiva himself as the principle of generative power, all existence, all creativity, and fertility at every level of existence.
HANDMADE WITH THE FINEST CRAFTSMANSHIP
Handmade and hand-polished by expert Indian craftsmen, this religious idol embodies the Holy power of Lord Shiva. This Luxury Shivling Idol is embroidered with beautiful shiny stones on this statue, which have a metallic gold finish. As it is compact, it can be mounted on the car dashboard to protect everyone while driving. 
WONDERFUL DECOR & AMAZING GIFT
Gifting a Shivling is a great idea for any occasion, such as marriage, housewarming, baby showers, or even for a business or office. This is a beautiful decoration for your home, office, desk, library bookshelves, meditation room, or altar. They can also be gifts for Durga Puja, Durga Ashtami, Navaratri, Vijayadashami. A great addition to any Hindu collection.
SOME TIPS AND SUGGESTIONS
Feeling exhausted and needing a break? Relax when you have the statue at your side without losing your luck or fortune! Lack of protection in your room? With this Idol, the benefits of a good night's sleep include being more alert as well as looking more beautiful.
Beneficial Impacts: This Shivling can be placed in a puja room for prayers, on the office desk, or can fit easily in smaller areas of home or office to bless your surroundings with Shiv Ji's grace. Vastu says that when placed in the northeast direction, it brings stability. Shivling symbolizes the union of mind and soul.
Key Features:
Shivling wards of negative energy

With beautiful crystals embedded in it sure to impress others

Easily cleanable with dry cotton cloth

Easily fits on dashboards, desks, and other surfaces 

Dimension is "2 x 2 inches
At Radhe Radhe, our commitment to our community and culture is paramount. We stand behind our community with the best quality products and services. Our ultimate goal is to make sure our customers are satisfied with our product from the moment they bring it into their lives.
So what are you waiting for? Simply click on the Add To Cart Button to get this amazing Luxury Shivling Idol - For Lord Shiva's Ultimate Blessings, and enjoy divine satisfaction.
The statue is very well made and looks beautiful. Recommend it.
Bought this as a gift for someone to have in their office. It never made it there and is now sitting in my office. Looks great and goes with all the rest of my decor. Would not recommend this to be outside.