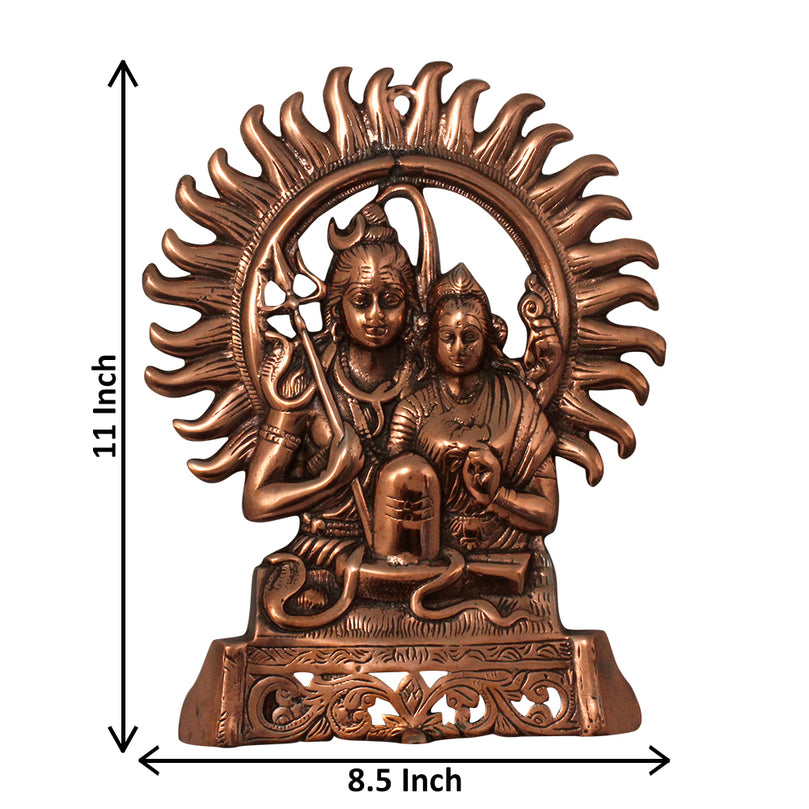 MAHADEV SHIV PARIVAR - SYMBOL OF HAPPINESS, HARMONY & LOVELY FAMILY
THE UNIVERSAL PARENTS AND SYMBOL OF LOVE
You can get unlimited blessings, good luck, wealth, and prosperity in your life with this beautifully crafted handcrafted Mahadev Shiv Ji & Sri Maa Parvati with Shivling Wall Hanging Sculpture. According to ancient tradition, hanging a Shiv Parivar Sculpture on the wall of your Puja room brings peace and harmony. It is also known to increase mental concentration in children/students if kept in their room. Since Lord Shiv Ji and Parvati Maa are considered to be the universal parents, this statue represents a well-knit and strong family, making it the perfect gift for new home buyers, family, and friends for weddings, birthdays, promotions, or after new home property purchases. 
LOVE, HAPPINESS, PROSPERITY, AND WISDOM
Goddess Parvati Maa is known for fertility, love, beauty, harmony, marriage, children, and devotion; as well as divine strength and feminine power. The Sculpture also contains an indescribable Shivling that is said to promote the concentration of mind as Shivlings are known to achieve one-pointedness for the mind. This was the reason why ancient scholars and great sages recommended worshipping Shivling and installing it in temples. All these benefits can be obtained from this if you keep it in your home.
REPLACE ALL NEGATIVITY WITH POSITIVE ENERGIES
Through this Shiv Ji and Maa Parvati Wall Hanging Sculpture, negativity in its surroundings is destroyed and the path for new beginnings and growth is found. As his powers of destruction and recreation continue to be used even now, we must believe they are being used to destroy the illusions and imperfections of this world, paving the way for beneficial change. Classically designed statues for puja, living rooms, and other spaces are ideal for your home.
Beneficial Impacts: The Shivling represents the union of the mind and the soul. You'll spread Shiv Ji's blessings throughout any area of your home or office after hanging this Wall-hanging Sculpture in your puja room or on your desk at the office. According to Vastu, when placed in the northeast direction, it brings stability and peace to your environment. 
Key Features:
A symbol of peace, harmony, and a happy family

Lord Shiva is a Hindu deity and represents the aspect of the Supreme Being while the Shivling represents the union of the mind and the soul

Handcrafted authentically in India

The craftsmanship of the highest level

Never-diminishing premium design

Dimensions 11 x 8.5 inches
At Radhe Radhe, our commitment to our community and culture is paramount. We stand behind our community with the best quality products and services. Our ultimate goal is to make sure our customers are satisfied with our product from the moment they bring it into their lives.
So what are you waiting for? Simply click on the Add To Cart Button to get this amazing Mahadev Shiv, Shivling, And Sri Maa Parvati Wall Hanging Sculpture and enjoy the divine satisfaction.
This statue was much bigger and more impressive than I was expecting. It's pretty lightweight and at first feels cheap, however the craftsmanship is very durable.
Fantastic and beautiful statue. I got a great feeling when I unwrapped it. Magical!!!