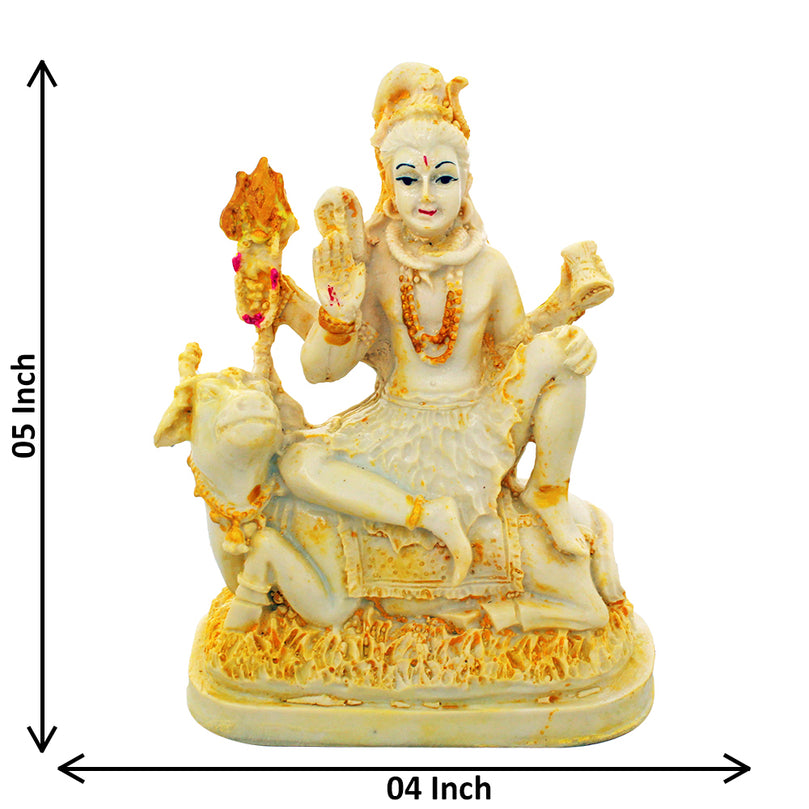 THE MOST OMNIPOTENT, LORD SHIVA'S ELEGANT IDOL
SHIVA, THE POWER OF THE UNIVERSE 
Supreme Lord Shiva is Shakti or power, he is the destroyer, the most powerful god of the Hindu pantheon, and one of the godheads in the Trinity in Hinduism. Lord Shiva is perhaps the most complex of Hindu deities. This Extremely Detailed and Well-Made Idol Of Lord Shiva is made by the greatest craftsmen in India leaving no details. The special production process of this piece ensures a richer and more authentic presentation. 
TRADITIONAL AND STYLISH WITH A ROYAL TOUCH
This Lord Shiva On Nandi Murti looks very beautiful and is used for the purpose of worship and for home decoration. Its design looks traditional, stylish and takes inspiration from the days of royal touch, which is made in white-yellow casting with antique finish, white to bring elegance to your home. This handmade item can be an ideal gift to your dear ones to pass on with your best wishes.
MADE OF FINEST GRADE RAW MATERIAL 
Our White Gold Plated Lord Shiva On Nandi Murti is an impressive piece of art that is made from the finest grade raw materials and intricately designed by adroit designers and craftsmen using high-end technologies. Lord Shiva is the ultimate source of love, compassion, and wisdom and brings the same in one's life. 
Beneficial Impact: You will live long and harmoniously with Lord Shiva's blessing. The family will remain united if they worship Lord Shiva Idol. It can bless you with peaceful family life. It is easily possible now to obtain the blessings of the supreme deity.
Key Features:
Keep for greater results and prosperity

Can bring Wealth, Health,  Peace, and Happiness

Known

as the remover of obstacles

The patron of arts and sciences

The craftsmanship of the highest level

Never-diminishing premium paint

Dimensions 5 x 4 inches
At Radhe Radhe, our commitment to our community and culture is paramount. We stand behind our community with the best quality products and services. Our ultimate goal is to make sure our customers are satisfied with our product from the moment they bring it into their lives.
So what are you waiting for? Simply click on the Add To Cart Button to get this amazing Mahadev Shiv On Nandi White Idol and enjoy the divine satisfaction.
Very happy with my purchase (nice quality and very reasonably priced) and looks great on my stand.
Very nice and awesome quality. got it for a friend. nice size to sit on your desk at work or in an office.