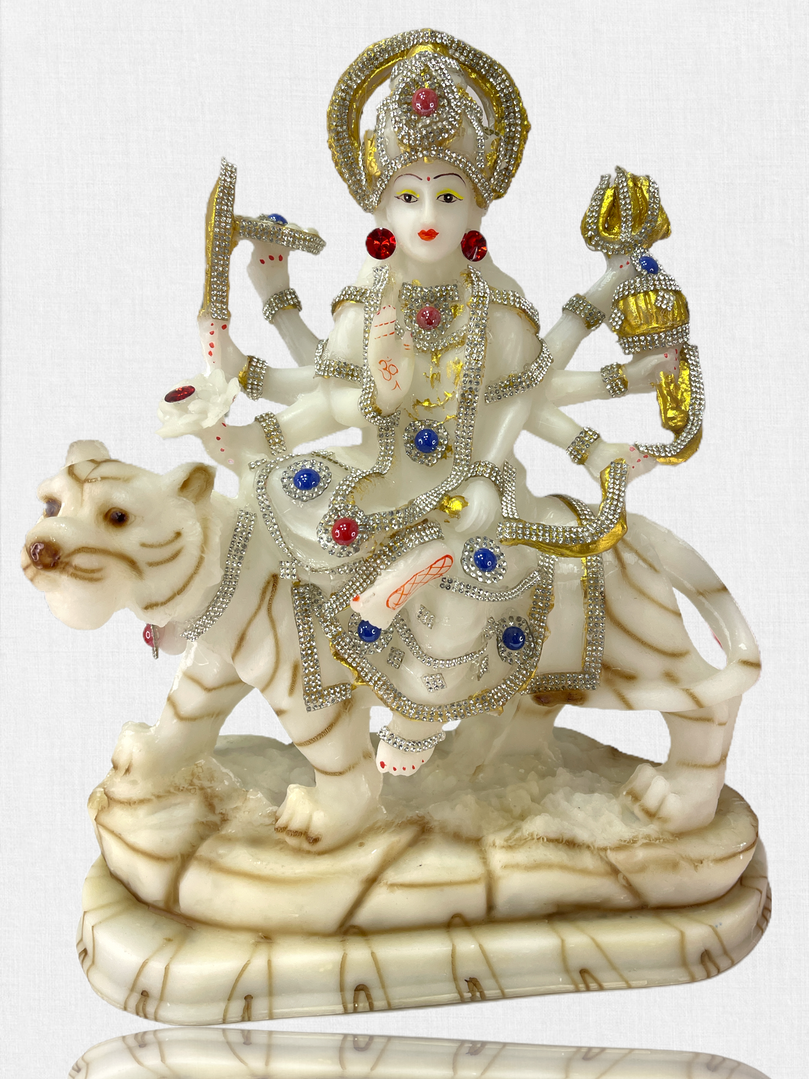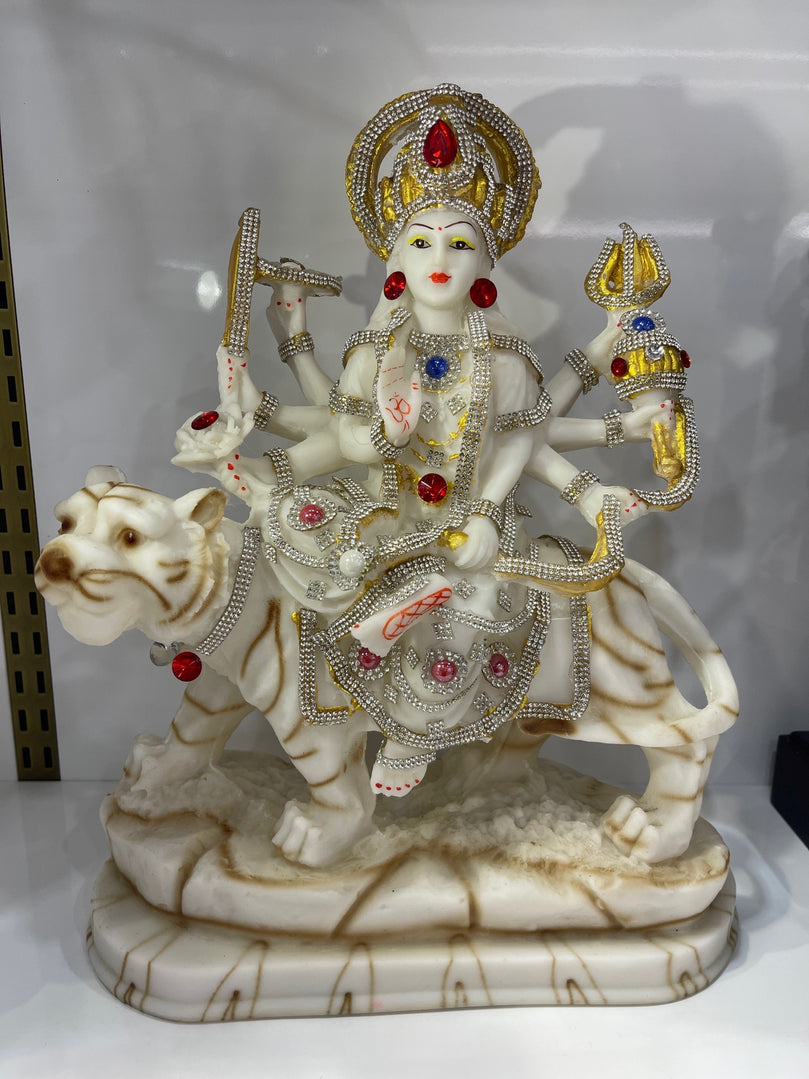 THE SUPREME GODDESS DURGA MAA DESTROYS EVIL FORCES & PROTECTS YOUR LOVED ONES
DETAILED CRAFTSMANSHIP WITH COLORFULNESS
This lovely White Goddess Sri Durga Maa Idol (Ambe Maa) with eight hands sitting on a tiger has very detailed work and sharp expressions that can enhance the charm of the Idol. This Durga Ma Idol is purely made of very high-quality material by experienced craftsmen in India and hand-painted in a pearl white with lustrous metallic silver finish and red, yellow, and green colored accents. It can surely beautify the view of your Puja room or home.
VANQUISH ALL THE EVIL ENERGY
The Goddess Sri Durga Maa had taken the powers from Tri-Devas (Brahma, Vishnu, Mahesh) and took the form of Durga to kill the evil demon Mahishasura. Since then, Sri Ambe Maa is worshipped to vanquish all the evils in our lives and society. She is prayed with whole-hearted veneration on the nine evenings of the Navratri festival (October 7th - October 15th, 2021).
DURGA MAA, THE SUPREME GODDESS
Sri Durga Maa is the mother of the universe and is the power behind the work of creation, preservation, and destruction. The word Durga in Sanskrit means a fort or a place that is difficult to overrun. Another meaning of Durga is Durgatinashini, which translates into "the one who eliminates sufferings." Thus, goddess Sri Durga Maa protects her devotees from the evils of the world and at the same time removes their miseries. 
PERFECT AS HOME DECOR AND GIFT 
This Sri Durga Maa Idol is a very beautiful decor to display in your home puja room, office desk, library bookshelf, meditation room, altar. This Idol also can be an amazing gift in Durga Puja, Durga Ashtami, Navratri, Vijayadashami gifts. A great addition to any Hindu collection.
Beneficial Impact: The Goddess Sri Durga Maa Idol represents the divine powers (positive energies) of female energy (shakti) that fight against the forces of evil. Devotees who possess her Murti are protected from evil power and safeguarded.
Key Features:
Believed to be the power behind the universe 

White pearl with silver finish gives a luxury vintage feel to any room

Durable and corrosion-resistant material

A wonderful gift for Navratri, Durga Ashtami, housewarming parties, and numerous other festive occasions

Measures 12" W x 15" H

Made in India by skilled craftsmen
At Radhe Radhe, our commitment to our community and culture is paramount. We stand behind our community with the best quality products and services. Our ultimate goal is to make sure our customers are satisfied with our product from the moment they bring it into their lives.
So what are you waiting for? Simply click on the Add To Cart Button to get this amazing Majestic White Goddess Sri Durga Maa Idol, and enjoy the spiritual satisfaction.
Fantastic and beautiful statue. I got a great feeling when I unwrapped it. Magical!!!
Fantastic and beautiful statue. I got a great feeling when I unwrapped it. Magical!!!
Fantastic and beautiful statue. I got a great feeling when I unwrapped it. Magical!!!
The craftsmanship, details, colors, and size are perfect. I feel it's a great value for the money. It had gotten so many lovely reviews that I presented immediately and it came the next day. Absolutely beautiful!