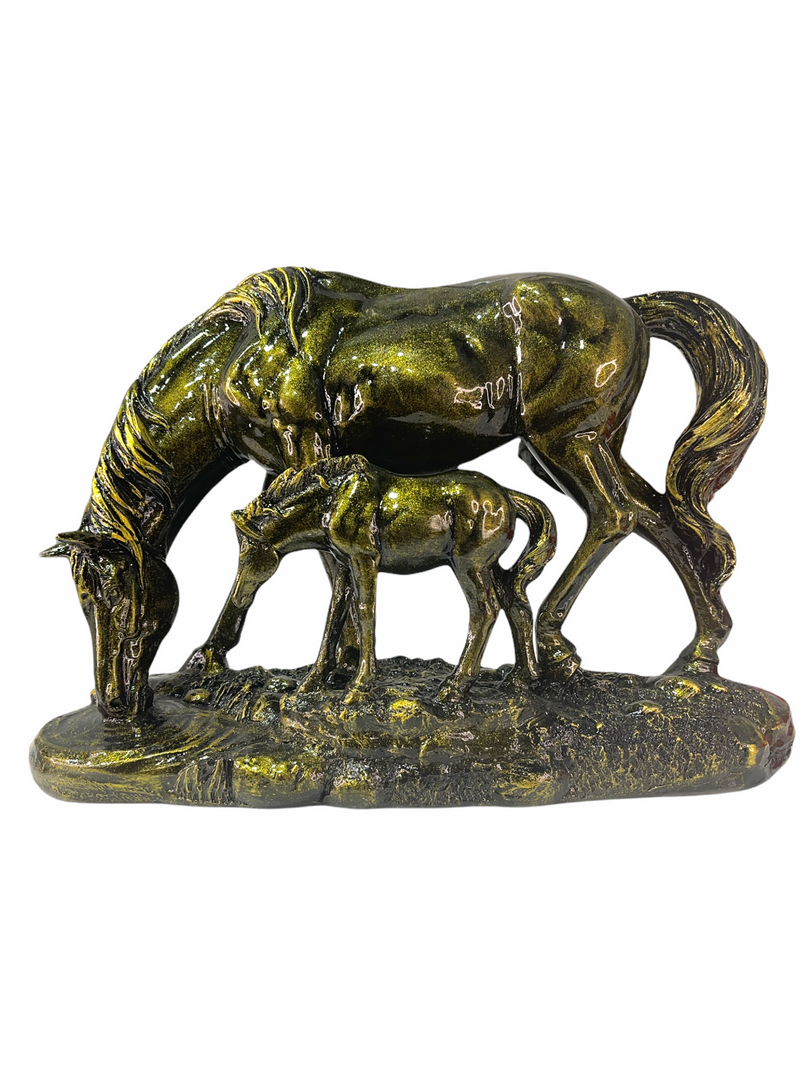 A BEAUTIFUL SCULPTURE TO DECORATE YOUR SURROUNDINGS WITH NATURAL LOVE & COMPASSION.
SHOWS A MOTHER'S LOVE AND DUTY
Mothers' love for their children is one of the most beautiful things in the world. This Mother & Child Horse Drinking Water Sculpture depicts a mare watching over her child as he explores the world for the first time. In addition to their bronze finish, the horses feature exquisite details, giving them a charming look and touch. Crafted by the finest craftsmen in India from the highest quality materials.
RELIGIOUS VIEW OF HORSES
The horse has a very important religious significance in the Hindu tradition. In the Hindu culture, the horse is a symbol of loyalty, respect, and the power of the individual. Hayagriva, also known as Hayagreeva, is the horse-headed avatar of the Hindu god Sri Vishnu from the Sanskrit "Samundra Manthan". Having this Mother & Child Horse Drinking Water Sculpture in your home will not only be beautiful but also please the Lord.
BEST DECOR AND GREAT GIFT
This Mother & Child Horse Drinking Water Sculpture would add nature's touch to any home and would make a fantastic gift for horse lovers. The bronze finished mare and foal sculpture is a wonderful depiction of a horse and her child. Anyone who loves horses would appreciate this high-quality statue. As a gift, it is also wonderful for new parents, housewarmings, or decorating one's tabletop.
Key Features: 
Perfect decor piece and wonderful gift to new mothers or on housewarmings 

Made from 100% premium solid materials

The craftsmanship of the highest level

Never-diminishing premium design

Dimensions 8.5 H x 12.5 inches L
At Radhe Radhe, our commitment to our community and culture is paramount. We stand behind our community with the best quality products and services. Our ultimate goal is to make sure our customers are satisfied with our product from the moment they bring it into their lives.
So what are you waiting for? Simply click on the Add To Cart Button to get this amazing Mother & Child Horse Drinking Water Sculpture and enjoy divine satisfaction.
Bought this sculpture, and it really exceeded my expectation. It was far better than what I expected.