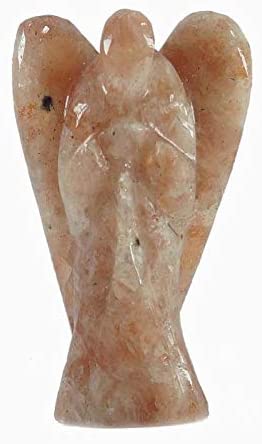 BRING LUCK AND GOOD FORTUNE WITH OUR SUNSTONE POCKET ANGEL 
ALL CHAKRAS HEALING SUNSTONE ANGEL
This Sunstone Pocket Angel with luck and good fortune is said to clear and energize all the chakras in our body. Sunstone instills good nature, heightens intuition, and allows the real self to shine through happily. Mainly associated with the sacral chakra and the solar plexus chakra, it increases self-worth and confidence. Keep this angel to encourage your optimism and enthusiasm.
PERFECT HOME OR OFFICE DECOR
This beautifully hand-carved Sunstone Pocket Angel attracts a positive vibe, luck, fortune, money, and prosperity. The Chakra stone flows the positive vibe where it is placed and removes all negative vibe. This beautiful Guardian angel can be a perfect home decor used for healing and energy balancing. This spiritual angel blesses you and your loved one.
USES OF OUR SUNSTONE ANGEL 
The vital use of this beautiful sunstone pocket angel is that you can carry it everywhere you go for healing and energizing purposes. The natural and spiritual angel statue is an absolute go-to for home and office decorations. It is also an ideal gift choice for crystal lovers, reiki healers, crystal cleansers, and so on.
Key Features:
Crafted from natural healing crystals and gemstones

Have lots of benefits due to natural creation

An ideal gift for crystal lovers, chakra gifts for women

Each stone is a unique natural creation 
At Radhe Radhe, our commitment to our community and culture is paramount. We stand behind our community with the best quality products and services. Our ultimate goal is to make sure our customers are satisfied with our product from the moment they bring it into their lives.
So what are you waiting for? Simply click on the Add To Cart Button to get this amazing Crystal Stone Guardian Angel and enjoy the divine satisfaction.