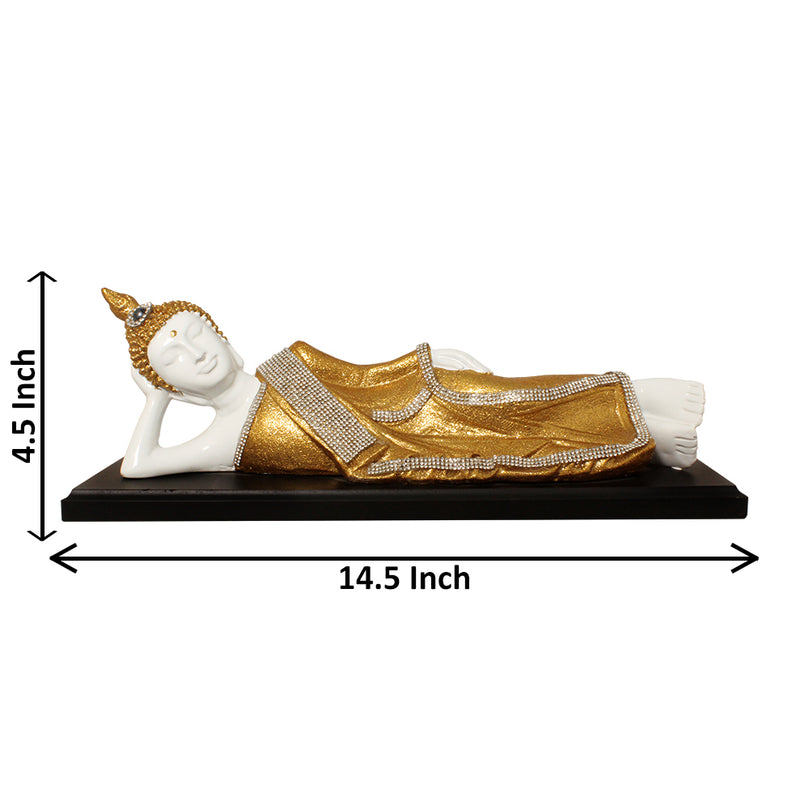 RECLINING BUDDHA STATUE, BRING TO ADD A TOUCH OF PEACEFULNESS TO YOUR HOME
HEAL YOUR MIND WITH PEACEFULNESS
The Reclining Golden Buddha Statue represents Buddha lying down and is a major iconography and statuary pattern of Buddhism. This Statue represents the Buddha about to enter Parinirvana. He is lying on the right flank, supporting his head with his hand. This Buddha statue has significance for those who study healing. Make it an ideal home or meditation garden decoration.
BRING TO ADD SOMETHING UNIQUE 
You can place this highly decorative Buddha Lying Idol anywhere in your home to change the look and bring positive vibes. Best Feng Shui location like the living room or office near the main entrance, where you can see him every day. This Buddha Statue is told to easily attract positive energy. Also makes a perfect present for art lovers, Buddhist friends, relatives, loved ones. 
DETAILED CRAFTSMANSHIP AND CONVENIENT 
A stunning Reclining Buddha with detailed craftsmanship and shiny colors is a wonderful addition to your decor. Over a million visitors a year visit the temple where the real reclining Buddha is housed. With a convenient shape for a long table, shelf, or hearth, this statue catches anyone's eye. It symbolizes good luck, wealth and prosperity, and can help you eliminate obstacles in life.
Beneficial Impact: This elegant buddha idol can cure Vastu Dosh by imparting a warm, contemplative atmosphere, and creating a serene environment inside or outside the home with the use of this Protection Buddha statue. 
Key Features:
Can be easily integrated into your home decoration

The perfect Zen gift for your loved one

One of a kind and very detailed artwork

Gracing you a peaceful expression

The craftsmanship of the highest level

Never-diminishing premium paint

Dimensions 14.5 x 4.5 inches
At Radhe Radhe, our commitment to our community and culture is paramount. We stand behind our community with the best quality products and services. Our ultimate goal is to make sure our customers are satisfied with our product from the moment they bring it into their lives.
So what are you waiting for? Simply click on the Add To Cart Button to get this amazing Peaceful Reclining Buddha Idol and enjoy the divine satisfaction.
Bought this as a gift for my coworker and she loved it! It's well made and painted perfectly. The weight of it isn't too heavy which is nice for a desk top. I would definitely recommend if you're looking for a nice statue!
It's great quality especially for the price. Couldn't be happier with my purchase.