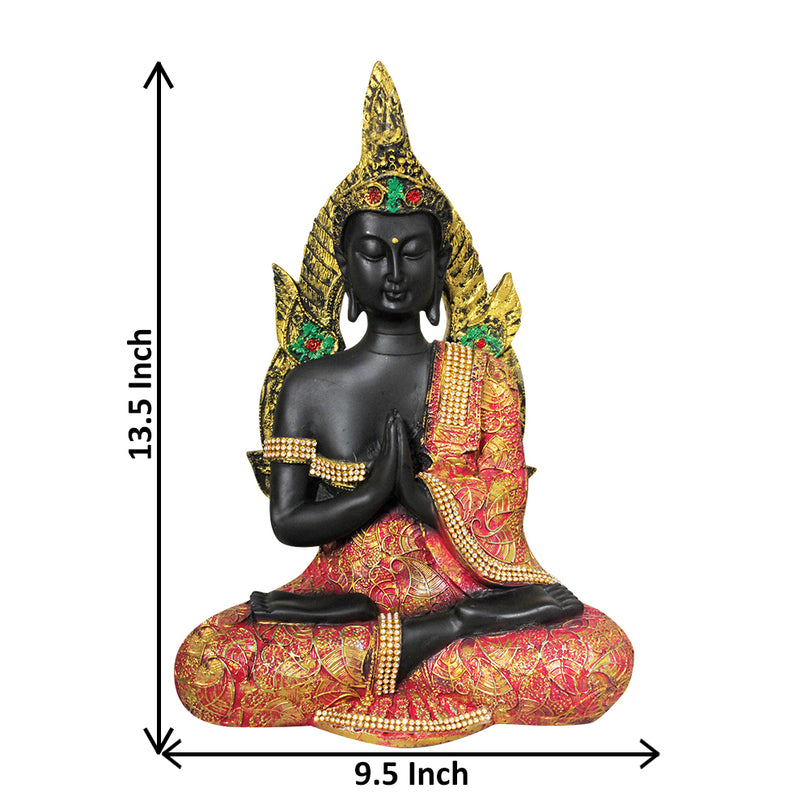 PRAYING BUDDHA IDOL, HAVE A LOOK EVERYDAY AND CALM YOUR UNSTEADY MIND
BRINGS GOOD LUCK, AND AUSPICIOUSNESS
This Beautiful Black, Red, and Golden Praying Buddha Statue adds a shiny Zen and relaxing look to your indoor space, symbolizing calm, love, and peace, your any feelings of stress or negativity are quickly dissolved and replaced by a calm, mindful, and peaceful mind, can also bring good luck and auspiciousness, increase wealth, is one of the most happiness Feng Shui idols.
MADE OF HIGH-QUALITY MATERIAL
This buddha statue is made from very durable material that last, is hand-carved by the Indian experts to produce the fine detailing, a smooth finish, and cracked details that add a natural element to your decor, material easy to care for, corrosion resistance, moisture-proof, anti-oxidation, environmental protection, plasticity, and the package is carefully covered to protect the Idol.
ENHANCES THE DECOR OF YOUR ROOM
An ideal present for enthusiasts of Eastern deities and East Asian cultures. Enhance your Puja room, home, office, garden, yard, meditation space, yoga studio, prayer room, sacred room, and an aquarium with this graceful Buddha statue, beautify your decoration place, impart a warm and contemplative atmosphere to everywhere, and bring positive impact in daily life. 
Beneficial Impacts: Buddhists often keep the Praying Buddha Idol in any room in-home or prayer rooms. As a result, it gives off positive, relaxing energy to aid in relaxation and concentration. As an image of eternal knowledge and enlightenment, it would be appropriate to put it in the corner facing East. A peaceful mind and a clear aura will result.
Key Features:
Great gift for the Buddhist family and friends or art lovers

Eyes closed smiling Buddha praying Statue

Adds ornate designs throughout the look

Individually hand-painted and polished lifelike detail

The craftsmanship of the highest level

Never-diminishing premium paint

Dimensions 13.5 x 9.5 inches
At Radhe Radhe, our commitment to our community and culture is paramount. We stand behind our community with the best quality products and services. Our ultimate goal is to make sure our customers are satisfied with our product from the moment they bring it into their lives.
So what are you waiting for? Simply click on the Add To Cart Button to get this amazing Praying Buddha Elegant Black And Red Idol and enjoy the divine satisfaction.
This came packaged securely in a box you could use for gifting. I love the size and the color.