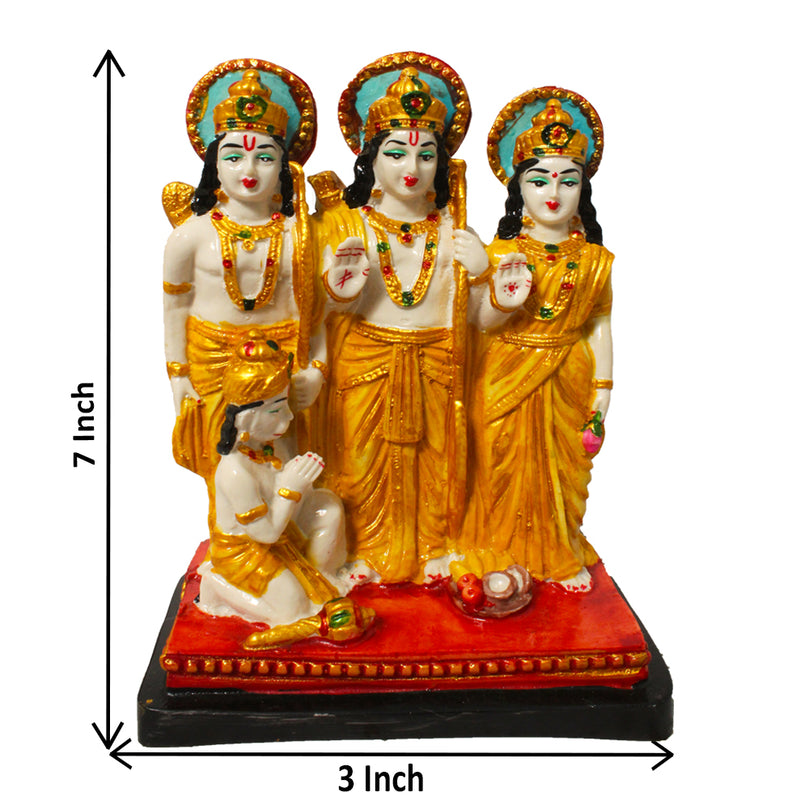 BE GRACED BY THE HOLY RAM DARBAR, THE ESSENCE OF STRENGTH AND SUPREME DIVINITY 
INCREASE CONFIDENCE, AND MENTAL POWER
The powerful Lord Ram, Lord Laxman, Goddess Sita Maa, and Lord Hanuman Ji are all present in this Ram Darbar. Lord Ram as Maryada Purushottam is known as the perfect man. The presence of Ram in your environment increases self-confidence, willpower, and mental strength because he teaches people to follow the right path in life. 
MAKES A THOUGHTFUL DIWALI GIFT
You may know that the festival of Diwali marks the return of Lord Ram who has been exiled for fourteen years. Whether you want to give it as a gift to your family, friends, or for the puja room or to just decorate your home, this Ram Darbar is the perfect addition to any Diwali celebration. 
UNIQUELY HANDCRAFTED IDOL
The best craftsmen of Ayodhya, India have crafted this Murti of Lord Ram, Goddess Sita with Hanuman Ji, and Lord Lakshman using pure Indian materials. Decorate your desk, office, or home or you can complete puja room decor. This Handmade Murti will bless your house or workplace and enhance its beauty and spirituality. 
Beneficial Impacts: Marriage, siblings' love, and devotion are united in Ram Darbar as a representation of unity. Get the pious blessings of the Gods by bringing this statue home. A Ram darbar in your child's room can calm your child's nerves and ease his/her anxiety if he/she is aggressive, quarrelsome, or directionless.
Key Features:
The perfect gift to give during Diwali celebrations to friends, family, and loved ones

Helps one walk on the right path, be brave and righteous 

Can be used in puja rooms or decorating one's environment to be auspicious.

Brings peace and harmony to family life

Dimensions are "3 x 7 inches
At Radhe Radhe, our commitment to our community and culture is paramount. We stand behind our community with the best quality products and services. Our ultimate goal is to make sure our customers are satisfied with our product from the moment they bring it into their lives.
So what are you waiting for? Simply click on the Add To Cart Button to get this Divine Ram Darbar and enjoy the satisfaction from the supreme Lord. 
Just beautiful, it's Wat I ws looking for... Early delivery n neat packing... Value 4 money... Very happy with the product... 😊
Good size as described. Well packaged and arrived without damage. Light weight and perfect for what I was looking for.