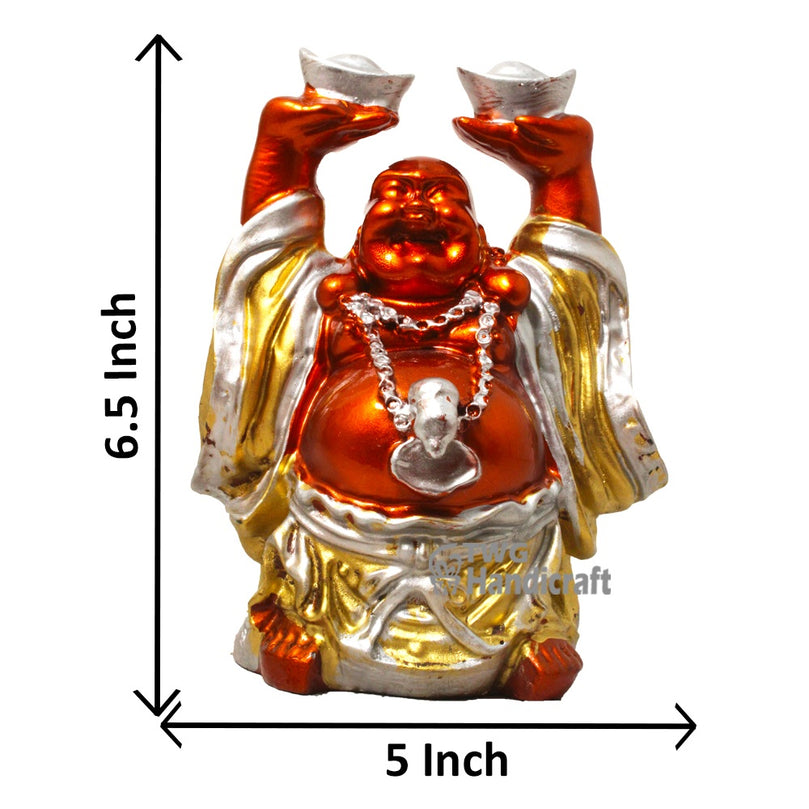 RED LAUGHING BUDDHA WITH ARMS UP CARRYING INGOT IDOL FOR VICTORY IN FINANCES MATTERS & PERSONAL OBSTACLES 
THE ECSTATIC LAUGHING BUDDHA 
This Red Laughing Buddha With Arms Up Carrying Ingot Idol with detailed craftsmanship has gentle eyebrows and a smiling face, with a constant smile, represents Buddhism's magnanimous and compassionate purpose. Therefore, it is loved by the public. It is said that a touch of his big belly can eliminate disasters, relieve sorrows, forget about worries, keep healthy, and laugh often. 
BRINGS LUCK, HAPPINESS, AND PROSPERITY
This Red Laughing Buddha With Arms Up Carrying Ingot Idol is individually handcrafted with only the finest materials and rigorously tested to ensure they meet the highest safety standards. Admired for his happiness, plenitude, and wisdom of contentment. One belief is that rubbing his belly brings wealth, good luck, and prosperity. When The Laughing Buddha is carrying an Ingot (bowl) in this pose it brings blessings from the heavens and extra luck in your endeavors. 
BEST HOME DECOR AND A PERFECT GIFT
You can place it in the common area such as the living room and lobby, placed in the center of the house, facing the clean place of the sun, and not facing the door of other rooms, in order to increase the wealth of the residence, ensure safety and richness, and let everyone in a good mood. Also a perfect traditional gift for newlyweds, couples, Valentine, wedding or anniversary. 
Beneficial Impact: Place Buddha Idol in the southeast sector or in a direction where it could be seen by all the family members to bring financial windfall. Buddha's birthday falls on 8th May and it is considered auspicious if a candle is lightened on his birthday. It is said that it fulfills desires. Should be placed in the money area of your home for maximum results. 
Key Features:
S

ure to inspire happiness around it in your home

Depict a stout, smiling, or laughing Buddha with a large potbelly stomach, which symbolizes happiness, good luck, and plenitude

Wipe the sculpture's dust off with a dry cloth

Peaceful and harmonious symbol

Materials that are durable and last a long time 

Excellent gift for anyone on any occasion 

A 5" wide x a 6.5" high piece of art
At Radhe Radhe, our commitment to our community and culture is paramount. We stand behind our community with the best quality products and services. Our ultimate goal is to make sure our customers are satisfied with our product from the moment they bring it into their lives.
So what are you waiting for? Simply click on the Add To Cart Button to get this amazing Red Laughing Buddha With Arms Up Carrying Ingot Idol, and enjoy the spiritual satisfaction.
It's a beautiful Buddha statue! Came very fast. The quality is also nice...