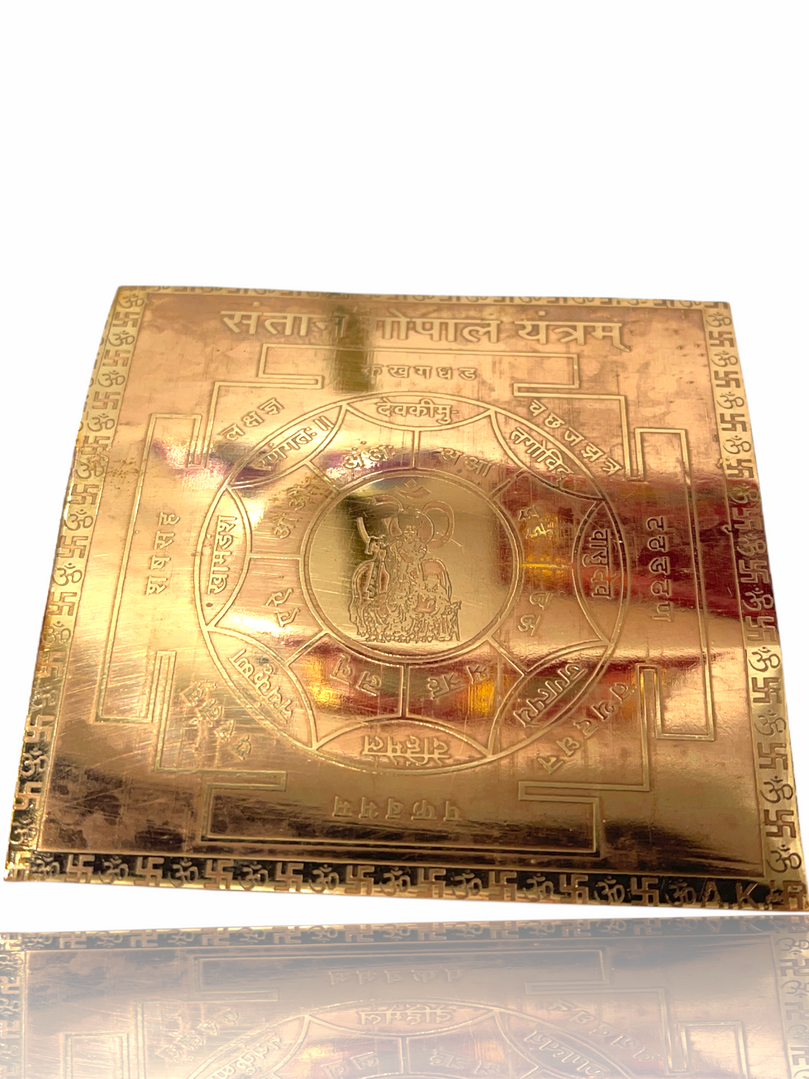 Santan Gopal Yantra/संतान गोपाल यंत्र: Every married couple dreams that they will enjoy the happiness of children, but sometimes some obstacles prevent them from attaining such happiness. In such a situation, you need to adopt astrological solution with your other efforts. If you worship Santan Gopal Yantra, you will certainly be able to enjoy it.
Due dignity and worship of this instrument, the desired child is attained. And that's with longevity and quality. The Sadhana of Santan Gopal Yantra is very famous, those who do not have children, they install Santan Gopal Yantra along with the idol of Balgopal and recite Santan Gopal psalm in front of them. Some people do "Putreshthi Yajna", by performing this Yajna they get the desired offspring with the help of this Yantra.
After establishing Santan Gopal Yantra and thereafter reciting Santan Gopal psalm in Guru Pushya Constellation, the child is born with good qualities in the house and such children are found always ready in the service of the parents.
Those people who have obstacles in childbirth or wish for desirable children, they should accomplish Santan Gopal Yantra by establishing Santan Gopal Yantra in their house. If you worship Santan Gopal Yantra, then you can get rid of the bad effects of your married life. The worship of this Yantra helps you to make your dream come true, brings happiness and joy in life. After establishing Santan Gopal Yantra in the Goshala, and revealing Gopalakrishna's mantra, a barren lady can produce child too soon with all the qualities.
Benefits of Santan Gopal Yantra
The Yantra on which powerful energy lines are engraved neutralizes any obstruction that may cause problems for you while bearing a child.
The energy from the Yantra protects the mother and the baby in her womb from any such mischance. The energy from the Yantra helps in avoiding any chance of complications to the mother and the child.
It also facilitates your mental peace and blesses you with a healthy offspring. Santan Gopal Yantra brings love into the couple's lives and blesses them with a healthy and knowledgeable child.
The Yantras are made by reciting powerful chants and mantras that are dictated in the Vedas, as well as Havana for the respective God/Goddess.
It is one of the most significant Yantra for getting a child and a safe progeny.
When putrakaraka Jupiter and the 5th house are not well disposed in a natal chart, blessing of offspring is delayed or even denied; worship by this Yantra will remove that obstacle.
How to use Santan Gopal Yantra?
Yantra attracts positive energy and it works as an antenna of Nature that draws in cosmic energy to the worshipper's life bringing good fortune, prosperity, good health and harmony. The Santan Gopal Yantra must be kept near the Bal Krishna idol and the mantra should be recited. In order to fully experience the miracle of the Yantra you have to strictly follow some guidelines:
Make sure your body is pure. Always start with a positive frame of mind.
Yantra should be kept in a clean and sacred alter where it is undisturbed. The Yantra should always face East or North.
Do not let the Santan Gopal Yantra to be touched by others.
The Yantra should be washed periodically with rose water or milk. After that rinse it with clean water and wipe it to dry.
Light incense or earthen lamps, lay down fresh flowers.
Sprinkle clean water on the Yantra using a leaf from a tree.
Make offerings (fresh fruits or dry ones)
Close your eyes and pray to the deity. Ask God to bless you and answer your prayers.
Now Chant the Beej Mantra for at least 9 times. Read the mantra written in Sanskrit, however, if you cannot read Sanskrit you can read the translated form in Hindi or English. The effect of the mantra will be equally effective. It is very important to have faith and devotion in the Yantra so that you receive maximum benefits from the energy drawn towards you.