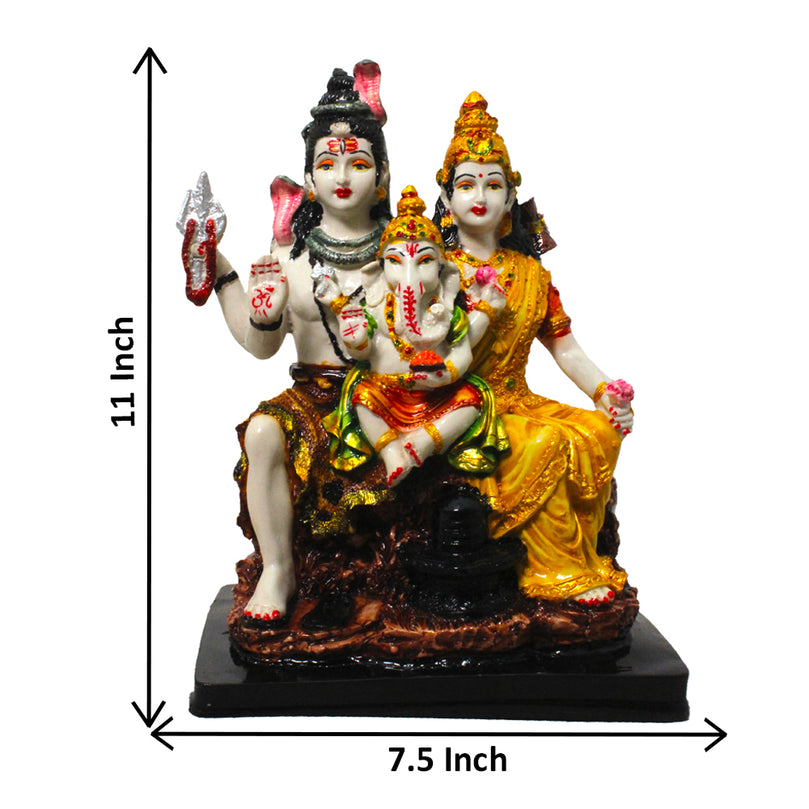 THE JOINT DIVINE POWERS OF THE SHIV PARIVAR  WILL BRING PEACE, PROTECTION, HARMONY & HAPPY FAMILY LIFE
KEEPS FAMILY TOGETHER 
This Shiv Parivar statue is exquisitely crafted in India by master craftsmen. Shri Parvati Maa and Lord Ganesha Ji have been seated on the throne, and Lord Shiv Ji is seated at the head of the throne. This multi-colored statue is hand-painted with premium paint. As Lord Shiv Ji and Parvati Maa are considered as the universal parents, this statue showcases a well-knit and strong family so this is a great gift to new home buyers or parents, families, and friends for marriage, birthdays, promotions, or after real estate deals. 
BRINGS POSITIVE FORCE TO HOME
Through this Shiv Parivar Idol, negativity is destroyed and the path for new beginnings and growth is opened. His powers of destruction and recreation are used even now to destroy the illusions and imperfections of this world, paving the way for beneficial change. The classically designed statue is perfect for puja, living rooms, or simply to decorate your home.
FOR LOVE, BEAUTY, PROSPERITY, AND WISDOM
Goddess Parvati Maa is known for fertility, love, beauty, harmony, marriage, children, and devotion; as well as divine strength and power. Lord Ganesh Ji is known as the remover of obstacles, the patron of arts and sciences; and the deva of intellect and wisdom. The joint power of these Divine beings will bring you all the benefits from this Idol if you keep it in your home.
Beneficial Impact: You will live long and harmoniously with Lord Shiva and Maa Parvati's blessing. The family will remain united if they worship the Lord Shiv Parivar Idol. Mata Parvati can bless you with peaceful family life if you worship her. It is easily possible now to obtain the blessings of both deities together.
Key Features:
A symbol of peace, harmony, and a happy family

A masterwork of Indian craftsmanship

The color will never dull over time with premium paint

Measurements "7.5" by 11"

Lord Shiva is a Hindu deity and represents the aspect of the Supreme Being
At Radhe Radhe, our commitment to our community and culture is paramount. We stand behind our community with the best quality products and services. Our ultimate goal is to make sure our customers are satisfied with our product from the moment they bring it into their lives.
So what are you waiting for? Simply click on the Add To Cart Button to get this Divine Shiv Parivar (Family) Idol and enjoy the divine satisfaction.
I had no idea how beautiful this statue-figurine is. Lots of great detail and deep rich color.
The statue is a good size, beautiful, i like the candle holders, i bought fake tea candle lights too, i collect Ganesha things, brings my business and life peace and goodluck, remover of all obstacles, and I love this new addition, i recommend this