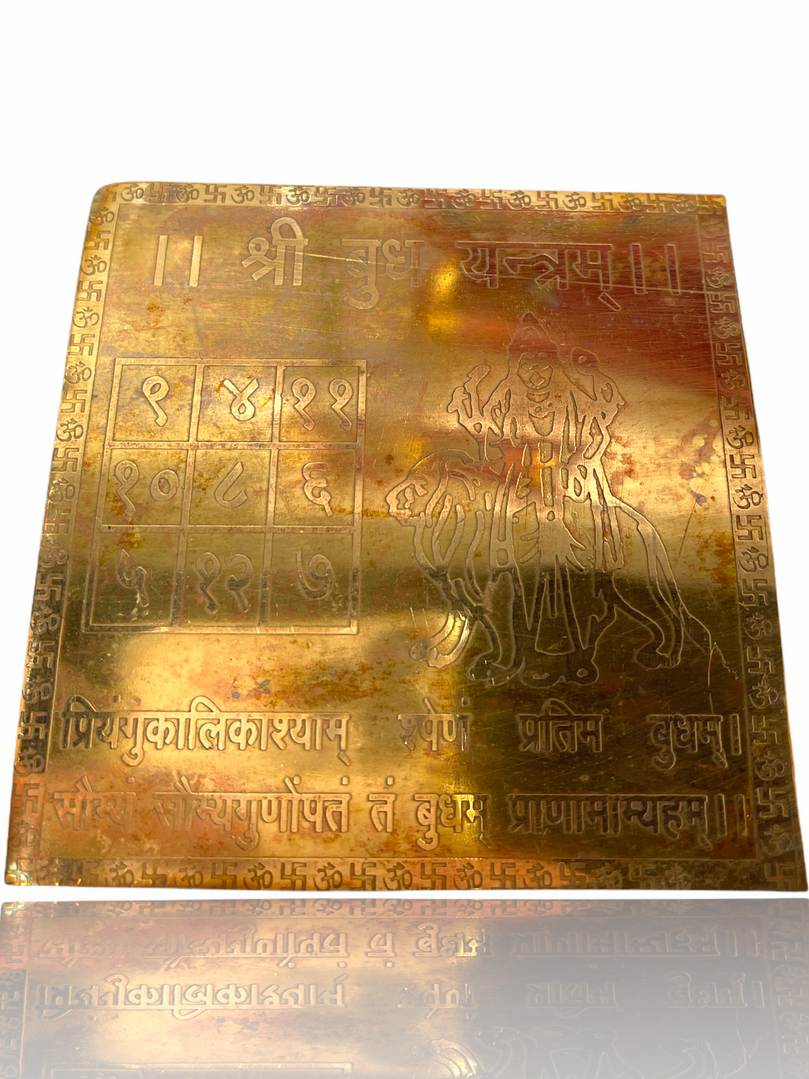 Budh Yantra/Mercury Yantra (बुध यंत्र) : Mercury symbolizes Vocal Cords or sound. Mercury (Budh) Yantra is an auspicious instrument use to appease the planet Mercury (Budh). Weak Budh in Birth chart leads to problems related to skin, Gall Bladder, Education and paralysis. Other malefic effects indicated by Mercury are, mental diseases, nervous breakdown, hyper sensitiveness, difficulties in vocal expressions, stammering etc. The Mercury Yantra helps in eliminating the problems raised by weak Budh in Birth chart.
The Budh Yantra should be adopted by people having weak and ill placement of planet Mercury and lacking at the side of intelligence and understanding. It could reduce the harshness to a good extent and could bestow the person with creativity and fantasy with softness in heart. On the other part, it saves the women from problems in pregnancy and defends those fearing harm from fire and electricity. It also reduces the problem of stammering as Mercury is the giver of eloquence and speech. Budh Yantra is perceived to be engraved in Copper metal plate which should be adopted on Wednesday at the time of rising Moon.
This will bestow the person with the blessings of Budh and would take him or her towards a good mount. The mercury can create problems like theft, electric loss, fire and hence you need to think of a talisman that can curb all these unfavourable occasions. This Yantra is also beneficial for a pregnant lady who might need to consider of such kind of protection from miscarriages. This Yantra needs to be embossed on a copper plate and worshipped every Wednesday. Budh Yantra
This planet is actually regarded as the one who decides intelligence, communication and creativity. Yantra is considered as a powerful tool which gives methods for experiencing positive energies on the body. The Mercury Yantra makes feasible ways for ensuring progress levels in education by addressing exact needs. Offering prayers to this Yantra will help to carry out multi tasks in an efficient manner. Pregnant women are largely benefited by this Yantra to deliver a baby without any difficulties. Pujas can be performed on special days to witness desired outputs.
Budh Yantra Benefits:

This Yantra has immense significance in human life and bestows positive reflection for adorning many aspects in the lives upon land.
Mercury is the giver of intellect, knowledge, softness etc.
It guarantees love, humanity, precision, and many such things taking the person towards heights.
It saves the women from problems in pregnancy
It defends those fearing harm from fire and electricity.