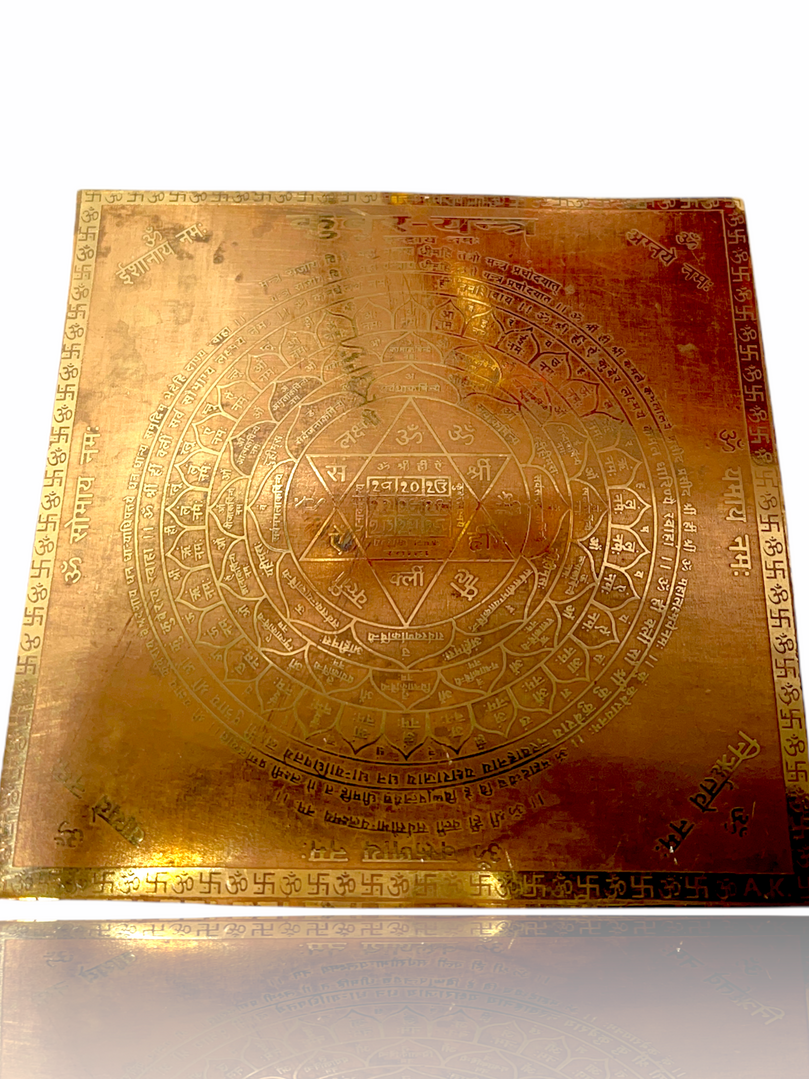 Shri Siddh Kuber Yantra/श्री सिद्ध कुबेर यन्त्र: Lord Shri Ganesha is worshiped for the attainment of wealth, intelligence and auspiciousness. Worship Goddess Lakshmi, the Goddess of Wealth, with the destroyer of troubles, Shri Ganesha. Worshiping Lakshmi Ganesha ji increases the economic condition and means of wealth arrival. It has been said in the scriptures that if there are problems related to the arrival of wealth, then pay attention to Lakshmi Ganesha ji and worship Kuber if you want to keep the money coming.
This Yantra of Dhanesh Kuber, the ruler of wealth, Yaksharaj Kuber is pleased with the effect of this Yantra and protects the property. This Kuber Yantra is also made from gold and silver letters, where other practices of Lakshmi attainment have failed, there is an immediate benefit from the worship of this Yantra. Kuber Yantra is made on Vijay Dasami, Dhanteras, Deepavali and Ravipushya Nakshatra and on Thursday or Sunday. Kuber Yantra is installed in galley safes and closed shelves. The Shri Siddh Kuber Yantra holds its important place in the practices of Lakshmi attainment.
If there is any problem related to money, then Kuber Yantra will be very beneficial for you. Its Mars influence paves the way for wealth and helps in keeping the wealth accumulated.
Kuber is particularly well known as the wealth of gods. The Mahabharata also states that along with Kuber Maharaja, Bhargava-Venus and Dhanishtha Nakshatra are also visible. Without all these three, there is no attainment of eternal happiness and glory. Therefore, the law of joint worship of these three is prescribed for these splendors.
Kuber is the only chairman of all the wealth of the earth. Kuber has also been called the beloved servant of Lord Shiva. It is a law to appease them by practicing mantra. Unlike all other mantras, there is a tradition to prove the Kuber mantra facing south.
Benefits of Shri Siddh Kuber Yantra
Shri Siddh Kuber Yantra, and Mantra Giving all the superiority of life, all happiness, good luck, Aishwarya, Lakshmi, divinity, attainment, happiness good luck, business growth, child happiness Santan Sukh, good health, age growth, and determination to give all material comforts.
Shri Siddh Kuber Yantra keeps your wealth safe from any evil eye.
Shri Siddh Kuber Yantra broadens your source of income. It increases the sources of getting money.
For businessmen it is too much beneficial. This will enhance their income.
Establishing this Yantra prior to start any business is always providential.