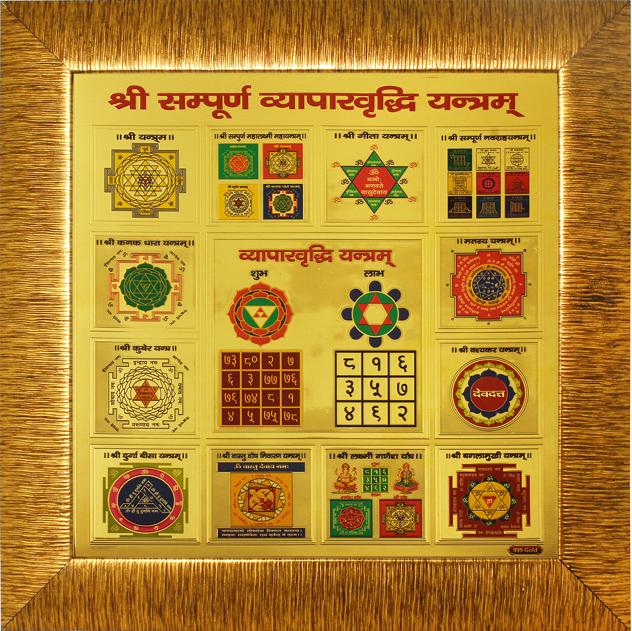 USE THE POWER OF THE COMPLETE SHRI SAMPOORNA VYAPAR VRIDHI FOR MAXIMUM SUCCESS IN BUSINESS & NEW JOB
PROVIDES YOU UNCOUNTABLE BENEFITS
Shri Sampoorna Vyapar Vridhi Yantra Frame possesses the cumulative powers of all those deities who provide wealth, prosperity, energy, strength, success, and power. This yantra gives happiness to the devotee and devotees get blessings of Goddess Mahalaxmi and ward off bad effects of planets. By the grace of Mahalaxmi, natives get a good inflow of money and prosperity in their work. Vyapar Vridhi Yantra, as it is represented by his name, increases the business of the devotee. This Shri Sampurn Vyappar Vriddhi Yantra not only paves way for better profits but also brings new ideas to the mind to earn a greater income from other sources too.
MUST HAVE YANTRA TO KEEP HOME
This frame consists of four major and important Yantras as follows: Ganesh Yantra, Shree Yantra, Vyapar Vridhi Yantra, Kuber Yantra. Ganesh Yantra is used for worship before doing any important and auspicious work. This yantra removes all hurdles for getting success in their work. Shree Yantra gives us peace, luxury, and prosperity. One gets success in his profession and works day and night. Kuber Yantra saves and protects the money. 
Best Place: This Shri Sampoorna Vyapar Vridhi Yantra is measured as the most powerful Yantra leading to financial abundance. Install this in the Northeast direction of your house to get all the benefits from this.
Key Features:
Made up of 13 yantras help to ward off the negative effects of vicious planets

Yantra works well to get rid of anxiety, stress, and depression

Remain in a good general health condition

Your clout in the social circle gets a boost

Measures 6.5" W x 7" H

Made in India by skilled craftsmen

A

n impressive piece of art
At Radhe Radhe, our commitment to our community and culture is paramount. We stand behind our community with the best quality products and services. Our ultimate goal is to make sure our customers are satisfied with our product from the moment they bring it into their lives.
So what are you waiting for? Simply click on the Add To Cart Button to get this amazing  Shri Sampoorna Vyapar Vridhi Yantra Frame, and enjoy the spiritual satisfaction.
WOW! Excellent excellent excellent! Top-notch product at super pricing! Thanks a lot!