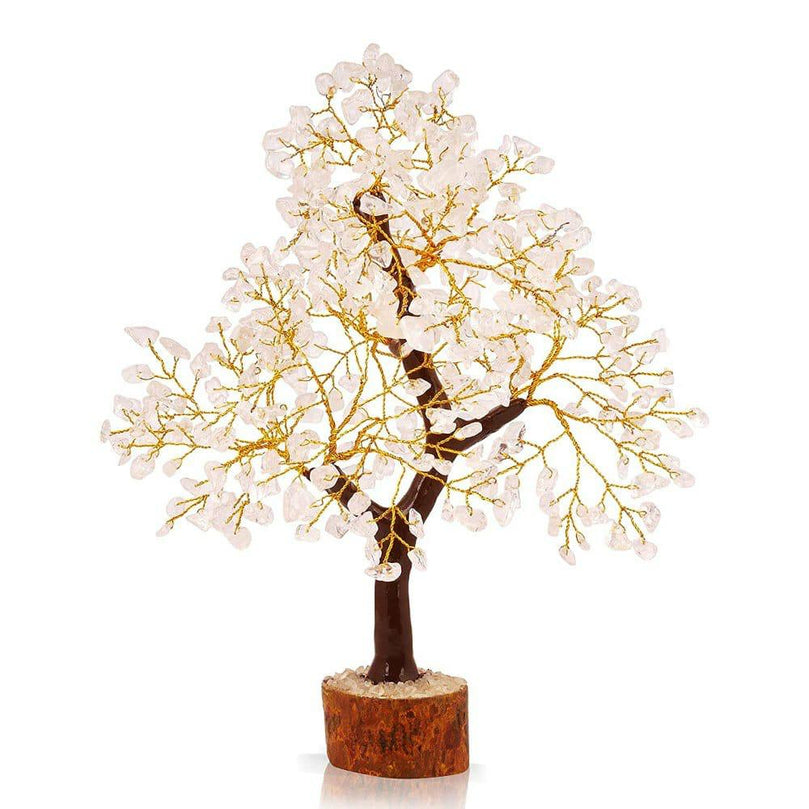 TREE OF LIFE MADE OF PINK QUARTZ GEMSTONE FOR LOVE, SUCCESS, AND PROSPERITY
GEMSTONES BEADED INTO THE GOLDEN WIRES 
This beautifully handmade spiritual bonsai tree with natural gemstones. Every gemstone is carefully beaded into the golden wire of the branches by the greatest artists. The stable base is made up of wood and filled with a small number of quartz gemstones. It's a chakra sculpture handcrafted with the pink rose quartz crystal. Some people call it the Tree of Life!
THE PINK ROSE QUARTZ STONES
The Pink Rose Quartz Stones are also known as the stones of love, these are Taurus and Libra zodiac stones. Usually associated with the Heart Chakra (Anahata), the pink gem can heal and open the Anahata to promote love, self-love, friendship, inner healing, and peace. The quartz dispels negative energies and encourages self-forgiveness and acceptance invoking self-trust and self-worth.
REMOVES NEGATIVE ENERGY, BRINGS POSITIVITY
The beautiful tree is said to remove negative energies and fill a surrounding full of positive energies. The spiritual tree of life is also said to grant wishes true, the divine tree can promote self-confidence, self-expression, and peace to the surroundings. In following the feng shui, the healing tree is recommended to place it on your office desk, table, or the front door of your house.
Key Features: 
Great gift choice for your loved ones to promotes love and compassion

Decorate your home with crystals and gemstones

Place on your home, office desk, farmhouse, shelf, etc.

Adds a great accent to your home

Will give positive energy to your décor
At Radhe Radhe, our commitment to our community and culture is paramount. We stand behind our community with the best quality products and services. Our ultimate goal is to make sure our customers are satisfied with our product from the moment they bring it into their lives.
So what are you waiting for? Simply click on the Add To Cart Button to get this amazing Crystal Gemstone Tree Of Life and enjoy the divine satisfaction.