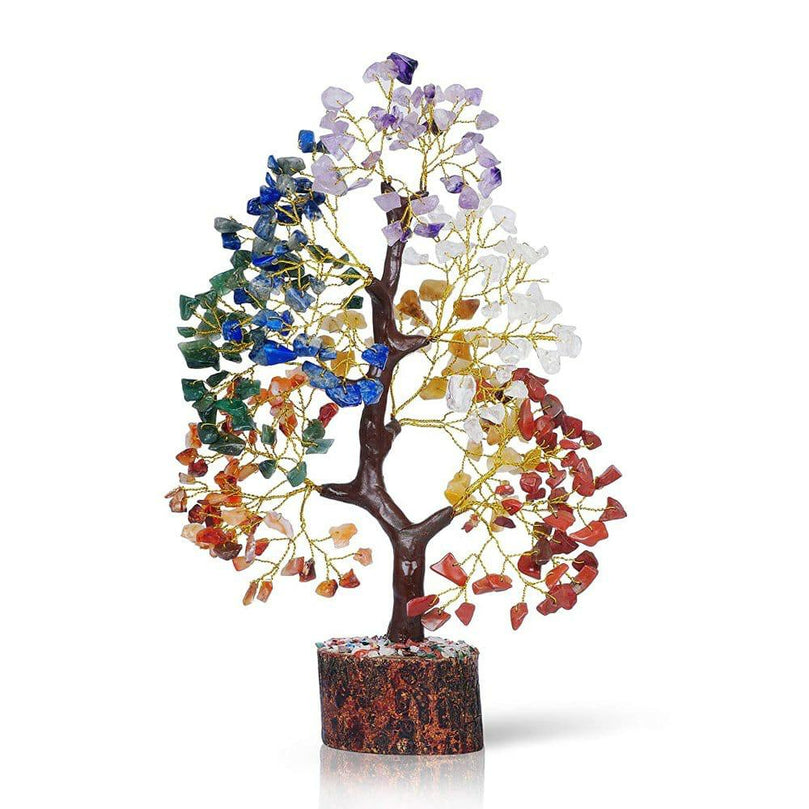 CONTROL YOUR CHAKRAS WITH THE SEVEN CHAKRA GEMSTONE TREE OF LIFE
SPACE WHERE ENERGY CAN FREELY FLOW
This Beautiful Seven Chakra tree is a spiritual tree with gemstones and the leaves and wires as the branches and the trunk and a piece of wood as a base. Something such beautiful as a seven chakra gemstone tree can create a space where energy can freely flow and also attract good things! The energy of gemstone trees is one of freely flowing abundance.
CHAKRAS, AND THEIR CONTROL
Chakras are the circular vortexes of energy that are placed in seven different points on the spinal column, and all the seven chakras are connected to the various organs and glands within the body. These chakras are only responsible for disturbing life energy. Bring this seven chakra tree and have complete control over your chakras!
LOVELY ADORNMENT IN YOUR LIVING ROOM
This Seven Chakra Positive Energy Gems Bonsai Tree looks very spiritual, divine and can become a lovely adornment in your living room, desk, office, or entrance hall. This beautiful crystal tree of life is a great positive energy generator and helps bring about healing, meditation, peace of mind, balancing, and concentration. Have a good night's sleep at night keeping it in your room.
Key Features:
Looks divine and can become a part of the decor

This wealth tree stimulates the chakras for a successful professional life

Promotes restful sleep and shoo away bad dreams 

All our gemstones are pure and natural
At Radhe Radhe, our commitment to our community and culture is paramount. We stand behind our community with the best quality products and services. Our ultimate goal is to make sure our customers are satisfied with our product from the moment they bring it into their lives.
So what are you waiting for? Simply click on the Add To Cart Button to get this amazing Crystal Gemstone Tree Of Life and enjoy the divine satisfaction.
Beautiful
Nice product and Team is very polite and helpful