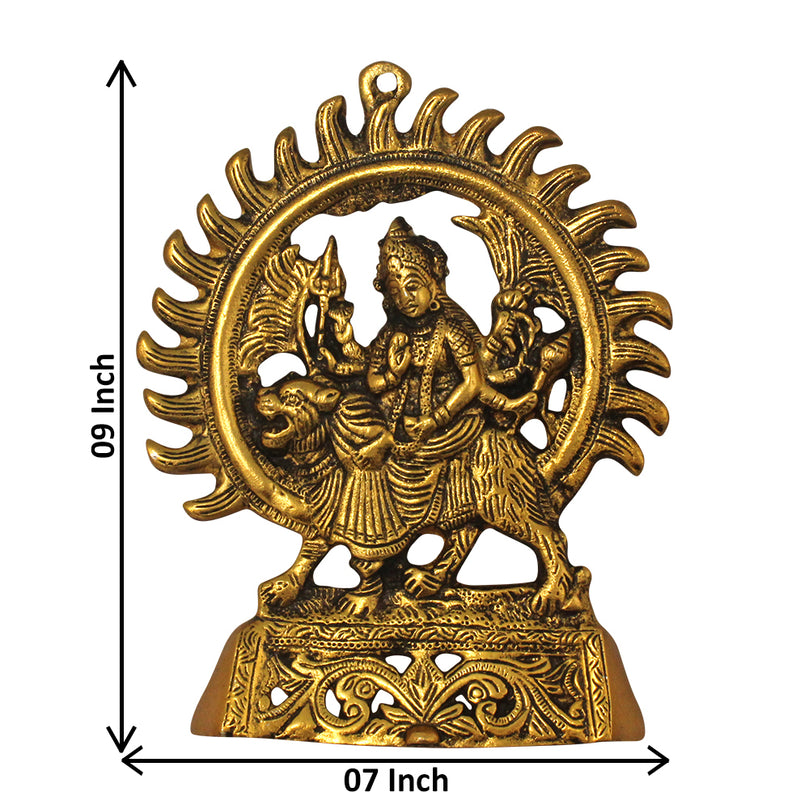 MAA DURGA DEVI - THE SUPREME RADIANT GODDESS OF STRENGTH, & FEMININE POWER
KEEP ALL THE EVIL ENERGY AWAY
Sri Durga Maa is the goddess of invincibility whose rebirth brings salvation during times of greatest distress. Durga Maa, the supremely radiant goddess, has ten arms, rides on lions and tigers (Sheer Maharaj), carries weapons, smiles meditatively, and performs mudras, or symbolic hand gestures. Durga stands for feminine creative power (Shakti) and embodies Svatantrya (dependence on the universe) and fierce compassion. You should keep her idol in your home to banish all evil energies.
MAA DURGA - GODDESS OF WAR
The manifestation of Devi is the mother of the universe and is believed to be the force that creates, preserves, and destroys the world. Her unified symbol represents all the forces of a divinity. As a symbol of power, determination, and will, the Tiger represents these characteristics.
A BEAUTIFUL PIECE OF ART
This beautifully handcrafted gold/bronze Sri Durga Maa Wall Hanging is designed to enhance the walls of your home or office. This auspicious idol is made of the best quality, lightweight material to enhance the benefits in the temple, house, office, hotel, etc. It can be cleaned easily with a dry cloth and pitambari powder made for brass materials. The design has a very traditional look and is very eye-catching. 
BEAUTIFUL CRAFTSMANSHIP FOR DECOR
Sculpted by Indian artists in a metallic finish and hand-painted, this warrior Goddess Sri Durga Maa was designed to look like vintage statues.  It can be a gift for Durga Puja, Durga Ashtami, Navratri, Vijayadashami or hung on the walls of your office desk, library, meditation room, altar, or as decor for your home office desk. A wonderful addition to anyone's Hindu collection.
Beneficial Impact: The Goddess Sri Durga Maa Wall Hanging Idol represents the divine powers (positive energies) of female energy (shakti) that fight against the forces of evil. Devotees who possess her Murti are protected from evil power and safeguarded.
Key Features: 
Made with skill and detailed attention 

It adds appeal and Holy benefits to any wall in the puja room, home, or office

Durable and corrosion-resistant material

A wonderful gift for housewarming parties and numerous festive occasions

Measures 7" W x 9" H

Made in India by skilled craftsmen
At Radhe Radhe, our commitment to our community and culture is paramount. We stand behind our community with the best quality products and services. Our ultimate goal is to make sure our customers are satisfied with our product from the moment they bring it into their lives.
So what are you waiting for? Simply click on the Add To Cart Button to get this amazing Sri Durga Maa Wall Hanging Idol, and enjoy the spiritual satisfaction.
Beautiful statue. Bigger than expected. well worth the money
Beautiful and ornate. It encapsulates his essence perfectly.
Beautiful statue. Better than I expected. well worth the money