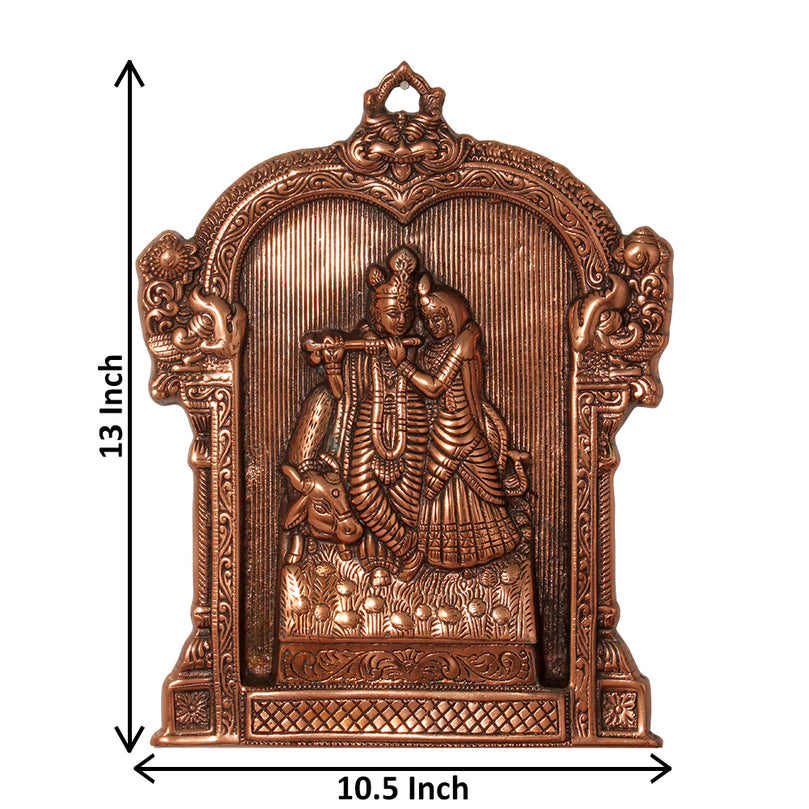 SRI RADHA KRISHNA SCULPTURE BRINGS BEAUTY, PEACE, LOVE, AND FULFILLS ALL WISHES OF THOSE WHO KEEP IT
AMAZINGLY BEAUTIFUL PIECE OF ART
Sri Radha Krishna Wall-hanging Sculpture is a beautiful handcrafted addition to any home or office. Its traditional design makes it very eye-catching and appealing. With this masterpiece, you can decorate a temple, house, office, hotel with a positive omen. Gifting is a great idea for weddings, anniversaries, house warming ceremonies, new businesses, award ceremonies, and other festive occasions.
BRING PROSPERITY AND HAPPINESS
Sri Radha Krishna represents the feminine and masculine elements of reality. Placing this Sri Radha Krishna wall hanging sculpture will bring balance, happiness and prosperity to your living space. Your home decor will gain positive energy and increase spirituality with this. Make your home a lucky and prosperous place by hanging this wall art sculpture made according to Feng Shui principles.
HANDMADE WITH LOVE IN INDIA
Our brilliant artists in India have used authentic and lightweight materials to create this Sri Radha Krishna Wall Hanging Sculpture. An attractive look can be achieved by mounting this piece on the wall of a puja room or the temple (mandir) door. You can choose to hang it in a living or bedroom room for an elegant and unique look. This can be the perfect gift to be given for Janamastimi (Sri Krishna's appearance day), Radha Ashtami (Sri Radha Rani's birthday), or other religious festivals, kirtans (gatherings), or prayers. 
Benefits: This Radha Krishna Sculpture can be placed anywhere but will produce the best results if you place it in the northeast corner of your house. The placement here shows the most regard for Lord Krishna and allows the positive energy to flow freely. Keeping this wall-hanging in the house gets rid of many types of Vastu defects and purifies surroundings immediately. 
Key Features:
Praise the combined forms of the feminine as well as the masculine realities of God 

Radha Rani reins as the Supreme Goddess 

Enrich your environment with the divine presence of Lord Krishna and Radha Rani 

Don't let Vastu defects affect you

Made from 100% premium lightweight materials

The craftsmanship of the highest level

Religious gifts for special occasions

Never-diminishing premium paint

Dimensions 13 x 10.5 inches
At Radhe Radhe, our commitment to our community and culture is paramount. We stand behind our community with the best quality products and services. Our ultimate goal is to make sure our customers are satisfied with our product from the moment they bring it into their lives.
So what are you waiting for? Simply click on the Add To Cart Button to get this amazing Sri Radha Krishna Metal Wall Hanging Sculpture and enjoy divine satisfaction.
This is the most amazing piece of artwork, very intricate details, beautiful expression on Krishna's face. The added color enhances the beauty of the bronze idol perfectly. Packaged well.
This sculpture made my day, I gifted it to my husband and he was so surprised.. Thanks a lot for this awesome service.