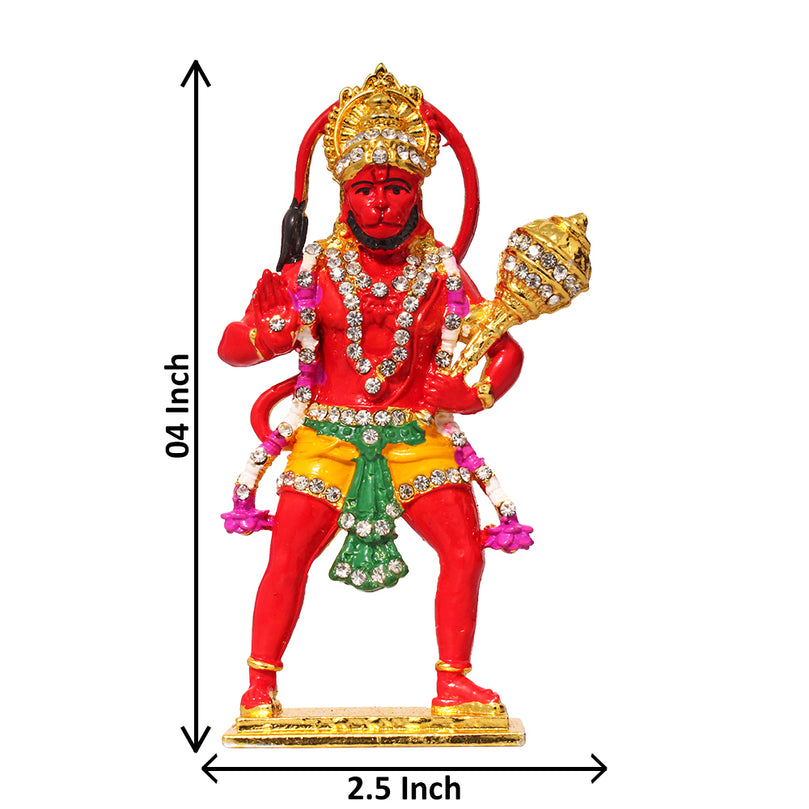 SAY "JAI HANUMAN" FOR COURAGE, STRENGTH, CONFIDENCE, & POSITIVE OUTCOMES
SRI HANUMAN IDOL AS SYMBOL OF STRENGTH
Lord Hanuman is the symbol of utmost strength & power. Featuring a gorgeous color palette of coral and gemstones, this piece is an incredible representation of his Holy name. The origin of Sri Hanuman Ji can be traced to a story in Ramayana. This is according to Hindu tradition during the time of Lord Rama and Ravana. Lord Hanuman in order to protect Lord Ram and Lord Lakshman formed a fortress with his mighty tail and he was the greatest Vakt (Follower) of Lord Ram. 
DURABLY MADE BY THE BEST CRAFTSMEN
Compact, Durable and long-lasting, this Red Sri Kulin Hanuman Ji Idol is made from quality materials. It is easily cleanable by wet/dry cotton cloth. You can place this idol on a shelf or at the entrance of your home and be blessed with auspicious energy. This Sri Hanuman Ji is believed to be helpful for courage, confidence, strength, and positive thinking. 
BEST HOME DECOR AND PERFECT GIFT
You can use this Decorative Murti (idol) for Puja in Mandir (temple) interior decorations, table decorations, showcase decor, or for a car dashboard showpiece. This Sri Kulin Hanuman Ji Idol is the perfect gift for weddings, parents, mothers' day, wedding return gifts, birthdays, the opening of workplaces and shops, festival occasions like Diwali, Gruh-Pravesh, and corporate gifts.
Beneficial Impact: According to Vastu, this religious idol piece should be placed in the northeast part of the home in your living, dining, or puja room. So it brings health, wealth, and happiness to you, your family members, including your husband, wife, children, and friends.
Special Features:
The home is blessed with prosperity, health, peace, and happiness

Perfect use for car dashboard 

Good luck, Harmony, and protection can be kept forever

Among the best gifts for fathers, mothers, and brothers

A smooth, shiny finish is the result of skill and attention

Makes your altar or pooja room look more attractive

Measures 2.5" W x 4" H

Expertly crafted by Indian artisans
At Radhe Radhe, our commitment to our community and culture is paramount. We stand behind our community with the best quality products and services. Our ultimate goal is to make sure our customers are satisfied with our product from the moment they bring it into their lives.
So what are you waiting for? Simply click on the Add To Cart Button to get this amazing Red Kulin Hanuman Idol, and enjoy the spiritual satisfaction.
Beautiful statue. Better than expected. well worth the money
Loved it for my temple. Really good size and great price
The idol is really perfect. It's better looking than the picture... I have bought two idols of the same company and would love to get few more...