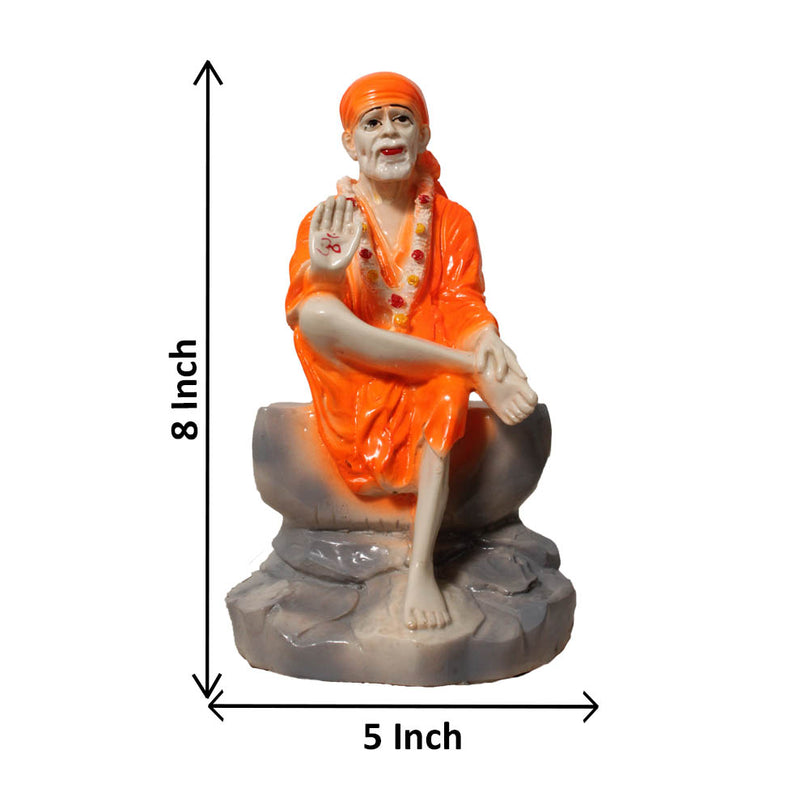 SRI SAI BABA - THE GURU (TEACHER) OF EVERYONE IN ACHIEVING A PURE MIND, BODY & SOUL
REMOVE JEALOUSY, ACHIEVE PURITY
The idol of Sri Sai Baba is handmade, hand-painted, and polished individually. For devotees, it can be a unique collection to display at home or at work. Sri Sai Baba is known to remove jealousy, Tamsik (dark) environment and helps in achieving Satvik (pure) mind and body. To add positivity and beauty to one's home, one can place this Idol in the drawing-room, study, or living room.
ENCOURAGE CHARITY, AND BRING PEACE
Sri Sai Baba, who himself led the life of an ascetic, advised his followers to lead ordinary families. Sri Sai Baba emphasized the importance of charity and sharing with others. As Sri Sai Baba preached charity as Param Dharma (the supreme duty), it makes a perfect gift to support others for religious events and charities. Families and society can experience peace, harmony, and bondage when the blessings of Sai Baba are received. 
ANTIQUE LOOK MAKES NICE GIFT
The color of this Sri Sai Baba Idol will not fade over time because it is a poly-resin design. Using dry clothes, it is an easily cleanable statue. 
Beneficial Impact: Placing this Sri Sai Baba Idol Statue in the north direction of the living room or office is believed to remove jealousy, bring clarity and coherence to thinking. 
Key Features:
Sri Sai Baba is meant to remove jealousy and achieve and clear, pure mind

Made with resin and cleanable with a dry cloth

Promotes better meditation as makes the environment more Satvik (pure)

Perfect gift for ceremonies or charity events

Dimensions are "5 x 8 inches
At Radhe Radhe, our commitment to our community and culture is paramount. We stand behind our community with the best quality products and services. Our ultimate goal is to make sure our customers are satisfied with our product from the moment they bring it into their lives.
So what are you waiting for? Simply click on the Add To Cart Button to get this amazing Sri Sai Baba Idol, and enjoy the divine satisfaction.
Classic! worth every penny! Thank you!
Classic! worth every penny! Thank you!