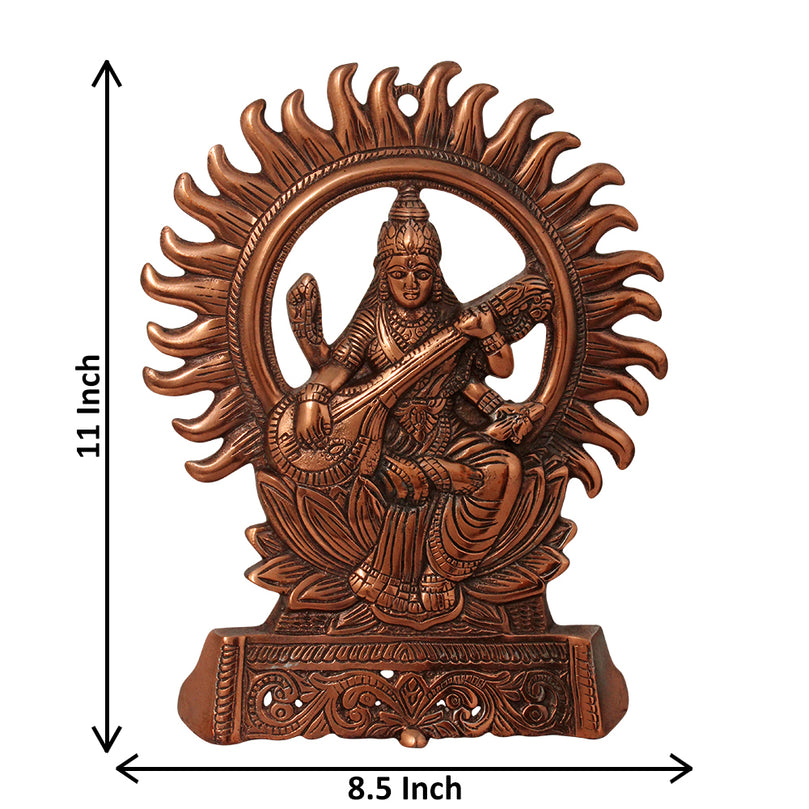 GODDESS SRI SARASWATI MAA - THE MOTHER OF THE ANCIENT VEDAS
GODDESS OF KNOWLEDGE, WISDOM, AND ARTS
The goddess of knowledge, wisdom, and arts, Sri Saraswati Maa, represents freedom and endless possibilities. She is the mother of the Vedas (ancient Hindu teachings) with many chants to her. Goddess Durga Maa is her mother. It is believed that keeping an Idol of Supreme Goddess Saraswati empowers people of speech, wisdom, and learning. The Idol reminds us of the beauty of music and art and inspires us to seek knowledge and wisdom.
SYMBOL OF TRUE EXCELLENCE
Sri Saraswati Maa represents four aspects of human personality in learning: mind, intellect, alertness, and ego. True knowledge is symbolized by her. With her other two hands, she plays the music of love and life on a string instrument called the Veena. The dress she wears symbolizes purity. Scholars and erudite people attach greater importance to the worship of Saraswati.  
EXQUISITE & DETAILED CRAFTSMANSHIP
This premium Sri Saraswati Maa Wall Hanging Idol is made from the finest lightweight materials to create an attractive and high-quality appearance on any wall without compromising on the details. Those Hindu friends or family members who might need some inspiration will enjoy receiving such a beautiful work of art as a gift. The perfect addition to any Hindu collection. 
Beneficial Impact: This Sri Saraswati Maa Wall Hanging Idol can grant you a higher level of wisdom and knowledge, as well as success in your chosen career. A Sphatik Saraswati Idol or statue can also neutralize the negative energy of mercury. The process of communication can further refine your abilities.
Key Features:
Symbolizes spiritual perfection and transcendence

Four arms represent mind, intellect, alertness, and ego

Skillfully crafted and meticulously inspected 

Easily transforms your pooja room or altar into a spectacular space

High-quality, corrosion-resistant & lightweight material is used to hang on any wall

Housewarming and many other celebrations make this a great gift

Measures 8.5" W x 11" H

Made in India by skilled craftsmen
At Radhe Radhe, our commitment to our community and culture is paramount. We stand behind our community with the best quality products and services. Our ultimate goal is to make sure our customers are satisfied with our product from the moment they bring it into their lives.
So what are you waiting for? Simply click on the Add To Cart Button to get this amazing Goddess Sri Saraswati Maa Idol, and enjoy the divine satisfaction.
Always recommended, very good products and service.
I really like this wall hanging sculpture for my puja room. It changed the view. REALLY APPRECIATED!