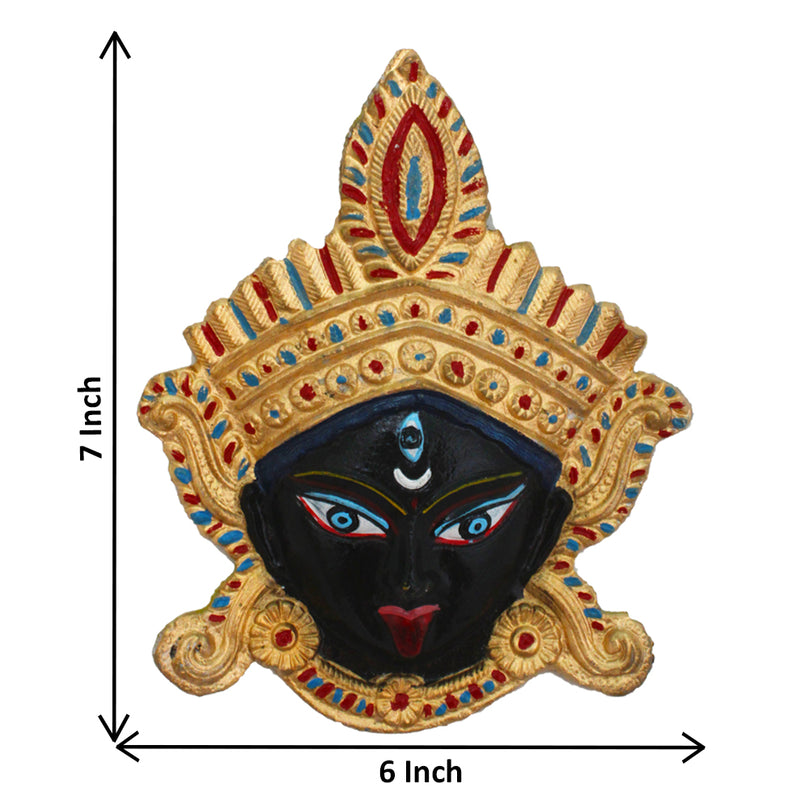 BRING MAA KALI TO YOUR HOME AND MAKE A COMPLETE PROTECTION FROM ALL THE BAD IMPACTS
THE DESTROYER OF EVIL FORCES
This beautifully Crafted Sri Maa Kali face wall hanging decor is a piece that you must have in your Puja Room. Goddess Maa Kali is one of the ten Mahavidyas, a list that combines Sakta and Buddhist goddesses. Her appearance is that of a destroyer of evil forces. As per the legends, Goddess Kali, becoming drunk on the blood of evils on the battlefield, dances with destruction. 
REMOVES AND DEFECTS BLACK MAGIC
This highly effective Maa Kali Face Wall Hanging can be placed in your Puja Room to bring prosperity or can be gifted to your loved ones. It can be used as a protective talisman for families to remove all types of defects such as evil eye, spirits, black magic, and negative or black power. It can be hung on the entrance of the home for attracting positive power and Energy and protection.
INTRICATE CRAFTSMANSHIP AND EXCLUSIVE 
Intricate craftsmanship can be seen on this exclusive Sri Kaali Maa Face sculpture. Very few of these pieces are made which makes them so exclusive. Made using several man-hours and using an age-old method of the art form. Painstakingly beautiful and truly majestic. This Sculpture is an exclusive collector's item. 
Beneficial Impacts: The significance of Maa Kali Idols or Sculptures is to eradicate all the negativity and bring positivity to one's life. Goddess Kali is worshipped to bless devotees with health, wealth, prosperity, peace, protection, and courage to fight against ills.
Key Features:
The mother who purges us of fear, anger, jealousy, and grief

Nurses us back to balance in the ultimate act of soul-healing

Invoke her and she will bless you with protection and healing

The craftsmanship of the highest level

Never-diminishing premium paint

Dimensions 7 x 6 inches
At Radhe Radhe, our commitment to our community and culture is paramount. We stand behind our community with the best quality products and services. Our ultimate goal is to make sure our customers are satisfied with our product from the moment they bring it into their lives.
So what are you waiting for? Simply click on the Add To Cart Button to get this amazing Sri Trayambek Maa kaali Face Wall Hanging Decor and enjoy the divine satisfaction.
This is a beautifully crafted product. Very peaceful to look at it.
Awesome Sculpture. Just got it. And I am very happy with what I got. Thanks